Home » Hunting Videos » Bird Hunting Videos of 2019 – Season 4 Official Trailer and Release Schedule
Bird Hunting Videos of 2019 – Season 4 Official Trailer and Release Schedule
The 2019 bird hunting season takes us to 9 states, 3 countries, 8 upland game species, a spread of bird dog breeds that made us lose count, and bold promises for future content.
Although it's just before July, the idea of brisk fall days in whatever stomping grounds we call the uplands is heavy on our minds. For those of us with bird dog breeds, the summer heat cannot help but call us back to those colder times when the smell of gunpowder hangs in the air and the sound of beating wings lingers in our senses — the cackle of a rooster in the Midwest, the silence of a bell in the North, or the startling sound of a covey rising in quail country.
And so it goes that we release the official trailer for Season 4 of our bird hunting series – Project Upland, to help us get through the times when our covers seem so far away from the present. To add to this, the stories will come to life differently with the new addition of print, where the journeys continue further past the storytelling of motion into the written word of Project Upland Magazine. Each issue will offer specific elements dedicated to a deeper dive into these iconic moments. (Magazine story listings will be updated continuously below)
We should go on further to say that the expansion of our content into different regions, subjects and species has been a priority. Although a few of our filmmakers love to be lost in nostalgic grouse covers, we ventured to other parts of the uplands. We explore the quail of the Southwest in the film Border to Border. We take a look into the plantation culture of the South with honest candor. And of course, we could not forget about the pheasant of the Midwest.
Soon enough we will be back on the road, capturing films for the fifth season of Project Upland. We will explore the hardcore world of chukar hunting with Chukar Chasers, we will cast and blast, track down some urban quail in California, cover some of our favorite writers, explore new upland species, head back to Europe, and immerse our readers into all sorts of things upland in another 12 films. And past that, as many have asked, we will finally deliver on feature-length content. But we have already said too much. Stay tuned!
"To expose the uplands to the world, to capture defining moments, to push our passion and culture forward, to bring our community closer, to make us feel. These are your stories."

The Project Upland Motto
July Releases
Hard Day Riding – Legend Neal Carter gives an honest look at the creation of the Georgia-Florida Shooting Dog Handlers Association in this film presented by Eukanuba Sporting Dog and Gordy and Sons Outfitters. Shot at Mayhaw Plantation with Durrell Smith of The Gun Dog Notebook Podcast, this story of field trialing and African-American dog training legacy is a candid look at lingering cultural norms of plantation culture.
Watch the full film here: Hard Day Riding – A Southern Field Trial Story
Writer Durrell Smith will take us further into the history of African-American dog trainers in a feature story for the Summer 2020 Issue of Project Upland Magazine.
August Releases
Live for October – New Hampshire is home to Northeast Regional Director of the Ruffed Grouse Society, Joe Levesque. In this story of hunter recruitment, Joe mentors a new hunter on an American woodcock and ruffed grouse hunting on public accessed land in northern New Hampshire with his English setter and young pointer. An unexpected snow makes this first time hunt challenging — but the journey was worth it. This film is presented by Dogtra, CZ USA, and the Ruffed Grouse Society.
Watch the full film here: Live for October – A Hunting Mentor Film
Article to be featured in Winter 2019 Issue of Project Upland Magazine.
September Releases
Food and Hunting – If you want to enjoy savory upland game, just follow a recipe from Hank Shaw's book Pheasant, Quail, Cottontail. As you may have guessed, this story follows the award-winning wild game food writer on a trip in Kansas for ring-necked pheasant and bobwhite quail. Hank shares his relationship with food and hunting and his love for the uplands. This film is presented by Federal Ammunition, Pheasants Forever, and Quail Forever.
You can follow this story further in The Taste of all Things Wild in the Fall Issue of Project Upland Magazine by author Chet Hervey.
Story of the Sidelock: The AYA #2 – The history of European gunmaking is part of the American upland story. In this story, we explore the evolution to the AYA #2 sidelock shotgun as an iconic sidelock shotgun.
October Releases
Flushing Grouse – When you think of hunting ruffed grouse in the North Country, visions of double-guns and pointing dogs comes to mind. This story breaks that mold with the Heller brothers in Michigan as they pursue the ruffed grouse with flushing dogs and semi-automatic shotguns. A rare glimpse into an overlooked world with the Ruffed Grouse Society.
Watch the film trailer here: Flushing Grouse
Feature article exploring the vast differences between flushing dog culture and pointing culture by Adam Regier coming to Project Upland Magazine.
How Much Passion – The Minnesota Sharp-tailed Grouse Society is an organization with a few hundred passionate members. In this film, we take a hard hunt on snow-covered brushlands with some of its members as they explore this iconic bird's past and the sharptails future. This film is presented by Federal Ammunition and Visit Thief River Falls.
The history and fall of the sharp-tailed grouse in Minnesota explored by writer and Minnesota Sharp-tailed Grouse Society member Mattew Breuer coming to the Winter 2019 Issue of Project Upland Magazine.
Watch: How Much Passion – A Sharp-tailed Grouse Society Film
November Releases
Legacy: An AYA Shotgun Story – What will outlive our memories in the grouse covers of the North? Our shotguns. New Jersey native Joel Penkala, and host of the Gun Room Podcast, takes a trip to Minnesota public lands to hunt American woodcock and ruffed grouse after spending some time in Spain at the AYA factory. He explores how things of the past have lingered into the culture of the future as he speaks to the legacy and history of a well made side-by-side. This film is presented by AYA Shotguns and the Ruffed Grouse Society.
Watch: Legacy – A Project Upland Original Film
Catch a deeper dive into Joel's story The Making of a Bird Hunter in the Fall 2019 Issue of Project Upland Magazine.
December Releases
Never to Late – Marissa Jensen has fallen in love with the uplands along with her German shorthaired pointer, Reese. Marissa takes us to her stomping grounds in Nebraska for pheasant and bobwhite quail in this public lands story. She is a frequent writer for Project Upland and has since taken a job with Pheasants Forever. This film is presented by OnX Hunt, CZ USA, Dogtra, and Pheasants Forever.
Watch: Never too Late – An Adult Onset Hunter Story
Marissa Jensen's story of the uplands to be featured in Winter 2019 Issue of Project Upland Magazine by Managing Editor Rachelle Blair-Frasier.
January Releases
Plantation Quail – Virginia used to be home to vast public land bobwhite hunting, but that part of its wild story is barely hanging on. Plantation Quail is the story of a man holding on to his childhood bird hunting adventures with his father that has been recreated in a more plantation style on this private hunting grounds, Cedar Grove. From "dogmen," horses, and the thrill of a covey rise, this story shows the candid narrative of a dying culture. This film is presented by Dogtra and Gordy and Sons Outfitters.
Watch: Plantation Quail – A Southern Bobwhite Film
Catch the personal experience of author and filmmaker A.J. DeRosa in A Pace of Bobwhite, featured in the past Spring 2019 Issue of Project Upland Magazine.
February Releases
All Wild – What do you get when you take more bird dogs than can be counted, a personality like no other, and quail hunting on the Mexican border in the Southwest? Patrick Flanagan of Border to Border Outfitters in Arizona hunting three species of quail, Mearns, Scaled, and Gambel's. This adventure shows the amazing opportunities of public land quail that are sometimes overshadowed by the idea of bobwhite. This film is presented by OnX Hunt, and CZ USA.
Watch: All Wild – An Arizona Quail Hunting Film
Catch Patrick Flanagan confess his love for bird dogs in The Best Dog in the Summer 2019 Issue of Project Upland Magazine, currently on newsstands.
*Release dates are subject to change and will be updated in the future to specific days.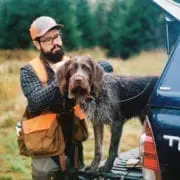 A.J. DeRosa
A.J. DeRosa founded Project Upland in 2014 as an excuse to go hunting more often (and it worked). A New England native, he grew up hunting and has spent over 30 years in pursuit of big and small game species across three continents. He started collecting guns on his 18th birthday and eventually found his passion for side-by-side shotguns, inspiring him to travel the world to meet the people and places from which they come. Looking to turn his passion into inspiration for others, AJ was first published in 2004 and went on to write his first book The Urban Deer Complex in 2014. He soon discovered a love for filmmaking, particularly the challenge of capturing ruffed grouse with a camera, which led to the award-winning Project Upland film series. AJ's love for all things wild has caused him to advocate on the federal and state levels to promote and expand conservation policy, habitat funding, and upland game bird awareness. He currently serves as the Strafford County New Hampshire Fish & Game Commissioner in order to give back to his community and to further the mission of the agency. When those hunting excuses are in play, you can find him wandering behind his Wirehaired Pointing Griffon in the mountains of New England and anywhere else the birds take them.