Home » Hunting Videos » Chukar Chasers – A Chukar Hunting Video
Chukar Chasers – A Chukar Hunting Video
A visually stunning landscape of public lands is the backdrop for the pursuit of chukar hunting in video of the Chukar Chasers Foundation.
Chukar hunting has a reputation. The bird itself is often referred to as the "red legged devil." The terrain, inclines, and habitat they call home is all part of the physical toll this bird takes on those committed to pursue it. Then there's the mystery of "here today and gone tomorrow" or maybe even nowhere to be found after miles upon miles of boot leather logged. Some may think this is all reason to never hunt the chukar. Others relish in the "calorie negative" hunt.
"The miles trekked. I think that's the biggest thing that sets chukar hunters apart from other hunters."
The chukar partridge is a non-native species to the United States. They call areas of the Middle East and Asia home where many cultures pursue them in their native habitat. Ten states have open wild chukar hunting seasons, all located in Western states with high elevations.
"You don't have to be a millionaire with a hundred thousand acres and a ranch in order to enjoy the outdoors and hunt; it's definitely land put to good use."
In the annual Project Upland survey for Northwoods Collective in 2019, 21.68 percent of the community identified as being chukar hunters. It's the fifth most popular upland game bird to pursue.
Who are the Chukar Chasers?
Chukar Chasers is a collective of chukar hunters originally based in Nevada. Over the years their passion is promoting the pursuit of chukar, wild places, and an emphasis on the ethics of hunters. Part of that ethic evolved into the "Chukar Chasers Foundation, a 501(c)(3) nonprofit organization, which supports youth chukar hunts and wildlife conservation efforts."
Founded in 2018, the Chukar Chaser Foundation has now grown to having a board of directors as they expand their R3 efforts in the culture.
Listen: Chasing Chukar with the Chukar Chasers – Project Upland Podcast Episode #98
About this Story
We followed Damon Booth and Alec Garcia into the world of vast public lands in Nevada for chukar. From the bird dogs, public lands, and the food, this is a story of chukar culture in the West. The passion of the pursuit and the vastness of the landscape will leave viewers wanting to roam the expansive public lands of chukar country in these United States.
This Film is Presented by: Beretta and Eukanuba Sporting Dogs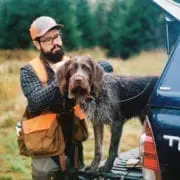 A.J. DeRosa
A.J. DeRosa founded Project Upland in 2014 as an excuse to go hunting more often (and it worked). A New England native, he grew up hunting and has spent over 35 years in pursuit of big and small game species across three continents. He has a passion for side-by-side shotguns, inspiring him to travel the world to meet the people and places from which they come. Looking to turn his passion into inspiration for others, AJ was first published in 2004 and went on to write his first book The Urban Deer Complex in 2014. He soon discovered a love for filmmaking, particularly the challenge of capturing ruffed grouse with a camera, which led to the award-winning Project Upland film series. AJ's love for all things wild has caused him to advocate on the federal and state levels to promote and expand conservation policy, habitat funding, and upland game bird awareness. He currently serves as the Strafford County New Hampshire Fish & Game Commissioner in order to give back to his community and to further the mission of the agency. When those hunting excuses are in play, you can find him wandering behind his Wirehaired Pointing Griffon in the mountains of New England and anywhere else the birds take them.