Home » Hunting Videos » Food and Hunting – A Film on Wild Game Food Writer Hank Shaw
Food and Hunting – A Film on Wild Game Food Writer Hank Shaw
The musings and personal story of upland game chef Hank Shaw
For those of you who have already dived into the book Pheasant, Quail, Cottontail you are probably very familiar with the backstory of award-winning food writer Hank Shaw. Or maybe you have been following along on his website at honest-food.net or his new articles over at Pheasants Forever. Hank is a chef by trade, by artistic skill, and a journalist. He is also a bird hunter.
We caught up with Hank on his book tour this past fall as he journeyed to Kansas for a fundraising event for habitat. There he cooked delicious food and signed books, but most importantly, hunted wild ring-necked pheasant and bobwhite quail.
"There is something extremely hardwired-satisfying about the flavor of anything it is that you eat that you had to work for. And upland bird hunting is the epitome of that."

Hank Shaw
Hank Shaw's involvement in conservation is nothing new. He is a life member of Quail Forever after all. Originally from New Jersey, he now resides in California where the world of quail is the pursuit of choice.
Hank's work has exposed many non-hunters to the world of sustainable and healthy wild game eating and cooking. In his own words, "I am the omnivore who has solved his dilemma." And maybe he is too humble to say it, but he has helped others solve the dilemma, as well.
He popularized the eating of legs on upland game, properly taught the plucking of birds, and continues to give plenty of time to the vast differences that upland game bird meat has to offer.
In this film we follow along with Hank as he explores his backstory, history with upland, and the future of his work. He is as passionate about eating birds as anyone we've met — just ask the TSA folks he met on his way home from this Kansas trip as he brought a cooler full of pheasant onto the plane.
To catch even more about Hank Shaw and his platform Hunter, Angler, Gardener, Cook, check out the recent article in the fall issue of Project Upland Magazine titled Taste of All Things Wild as featured on the front cover!
This film was made possible by our friends at Federal Premium, Pheasants Forever, and Quail Forever.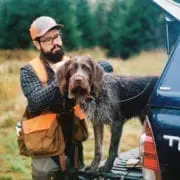 A.J. DeRosa
A.J. DeRosa founded Project Upland in 2014 as an excuse to go hunting more often (and it worked). A New England native, he grew up hunting and has spent over 30 years in pursuit of big and small game species across three continents. He started collecting guns on his 18th birthday and eventually found his passion for side-by-side shotguns, inspiring him to travel the world to meet the people and places from which they come. Looking to turn his passion into inspiration for others, AJ was first published in 2004 and went on to write his first book The Urban Deer Complex in 2014. He soon discovered a love for filmmaking, particularly the challenge of capturing ruffed grouse with a camera, which led to the award-winning Project Upland film series. AJ's love for all things wild has caused him to advocate on the federal and state levels to promote and expand conservation policy, habitat funding, and upland game bird awareness. He currently serves as the Strafford County New Hampshire Fish & Game Commissioner in order to give back to his community and to further the mission of the agency. When those hunting excuses are in play, you can find him wandering behind his Wirehaired Pointing Griffon in the mountains of New England and anywhere else the birds take them.