Home » Hunting Videos » Plantation Quail – A Southern Bobwhite Film
Plantation Quail – A Southern Bobwhite Film
A glimpse into the culture and tradition of plantation quail hunting in the South.
For those of us that live in parts of North America set away from the plantation quail culture, it's hard to understand this world. A tradition that many have associated with the wealthy and privileged–and not without reason as this world tends to be expensive and exclusive. The passion for bobwhite quail hunting in a place like Cedar Grove is one that stretches over generations. One that started with simple beginnings of hunting public lands for bobwhite quail out of a station wagon, walking miles to flush a few coveys.
Those days in Virginia are long gone, and for Will Pannill the idea of reliving those memories of his father are as precious as any. Through early release of raised bobwhite quail he has recreated the excitement of a covey rise, time with family, and escaped the grips of time.
"I don't have that much time . . . I figured the early release was the way to go and so far it has been very good. When you step into a covey, most of the time it's just as wild as any covey you will step into."
Will has hunted all over North America, a yearly tradition that brings him and his sons to the grouse woods of the upper Midwest. As the winter closes in they take up residency at Cedar Grove, which is a private property he and his sons manage for bobwhite. Although there are yet to be wild birds on the property his son, John Taylor Pannill, hopes that over the course of time they will get the opportunity to restore the native bird.
Taylor is very hands-on in this plantation quail operation–training dogs daily, hosting family friends, and tending to the upkeep of their horses.
And now as I get more into the dogs, it's watching them work. Having a dog that was pretty sloppy, spending the time, tighten him up and breaking him, get him to point well. Then killing a bird over a dog that you put the time in on it yourself. That's awesome, that's the best part.
In this film we explore what a hunt in the plantation quail world is like. The excitement of a covey rise, the dog work, and the socialization in the culture. A beautiful landscape of Virginia pine and all the things many of us think of when we close our eyes and imagine Southern quail hunting to be.
This film is presented by Safari Club International, Dogtra, and Gordy and Sons Outfitters.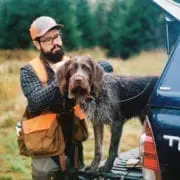 A.J. DeRosa
A.J. DeRosa founded Project Upland in 2014 as an excuse to go hunting more often (and it worked). A New England native, he grew up hunting and has spent over 35 years in pursuit of big and small game species across three continents. He has a passion for side-by-side shotguns, inspiring him to travel the world to meet the people and places from which they come. Looking to turn his passion into inspiration for others, AJ was first published in 2004 and went on to write his first book The Urban Deer Complex in 2014. He soon discovered a love for filmmaking, particularly the challenge of capturing ruffed grouse with a camera, which led to the award-winning Project Upland film series. AJ's love for all things wild has caused him to advocate on the federal and state levels to promote and expand conservation policy, habitat funding, and upland game bird awareness. He currently serves as the Strafford County New Hampshire Fish & Game Commissioner in order to give back to his community and to further the mission of the agency. When those hunting excuses are in play, you can find him wandering behind his Wirehaired Pointing Griffon in the mountains of New England and anywhere else the birds take them.