Home » Hunting Videos » How Much Passion – A Sharp-tailed Grouse Society Film
How Much Passion – A Sharp-tailed Grouse Society Film
Explore the world of the Minnesota sharp-tailed grouse in film.
There was a time well over 60 years ago when the sharp-tailed grouse was the most common species in the upland hunter's game bag in Minnesota. Today we do not think of sharptails when we think of Minnesota; we think of the ruffed grouse. But tucked away in the northern part of the state there still exists a world of sharp-tailed grouse hunting.
In this bird hunting video we follow members of the Minnesota Sharp-tailed Grouse Society into the grasslands in search of their passion. It's a measure of their common love for the bird, the wild and public places that sustain them, and their mutual concern for the critical future they face as biologists, hunters, and volunteers come together to make sure the sharptails have a voice.
An early snow fall combined with high winds makes for tough hunting and shows the natural obstacles a sharp-tailed grouse must face. It also demonstrates the crucial importance of proper habitat to sustain a viable population on public lands in Minnesota.
These are the stories of the men and women who invest their time, money, and emotional resources to fight for the future of this forgotten game bird.
To find out how you can help the future of the Minnesota sharptail check out: Minnesota Sharp-tailed Grouse Society.
This film was presented by Federal Premium and Visit Thief River Falls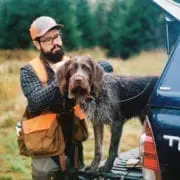 A.J. DeRosa
A.J. DeRosa founded Project Upland in 2014 as an excuse to go hunting more often (and it worked). A New England native, he grew up hunting and has spent over 30 years in pursuit of big and small game species across three continents. He started collecting guns on his 18th birthday and eventually found his passion for side-by-side shotguns, inspiring him to travel the world to meet the people and places from which they come. Looking to turn his passion into inspiration for others, AJ was first published in 2004 and went on to write his first book The Urban Deer Complex in 2014. He soon discovered a love for filmmaking, particularly the challenge of capturing ruffed grouse with a camera, which led to the award-winning Project Upland film series. AJ's love for all things wild has caused him to advocate on the federal and state levels to promote and expand conservation policy, habitat funding, and upland game bird awareness. He currently serves as the Strafford County New Hampshire Fish & Game Commissioner in order to give back to his community and to further the mission of the agency. When those hunting excuses are in play, you can find him wandering behind his Wirehaired Pointing Griffon in the mountains of New England and anywhere else the birds take them.