Home » Hunting Videos » In Our Veins – The Story of AYA Shotguns
In Our Veins – The Story of AYA Shotguns
A film looking into the history and story of AYA Shotguns and the city of Eibar Spain.
Full film of the AYA shotgun story coming to YouTube on 03.31.19
Eibar is known as the gun making capital of Spain. There you can find one hundred years of history of the AYA Shotgun. From the people in the streets to the artisans in the factory, AYA is woven into the culture and history of this incredible city. Spanish double guns have a special place in many of our hearts back in the States, but the intimacy that still lies on those factory floors has been lost in the noise of our modern times.
The story of AYA is long, interesting, and ultimately about people. Alex Aranzábal, now at the center of that story, is of the fourth generation of the AYA family. His story, like that of AYA itself, is full of layers, culture, and triumph. Maybe you have accidentally stumbled upon one of his TED talks? And if you have, you would know his fame has been marked by the SD Eibar football club, not by shotguns.
But Alex was drawn back to his family calling of gun making. His love for his family history and passion for the guns they produce has compelled him to bring this company to a new golden era for all the right reasons. When you spend a week with him in both casual and business settings, you hear about someone set on saving a way of life, bringing commerce to his home city, and a revival to handmade craftsmanship.
When most of us think of shotguns, we think of factories, automation, technology, and everything else modern advancements have given us. Very rarely do we think of the human aspect. I could tell you the amazing technical elements that make AYA the shotgun makers they are — such as the silver used to produce their Demi-bloc barrels, or the quality of the Spanish steel perfected since the Middle Ages. But it is truly the human element that makes AYA craftsmanship special to us.
"When you take one of our guns, you can recognize who did that engraving, or who did that checkering, or who finished that stock. So in each one of our guns there are the names of all those workers that did their best to finish that gun."

Alex Aranzábal
Each screw, each engraving, each stock, every piece bears with it the story of people. From checkering to barrel fusing, this is a human tradition passed from one artisan to the next.
In this film we let Alex take us on a journey from his family history to today's process of shotgun making. This is in their veins. This is their story.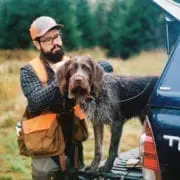 A.J. DeRosa
A.J. DeRosa founded Project Upland in 2014 as an excuse to go hunting more often (and it worked). A New England native, he grew up hunting and has spent over 35 years in pursuit of big and small game species across three continents. He has a passion for side-by-side shotguns, inspiring him to travel the world to meet the people and places from which they come. Looking to turn his passion into inspiration for others, AJ was first published in 2004 and went on to write his first book The Urban Deer Complex in 2014. He soon discovered a love for filmmaking, particularly the challenge of capturing ruffed grouse with a camera, which led to the award-winning Project Upland film series. AJ's love for all things wild has caused him to advocate on the federal and state levels to promote and expand conservation policy, habitat funding, and upland game bird awareness. He currently serves as the Strafford County New Hampshire Fish & Game Commissioner in order to give back to his community and to further the mission of the agency. When those hunting excuses are in play, you can find him wandering behind his Wirehaired Pointing Griffon in the mountains of New England and anywhere else the birds take them.