Home » Hunting Videos » All Wild – An Arizona Quail Hunting Film
All Wild – An Arizona Quail Hunting Film
Chasing the three Southwestern species of quail: Gambel's, Mearns, and scaled in the Arizona desert.
Full film coming in March 2020 to YouTube and Facebook
Patrick Flanagan is one who suffers from wanderlust. Minnesota born, Border to Border traveler, and ultimately bird hunting guide. He is a keeper of bird dogs, many bird dogs, and you can read a bit about his obsessive world in the article The Best Dog from the Summer 2019 issue of Project Upland Magazine.
Listen to a Patrick Flanagan Interview: #13 | Border to Border Outfitters – Patrick Flanagan – Project Upland Podcast
Last year we headed out to Arizona in late winter where Pat finished out his guiding season. There he pursued the three quail species of the Southwest, Mearns, Gambel's and scaled, to share his passion for this wild and public place. He prides himself on the pursuit of "all wild" birds and the wandering lifestyle he has embodied. As he describes, "I want to not shave, wear boots, and run dogs."
Pat is like no one else we've ever met. He can recite long-form poetry which he writes himself, on a whim. Spend some time with him and you think you may have stepped back in time to a cowboy living across the landscape in search of life and meaning. His passion for life, his friends, and the world of upland hunting is intoxicating to anyone he is near.
Here is an excerpt from the Winter 2019 article on Pat, written by Chet Hervey:
"Pat lives and breathes for wild birds and expansive spaces. When I was thinking of the theme for this article, the word 'zealot' kept popping up in my mind. While the term is typically applied to religious folks, I wouldn't describe Pat's devotion as very much less than a religious commitment to his craft, both as a guide and as a hunter. He has spent countless miles driving from spot to spot to scout new opportunities for his clients and countless more hours poking around on his OnX Hunt app (he considers himself 'unofficial pro-staff'), scouring every nook and cranny of southern Arizona for new covers."
"It was my first time hunting the three species of quail—Gambel's, Mearns, scaled—available, and while I had done some research, some of the nuance in their habitat just has to be seen to be understood. There were times during my few days down there where I couldn't see any immediate obvious difference from spot-to-spot. It all looked hot and sharp. But after a few miles up and down and through every thornbush known to man, I began to appreciate the nuances. For instance, if you run across a honey mesquite tree and denser shrubbery, you'll most likely find a Gambel's hanging out nearby. As we crossed patches of desert grassland dotted with cholla and yucca to areas to find cover shrubs (packed with thorns, of course) with open ground beneath, a dog on point usually meant that a scaled quail was on the run out ahead of us. And, my personal favorite setup due in no small part to the shade provided by frequent oak tree canopies, the anticipation of a Mearns quail bursting into flight from some of the steepest hillsides I'd hunted since Hell's Canyon kept things lively."
"We hunted one species each day and I can confidently say that we earned every bird. Hunting in southern Arizona is not for the faint of heart or the thin of pants or the light of dog-power. Which is why Pat carts around a dozen dogs from spot to spot. He'd put down two or three at a time and we'd hunt three or four human miles before heading back to the truck to swap dogs and set off in a new direction. Nacho and Pearl would be put up in exchange for Tommy and Lily, all well-muscled and lean, in peak mid-season form. Pat wanted to keep the dog work at a high level for the film we were shooting and the climate and terrain necessitated frequent substitutions. As he put each new set of dogs on the ground, I kept thinking to myself, man, these are some of the best dogs I've seen. I even had the distinct privilege of hunting over Hank, who has been retired from guided hunts but still gets to run around and find birds when Pat's just hunting for himself. On that note, while there is no doubt that Pat derives intense pleasure when he's pulling the trigger himself, he'll hoot and holler just as loud when someone shoots a bird over his dogs. The zealotry is tied to the entire experience for all involved, not just his own. He tried to forgo carrying a gun the first day, defaulting to guide-mode, preferring to deliver the quintessential wild quail hunt for his guests. But after a mild argument that I was not a client and there to write a story, he relented. Then he proceed to not miss a single shot the entire first day. And that is not hyperbole."
This film is Presented by OnX Hunt and CZ USA
In Association with Pheasants Forever and Quail Forever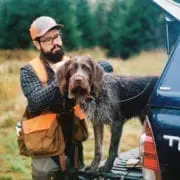 A.J. DeRosa
A.J. DeRosa founded Project Upland in 2014 as an excuse to go hunting more often (and it worked). A New England native, he grew up hunting and has spent over 35 years in pursuit of big and small game species across three continents. He has a passion for side-by-side shotguns, inspiring him to travel the world to meet the people and places from which they come. Looking to turn his passion into inspiration for others, AJ was first published in 2004 and went on to write his first book The Urban Deer Complex in 2014. He soon discovered a love for filmmaking, particularly the challenge of capturing ruffed grouse with a camera, which led to the award-winning Project Upland film series. AJ's love for all things wild has caused him to advocate on the federal and state levels to promote and expand conservation policy, habitat funding, and upland game bird awareness. He currently serves as the Strafford County New Hampshire Fish & Game Commissioner in order to give back to his community and to further the mission of the agency. When those hunting excuses are in play, you can find him wandering behind his Wirehaired Pointing Griffon in the mountains of New England and anywhere else the birds take them.