Home » Small Game Cooking » Pheasant, Quail, Cottontail – A Wild Game Cookbook Review
Pheasant, Quail, Cottontail – A Wild Game Cookbook Review
Pheasant, Quail, Cottontail is an icon in upland game cookbooks from award-winning chef Hank Shaw
I first met Hank Shaw while at a dinner in a zoo. Yes, in a zoo. It was a dinner with the Outdoor Writers Association of America (OWAA) in Billings, Mont., some years ago. I am not one for zoos. I find them distasteful. But having to cut through the reptile room for the bathrooms provided sufficient amounts of entertainment for my wife and I to muse about the glass disappearing, like in Harry Potter. To my surprise while standing readily close to the bar, I ended up in conversation with Hank Shaw.
I knew who Hank was already, but I will admit to having never given any wild game food writers much thought. With my Italian-American heritage, I was pre-wired to study cooking at Cambridge Culinary and under the watchful eye of my Italian family. I had worked most of my professional career for one of the most successful Italian restaurateurs in Boston's North End. I'd become a bit of a food snob to what I thought was a world of adding cream of mushroom soup and bacon to virtually everything wild.
Hank changed that unwarranted, judgmental opinion quickly. As it turned out, Hank cut his teeth with cooking, growing in his passion with a lot of Northeastern influence that ranged from New Jersey (his home state) to his mother's New England upbringing, which included digging for clams. He is well-versed in aging meats, sausage, and all the things that do not get nearly enough attention in the wild game culinary world.
I spent some significant time digging into Hank's last book, Buck, Buck, Moose. Especially the Kentucky Smoked Venison Barbecue recipe. But the one part of this story which began in that zoo conversation was the idea of aging meat. I often hang my deer as long as six weeks if the weather lets me get away with it — pondering the theories and jumping at every opportune time to talk shop when it comes to the forgotten art of aging. I have yet to read another book that covers the often-alien practice of aging venison. For that I thank him.
Which brings me to the first point of Hank's book, Pheasant, Quail, Cottontail. Virtually the first 50 pages talks about handling meat. This, in my personal opinion, is where the biggest failures happen when it comes to fine cooking and wild game. To my greatest delight he tackles aging birds head-on. If you do not age your birds, you do not know what you are missing. If you need some guidance and research on the theory, this is your book.
I eat a lot of wild game, and quite frankly, probably too much prepared with Italian-influenced methods. My wife's family puts pheasant in everything: the meatballs, the sauce, the sausage, who knows what else. They spend half their year in Formia, Italy, and the other half shooting pheasant in the states while living in Boston. My wife eats just about everything as a result and has the most unusual fondness for the often acquired taste of woodcock.
More recently, she and I have explored ethnic diversity in our own kitchen rather than just in travel. In London we loved the meat pies, and New Orleans brought home an obsessive mission to master gumbo. What I love about this book is that Hank helps us on that journey. Turkey carnitas? Yes, please, let's switch up our surface-level exploration of chili and tacos. Rabbit ragu? Thank you for speaking our language!
There are certainly a lot of recipes I have not tried in this book, and birds I have yet to sample. But the fact that I know I can pick up a respectable recipe on everything from pigeon to snipe speaks volumes to the versatility of this book, including one of my personal favorite meats, rabbit. Yes, I shoot every rabbit my pointing dog and I get on to. We bring home the concept of versatile breeds.
One of the most important things about this book is that it actually teaches us how to cook by giving us the tools and confidence to alter recipes through understanding what our game meat is capable of. It discusses the building blocks from stocks to sausage — and doesn't forget about those giblets.
From a personal perspective, I was delighted to find the opening of Chapter 12 gives a little bit of credit to the underrated American woodcock. I even learned (and will most certainly ask more about the next time I see Hank) that "it was once thought to spend its summers on the surface of the moon." This bird's lure never ceases to amaze me!
And that leads to one of my rare criticisms of this book: the use of bacon with woodcock. Though I have nothing against it on principle, I just find that it too often is the only way people think of preparing woodcock. That unfortunately masks what can be a truly amazing meat when cooked right. The recipe Woodcock Michigan, however, only called for bacon fat, so I will cut a little slack, especially when first exposing people to good woodcock eating. As a New Englander, I am a sucker for the flavors of apples and cranberries when it comes to North Woods upland game and this recipe jumped out at me. Also, thank you for leaving the legs on. They're a personal favorite cut of the woodcock for me.
All in all, if you want to bring your kitchen to the next level, impress some dinner guests, and perhaps surprise them with what you are actually cooking, grab a copy of Pheasant, Quail, Cottontail. And as someone who works in the art of creative presentation, the effort put into the photography and layout of this book was not lost on me. The short stories divulging personal experiences, history, and humor also makes this a fine talking point even on the coffee table.
By no means am I surprised at Hank's passion for all things cooking and the world of wild game truly shone through in this work.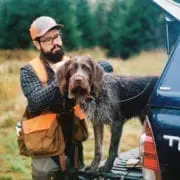 A.J. DeRosa
A.J. DeRosa founded Project Upland in 2014 as an excuse to go hunting more often (and it worked). A New England native, he grew up hunting and has spent over 35 years in pursuit of big and small game species across three continents. He has a passion for side-by-side shotguns, inspiring him to travel the world to meet the people and places from which they come. Looking to turn his passion into inspiration for others, AJ was first published in 2004 and went on to write his first book The Urban Deer Complex in 2014. He soon discovered a love for filmmaking, particularly the challenge of capturing ruffed grouse with a camera, which led to the award-winning Project Upland film series. AJ's love for all things wild has caused him to advocate on the federal and state levels to promote and expand conservation policy, habitat funding, and upland game bird awareness. He currently serves as the Strafford County New Hampshire Fish & Game Commissioner in order to give back to his community and to further the mission of the agency. When those hunting excuses are in play, you can find him wandering behind his Wirehaired Pointing Griffon in the mountains of New England and anywhere else the birds take them.