A growing market for youth shotguns means there are many options to choose from when shopping for a young hunter
The light wooden stock rested on my knee as I let out a last few soft yelps on my slate call. I knew the tom was close and I was careful to not risk too much movement. A gobble erupted close enough to feel the vibrations through the ground; I had to restrain myself from just quickly grabbing the youth 20-gauge shotgun. I saw the head, held the shotgun snug in my shoulder, and took a moment to gain my composure. Then I pulled the trigger and the standoff ended with the noise of my Remington youth model 870 pump 20-gauge.
I received that 20-gauge youth shotgun as a Christmas gift from my father more than 25 years ago. To this day, it is a gift that I cherish maybe more than any other. It has killed deer, coyotes, grouse, woodcock, rabbit, squirrels, and now a turkey. Its significance is that it was the medium through which I fell in love with hunting. By that logic, any parent or mentor outfitting a kid for the first time no doubt wants to make the right choice to set the stage for a lifelong passion.
Is the Remington youth 20-gauge shotgun the best option out there? Maybe at one time, it was, but with the change to manufacturing, the end of production from bankruptcy, and the rise of other brands, I am cautious to claim such a title. I explored some of the most popular and best youth 20-gauge shotgun models on the market today with someone who has seen the industry change over time, having served countless customers with this particular need.
The youth 20-gauge shotgun market evolves over the years
Right in the center of the grouse country of Minnesota is Backus Corner Store and Gun Shop. Owner Dave Sheley started selling guns here 24 years ago. Before that, he worked for over a decade at the iconic Reeds Family Outdoor Outfitter. All together, Sheley has been selling youth model shotguns for almost 40 years.
"There are more options for youth shotguns than ever," Sheley said with conviction, "and rightfully so as there is a real demand for them."
He points to the rise in turkey hunting as one of many factors creating a bigger demand.
Why the 20 gauge for a youth shotgun?
But first things first, why the 20-gauge over other options? Sheley weighs multiple factors when answering this question: price, availability, and practical application.
"Many want to think the .410 is a great option but reality is that, as adults, only the most expert shooters rely on this gauge," he said. "We cannot expect that from a kid and it will most likely discourage them."
In recent years I have found myself gravitating to the 28-gauge, but the popularity is still not as high as other gauges. As Sheley points out, the availability of 28-gauge loads, the cost of said loads, and the shotguns built for that gauge limit selection.
"It just isn't there yet," Sheley explained.
The 12-gauge is still one of the most widely available gauges on the market, but Sheley warns, "It has a lot more recoil than a 20-gauge and the weight of the shotguns themselves can be challenging. Sure, you may have a bigger-built kid, but for the most part, the 20-gauge is still king of the youth shotgun."
Even though the 16-gauge is his personal favorite, it barely got a mention in our conversation and I can only attribute that to a combination of recoil, scarcity in ammunition, and not a wide selection in shotgun models to go with it.
"A lot of manufacturers are building youth shotguns for the 20-gauge platform. You have a lot of models to choose from as well as a lot of loads to choose from. You can find lighter loads to reduce recoil and ultimately the cost of the ammunition is better than most gauges when it comes to shooting a lot at the range."
How to choose a youth 20-gauge shotgun
Sheley says that most people are buying youth model shotguns in his store at the last minute, perhaps ahead of a hunting trip or a holiday. Customers often rely on the store to help guide them through the process, because very little research is usually done ahead of time.
"Price is always the biggest factor," Sheley said. "It is a big investment, and most people look at it as money lost in the short term. I do my best to communicate to people that the youth shotgun market is really good, and the shotgun can be easily sold some years down the road with little loss in value."
Although price is the biggest factor for buyers, Sheley stressed that fit should be the top priority.
"Getting a youth 20-gauge shotgun that fits is going to help make the experience more enjoyable, and that, after all, is our long-term goal," he said.
The best youth 20-gauge pump-shotgun models on the market
The Remington 870 Youth Model
Sheley did not hesitate to say that the Remington 870 youth model is the most popular and, according to him, rightfully so.
"Remington is about to start producing shotguns again and the selling price is around $399," he said. "You can do some searching and maybe find a used one usually in the ballpark of $250. It's reliable, it's versatile, and it's really a good investment in letting a kid enjoy the world of shotguns."
The 870 Youth Model is a pump shotgun that comes on the Express platform, which removes part of the bluing process but is mechanically the same shotgun as the Wingmaster. The matte finish barrels reduce the price, but also give it a great look. It has a 13-inch length of pull and a 21-inch barrel with interchangeable chokes. It weighs in at 6.25 pounds and can take 2 3/4-inch and 3-inch shells.
The Mossberg 500 Youth Bantam and 510 Youth Mini Super Bantam
On the heels of the 870 is the Mossberg. While Sheley acknowledged that the quality of the Mossberg is not as good as the Remington, he did point out the savings.
"Depending on which model you choose, you are in the $200 to $300 range," he said, "but probably the most exciting part is the variety in size that these shotguns come in. The 500 Youth Bantam is essentially Mossberg's answer to the Remington 870 Youth. But the 510 Youth Mini Super Bantam offers some other options, including a .410 but, more importantly, a length of pull that varies from 10.5 inches to 11.5 inches. Step up from there and the 500 Youth Super Bantam offers an adjustable length of pull from 12 inches to 13 inches."
The 510 Youth Mini Super Bantam weighs 5 pounds with an 18.5-inch barrel with adjustable Accu-set chokes. It has a 3-inch chamber with a 3+1 capacity. The 500 Youth Super Bantam weighs 5.25 pounds, has a 22-inch barrel with interchangeable chokes, and a 3-inch chamber. It holds 5+1. The Youth Bantam matches the "Super" but with a weight of 6.5 pounds.
One issue Sheley identified on the Mossberg was frequent problems with breaking the shotgun down and putting it back together.
"We get people coming in all the time who have issues with the assembly of the Mossberg. It can be tricky, but overall it holds up," he noted.
The best youth 20-gauge break-action shotgun models on the market
The world of double guns is also expanding and with it is the availability of break-action shotguns for youth hunters.
While Sheley was not a fan of single shots because of the often-high recoil of the lightweight designs, he certainly expressed a love for double guns. When considering safety, break-actions offer a quick and easy way to know that a shotgun is safe–something that is not just important with youth but in many other situations, too, such as hunting with guides.
The Stevens 555 Compact
Holding to the idea of price being the largest factor for people in search for a youth 20-gauge shotgun, Sheley brought up the Stevens 555 Compact as the third shotgun in the mix.
This Turkish-built over/under shotgun has a 13.25-inch length of pull, 24-inch barrels with interchangeable chokes, 3-inch chambers, and weighs just 5 pounds.
"You can find one new for about $599 and if you are lucky, maybe score one for around $500 used," Sheley said. "This shotgun really makes the idea of an entry-level over/under possible."
CZ Redhead Premier Reduced Length
"It costs a little more money, but CZ offers a upgrade in quality over the Stevens," Sheley noted.
With an MSRP of $955, the CZ Redhead Premier Reduced Length comes in 20-gauge with a 13-inch length of pull, 24-inch barrels with five interchangeable chokes, a 3-inch chamber, ejectors, and a weight of 6 pounds.
Browning Citori Micro Midas Satin Hunter
The next two shotguns that pull their weight–or the "Cadillacs" of the youth 20-gauge shotgun world according to Sheley–are made by Browning. The Citori Micro Midas Satin Hunter, which is listed as discontinued on the Browning website, is still available in stores.
"This is a real investment for a shotgun, but I believe it's really the best option if people weighed the ability to resell it," Sheley said.
Coming in with an MSRP of $1,649, you would be lucky to find one on the used market. With a 13-inch length of pull, 24-inch barrels with three interchangeable chokes, a 3-inch chamber, and coming in at 6 pounds, 2 ounces, I am sure no kid would be disappointed to end up with one of these.
My own father coveted the Citori platform, and would dream of one day owning one.
The best youth 20-Gauge semiautomatic shotgun models on the market
Semiautomatics generate a lot of mixed feelings when it comes to youth shotguns.
As a kid, my father was an Auto 5 devotee and my grandfather subscribed to the Remington 1100. Both my older brother and I wanted semiautomatics for deer hunting, but late nights at camp would often be filled with debates over gas-driven and inertia-driven platforms and the safety of each, ultimately crushing us with the "when you are older" admonition. But Sheley does think the youth 20-gauge semiautomatic shotgun option is a good one, albeit more expensive than other models already mentioned.
He offers a great tip for starting youth on a semiautomatic by only allowing one shell in the shotgun at a time and moving up from there as safety and confidence improves.
Browning Silver Field Micro Midas
This is the other shotgun that Sheley truly got excited about.
"You can find one for around $999 and it really is a gun that can do anything," he said. "It's reliable, built in Japan, but built well. It is gas-operated but built to handle light loads, and the action really reduces the recoil for youth."
The Browning Silver Field Micro Midas 20-gauge is available in 24-inch or 26-inch barrels with a length of pull of 13 inches, a 3-inch chamber, and weighing 6 pounds and 6 pounds 2 ounces, respectively.
Beretta A400 Lite Compact
Sheley put it plainly: "The Italians build good shotguns."
Available with barrel lengths of 26, 28, and 30 inches, the Beretta A400's biggest claim to fame is the ability to add spacers to the stock so that the gun can adjust to the young hunter's growing length of pull. A 13 1/4-inch length of pull with a recoil pad and spacers allow adjustments from 1/2 inch to 1 inch. Add in the science put into the Optima Bore HP, which they claim reduces the recoil, and this shotgun has a lot of versatility with low recoil.
But Italian shotguns do come at a price and with an MSRP of $1,520, it's pretty reasonable.
Let the kid get involved in the choice
Sheley's final piece of advice: "Bringing the child along to the gun shop to help in the process can be both exciting and rewarding. Allow them to get the feel for different models and fall in love with one."
He also took the time to remind me that the resale value on any of these purchases should be part of the calculation when making the investment. It can open better options and ultimately create a more rewarding experience for the youth involved in the field.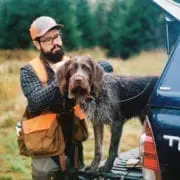 A.J. DeRosa
A.J. DeRosa founded Project Upland in 2014 as an excuse to go hunting more often (and it worked). A New England native, he grew up hunting and has spent over 30 years in pursuit of big and small game species across three continents. He started collecting guns on his 18th birthday and eventually found his passion for side-by-side shotguns, inspiring him to travel the world to meet the people and places from which they come. Looking to turn his passion into inspiration for others, AJ was first published in 2004 and went on to write his first book The Urban Deer Complex in 2014. He soon discovered a love for filmmaking, particularly the challenge of capturing ruffed grouse with a camera, which led to the award-winning Project Upland film series. AJ's love for all things wild has caused him to advocate on the federal and state levels to promote and expand conservation policy, habitat funding, and upland game bird awareness. He currently serves as the Strafford County New Hampshire Fish & Game Commissioner in order to give back to his community and to further the mission of the agency. When those hunting excuses are in play, you can find him wandering behind his Wirehaired Pointing Griffon in the mountains of New England and anywhere else the birds take them.