Take a look at the history, culture, and availability of the 16-gauge shotgun
My shoulder rocked back so much that the other folks at my local skeet range let out an audible gasp. As light as the Stevens 555E 16 gauge was, along with 1300fps loads and my 5-foot-5-inch, 150 pound frame, it was clear that we were a poor combination. Nevertheless, I shot a decent round of skeet with it and happily retired it along with every 12 gauge that already had been sold off, stored away, or forgotten about, and pulled out my 28 gauge. To be fair, this intro is only meant to bring light to the sub-gauges which have increased in popularity over the past years, a revival of sorts and rightfully so. Maybe I am a biased source having already cast the 16 gauge to the depths, but I hope less biased than those I know who are members of the 16 gauge shotgun cult.
If you'd mentioned the 16 gauge about a decade ago, older folks would remember it almost starry eyed, the "Sweet 16" as old revival shotguns were called. Most folks my age would act as if it were a mythical creature. Sure there were 16 gauges on the used gun shelves across the country but the ammo? Good luck.
But things did change, and the 16 gauge found its way back into the hearts of younger upland hunters looking to drop some weight from the 12 gauge frames and not sacrifice pellet counts (for the most part). Or maybe it was just more about the nostalgia of an old American-made side-by-side that brought it forward. Doing some research, it's hard to make a solid case for what came first — the chicken or the egg. Was it shotgun ammo manufacturers that made the availability of 16 gauges hit the shelves of Walmart? Or was it the cult following of Browning A5 that resurrected the "Sweet 16" at the right time? Who knows, but it happened.
A look back on the 16 Gauge
It is without question that I assumed the 16 gauge was very popular at some point in its history. Truth be told, digging back as far as the London Gun Trials of 1879, it never surpassed the 12 gauge. Sure, it enjoyed times of greater popularity but never a moment that would set it well ahead of the 12 gauge. Interestingly enough, in those very trials the final "figure of merit" on the best shotgun made was in fact a 16 gauge at a score of 266.52. This score was calculated using a combination of patterns, pattern deviation, recoil, and velocity. The 20 gauge beat out the 12 gauge by only 1.68.
In W.W. Greener's book The Gun and its Development in 1897, he specifically writes, "The 16-BORE GUN was at one time a favorite with Continental sportsmen, who now for the most part prefer the 12-bore; for use in England probably not one gun in five hundred is made 16-bore." It's also important to note the lack of popularity of the 20-gauge at that time as he writes. "The 20-BORE has been strenuously advocated by writers in the sporting papers, but there are very few sold — the proportion is perhaps one 20-bore to twenty of 16-bore."
It's clear that the 12 gauge has been the standard of both target and game shooting for as long as shotguns have been around. On a trip to the Beretta factory in Italy this past year, engineers explained why all prototypes were produced in 12 gauge (and often the only gauge first offered in new shotgun models) as it's easier to scale design down, rather than up.
The peak of 16 gauges in American culture were the 1940s and 1950s when almost a quarter of the shotguns sold were 16 gauge. The 12 gauge accounted for just over 50 percent of shotguns sold at that time according to author Layne Simpson of Shotguns & Shotgunning.
The popularity of the 16 gauge in the 21st Century
As you probably could have guessed, Project Upland was curious enough to dig into the popularity of gauges in a survey. The question posed in our 2018 National Upland Bird Hunting Survey read, "What shotgun gauge do you prefer most?" Of the 1610 people that responded, the 20 gauge took the number one spot at 46.26 percent, followed by the 12 gauge at 31.57 percent and the 16 gauge at 13.28 percent.
We even went so far as to crowd source the idea of 16 gauges on the Project Upland Community Facebook Group page. The biggest point taken was the design of the 16 gauge; those built on true 16 gauge frames were lighter than their 12 gauge cousins. In the case of many old American gunmakers, 16 gauges were even built on 20 gauge frames. However, gunmakers more recently in large production have been known to shortcut this process and build it on 12 gauge frames. Some argue why shoot a gun that weighs the same as 12 gauge with no added benefits and questionable loss in velocity and pellet count.
To put it plain and simple, people certainly stressed a level of nostalgia combined with personal wants and needs. This may be the best time to point out that one should use whatever shotgun works for you — no matter the gauge, brand, or action type.
16 gauge ammunition
Walking into your local sporting goods store and finding a box of 16-gauge shells was a rarity not five years ago; now, Walmart sells them along with most places. On Cabela's they offer 12 different types of 16 gauge ammo (not including shot size). In contrast, they offer 126 options for 12 gauge and 85 options for 20 gauges.
Using Federal Upland Loads as a baseline of lead ammunition, a case of No. 5, 16 gauge shells is $15 more expensive than both 12 gauge and 20 gauge in the same size. That's a $1.50 difference per box of 16 gauge shells. They pack a 1-1/8 ounce load at a velocity of 1423fps. Comparatively, the 12 gauge is a 1-1/4 ounce load at a velocity of 1500fps.
For those of you in the non-toxic world, things look both good and bad. Bismuth No. 5 is about $4 per box cheaper than 12 gauge with a 1 ounce load packing 1300fps. Steel on the other hand has very limited options. Where one can buy steel for as little as $10 box in popular gauges, the 16 gauge is more in the $20 plus category as popular cheaper loads like Federal Top Gun and Steel Game and Target are not available.
One of the largest glaring issues people point out when speaking to 16 gauge ammunition compared to other gauges is the lack of 3 inch shells. This gap becomes most glaring when one considers waterfowl hunting opportunities and turkey hunting. Although many modern option of metal like bismuth and tungsten has closed the gap with this issue over recent years. Many would argue a 2 3/4″ shell in bismuth is more effective than a 3″ steel load.
Newly made models of the 16 gauge
The A5 Sweet Sixteen by Browning is the first that comes to mind and weighs in at 5 pounds 13 ounces At an MSRP of $1739.99 these guns have certainly jumped in price over the years. Franchi makes a 16 gauge Instinct SL Over and Under Shotgun that weighs in at 5.8 pounds with an MSRP of $1729. Our friends over at CZ USA have the CZ Sharp-tail side by side that weighs 7.3 pounds with an MSRP of $1072. Last but not least is the Stevens 555E over-and-under which ate my shoulder for breakfast on the skeet range. Starting at an MSRP of $705 and weighing in at 6.2 pounds it is the cheapest option available. We probably missed a couple in the mix and encourage people to comment below with other new models being produced as we will update this over time.
The future of the 16 gauge
It goes without saying that just six years ago people were writing articles about the decline of the 16 gauge no different than W.W. Greener had in 1897. But it proves time and time again, whether it's truly a performance thing or just nostalgia, that particular question will never be laid to rest. It has some handicaps like not being recognized in any skeet classes, or the cost of ammunition (in some cases) but it still carries on.
Although I do not see any 16 gauges staying in my gun safe past my great grandfather's Belgium guild hammer gun, that does not mean it's a bad gauge. My small frame is better suited to 20 and 28 gauges. What doesn't work for one might work for another. If you can shoot it straight and find shot shells, enjoy it. I'm sure this is not the last we will hear of the 16 gauge shotgun.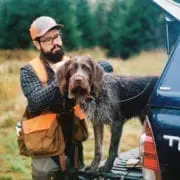 A.J. DeRosa
A.J. DeRosa founded Project Upland in 2014 as an excuse to go hunting more often (and it worked). A New England native, he grew up hunting and has spent over 30 years in pursuit of big and small game species across three continents. He started collecting guns on his 18th birthday and eventually found his passion for side-by-side shotguns, inspiring him to travel the world to meet the people and places from which they come. Looking to turn his passion into inspiration for others, AJ was first published in 2004 and went on to write his first book The Urban Deer Complex in 2014. He soon discovered a love for filmmaking, particularly the challenge of capturing ruffed grouse with a camera, which led to the award-winning Project Upland film series. AJ's love for all things wild has caused him to advocate on the federal and state levels to promote and expand conservation policy, habitat funding, and upland game bird awareness. He currently serves as the Strafford County New Hampshire Fish & Game Commissioner in order to give back to his community and to further the mission of the agency. When those hunting excuses are in play, you can find him wandering behind his Wirehaired Pointing Griffon in the mountains of New England and anywhere else the birds take them.