Home » Firearms and Shooting » Shotguns » Understanding Shotgun Chokes – How to Choose a Choke Size for Hunting
Understanding Shotgun Chokes – How to Choose a Choke Size for Hunting
Exploring the practical application of shotgun chokes in wingshooting
Let me be upfront. Grasping the idea of shotgun chokes eluded me for many years. All that was ever explained to me was that the more open the choke, the faster the spread. Simple and accurate—but not helpful when it came to practical application.
What I wish had happened was that someone would have said to me, "The choke you should use depends on the distance you are shooting at your game." Being primarily a woodcock and ruffed grouse hunter, wide-open chokes have always worked for me.
However, I never fully grasped the science underlying the reasons behind choosing one choke over another. My reasoning was simple: for fast birds in tight cover, I want the shot to spread quickly. My guiding principle should have been the idea that most birds will be shot between 10 and 25 yards, making the choice of a skeet and IC choke make sense in a double-barrel shotgun.
---
If you are looking for advice on a specific species application check out the following articles:
Snowshoe Hare: A Look into Shotguns, Chokes, and Shot Size for Snowshoe Hare Hunting
Ring-necked Pheasant: Pheasant Hunting Ammo and Chokes – A Pheasant Hunters Guide
Ruffed Grouse: How to Choose Shot Sizes and Chokes for Ruffed Grouse Hunting
Sharp-tailed Grouse: Choosing Shot Size and Chokes for Sharp-tailed Grouse Hunting
Doves: What Chokes and Shot Size to Use for Dove Hunting
Scaled Quail: Choosing Shotguns, Shot Size, and Chokes for Scaled Quail Hunting
Bobwhite Quail: What is the Best Shot Size and Chokes for Bobwhite Quail
Wild Turkeys: Choosing Turkey Chokes, Ammo, and Shot Patterning
*More articles will be published based on specific small game species.
---
The invention of shotgun chokes
Before we go any further, let's investigate the history of shotgun chokes. Although we can not pinpoint the full story, it is believed that the shotgun choke was invented in Rhode Island in the early- to mid-19th century by a gunsmith, Jeremiah Smith. On July 14, 1868, an inventor from Boston created the first patented "detachable muzzles for shotguns." These chokes would be screwed on the outside of the barrel and were not fixed. There is some reference to books predating these inventions in Spain; however, little credit has been given toward that history.
On the larger stage, it took the famous W. W. Greener in England to perfect shotgun chokes. Early American versions were inconsistent and patterned poorly. William Greener subjected the theory to many experiments and eventually created the first method that could be consistently repeated. These methods were fixed chokes, meaning it was a permanent part of the barrel design. He is often credited as the inventor of the first shotgun chokes that actually worked.
The claims of how effective the Greener chokes were were put to test in 1875 by the editors of Field Magazine. The classically produced "cylinder" shotguns were outperformed in all categories by the choked Greener productions. This would launch a whole new era and more practical applications of the shotgun in wingshooting.
The idea of interchangeable or "screw-in chokes" did not become a thing until around the 1960s when Winchester produced the Model 1200, the first mass-produced shotgun that came with their "Winchoke" system. From there the science, theory, and application of shotgun chokes has become an ever-evolving world.
Sizes of shotgun chokes and identifications
Shotgun chokes can be a very daunting subject and one that is not always agreed upon. Since the early days of its invention, we now have entire companies whose sole business is the production of shotgun chokes. To keep things simple and practical, we'll explore the classic chokes often applied to wingshooting—starting at the cylinder choke and ending with the full choke.
Note that the measurements of chokes are based on differences. For example, a 12-gauge skeet choke is 0.005 in. (.725 in.) tighter than a cylinder bore (.730 in.). The difference of 0.005 in. is based on the 12-gauge shotgun, which is a .730 in. bore; all differences are referenced from that number. As you will read below, an improved cylinder choke in a 12-gauge is 0.010 in., which is 0.010 in. different than the cylinder .730 in. measurement landing at .720 in.
In other gauges, the measurements are different. For example, a 28-gauge which is a .550 in. bore, would be 0.003 in. different in an improved cylinder. However, we will stay with the 12-gauge example to help more easily visualize and provide a reference point as to how chokes differ from one to another.
Many of these measurements can differ from manufacturer, country, and even history. We made it a point to catch up with Griffin and Howe in New Jersey to confirm with their standards on choke sizing by bore.
It's also important to note the distance estimates between lead and steel are based on spread and not velocity as lead usually weighs three times greater than steel. Lead is a much denser metal and by default will carry downrange further with higher velocities. However, steel shot spread slower and as a result have denser patterns. This is the reason our charts show greater distance in steel estimates to achieve similar spread patterns to lead.
Cylinder choke
A cylinder choke is measured at 0.00 inches (.730 inches) and essentially means there is no tapering of the barrel whatsoever. The effective distance for a cylinder choke is out to 25 yards. Past that distance, the pattern often becomes too inconsistent and stray to be effective. Some point to the ideal distances being 0 to 15 yards. Steel shot's ideal ranges from 0 to 20 yards.
Identifying chokes by visual markings (not measurement) can be tricky as there are many versions in place based on the country and even manufacturer. We will continue to add to these listings as we discover more systems.
When notches are used to identify a cylinder choke it will appear as IIIII or five notches (however, Browning will have no notches). The Spanish identify with five stars or *****, and the British have no identification maskers as cylinder is considered the "zero" of the measurement.
| | | |
| --- | --- | --- |
| 12 Gauge | 0.00″ | .730″ |
| 16 Gauge | 0.00″ | .662″ |
| 20 Gauge | 0.00″ | .615″ |
| 28 Gauge | 0.00″ | .550″ |
| .410 | 0.00″ | .410″ |
Skeet choke
This choke is often overlooked by traditional media outlets but has a level of popularity in ruffed grouse and American woodcock hunting. At 0.005 inches, it holds the medium slot between the cylinder and improved cylinder choke. Its best application is between 5 and 20 yards with lead and 10 to 30 yards with steel shot.
The British have identification markings on this this choke using 1/8. The Spanish and notching systems do not have identifying marks for this choke.
| | | |
| --- | --- | --- |
| 12 Gauge | 0.005″ | .725″ |
| 16 Gauge | 0.004″ | .658″ |
| 20 Gauge | 0.004″ | .611″ |
| 28 Gauge | 0.003″ | .547″ |
| .410 | 0.002″ | .408″ |
Improved Cylinder (IC)
Another popular shotgun choke in the ruffed grouse and woodcock world is the improved cylinder. The practical range is from 10 to 25 yards for lead and 15 to 30 yards for steel. Depending on things like manufacturer and age, an IC shotgun choke for a 12-gauge can range from 0.009 to 0.010 inches. This variation happens in three chokes related to the 12-gauge, as you will see in the skeet II and modified chokes.
This choke appears as IIII or four notches. The Spanish identify them as **** or four stars and the British as 1/4.
| | | |
| --- | --- | --- |
| 12 Gauge | 0.009″/0.010″ | .721″/.720″ |
| 16 Gauge | 0.007″ | .665″ |
| 20 Gauge | 0.006″ | .609″ |
| 28 Gauge | 0.005″ | .545″ |
| .410 | 0.004″ | .406″ |
Light Modified (LM) or Skeet II
The light modified choke is not as popular, as it rarely becomes standard issue in interchangeable chokes with mass-produced shotguns. Landing at a measurement of 0.012 to 0.015 inches, its practical application is for ranges of 15 to 30 yards with lead and 20 to 35 yards with steel shot.
These chokes do not have identifying marks from any of the referenced systems.
| | | |
| --- | --- | --- |
| 12 Gauge | 0.012/0.015″ | .718″/.715″ |
| 16 Gauge | 0.010″ | .652″ |
| 20 Gauge | 0.009″ | .606″ |
| 28 gauge | 0.007″ | .543″ |
| .410 | 0.006″ | .404″ |
Modified (MOD)
The modified choke is most effective from 20 to 35 yards with lead and with steel shot at 25 to 45 yards. In a 12-gauge, its measurement can be 0.019 and 0.020 inches (or .711 and .710 in).
This choke is represented by III or three notches, 1/4 by the British, and *** or three stars by the Spanish.
| | | |
| --- | --- | --- |
| 12 Gauge | 0.019″/0.020″ | .711″/.710″ |
| 16 Gauge | 0.015″ | .647″ |
| 20 Gauge | 0.014″ | .601″ |
| 28 Gauge | 0.012″ | .538″ |
| .410 | 0.008″ | .402″ |
Improved Modified (IM)
The improved modified is designed for targets at 25 to 40 yards with lead and 30 to 50 yards with steel. It's measured at 0.025 inches on a 12-gauge shotgun.
It will appear as II or two notches, while the Spanish use ** or two stars and the British mark as 3/4.
| | | |
| --- | --- | --- |
| 12 Gauge | 0.025″ | .705″ |
| 16 Gauge | 0.020″ | .642″ |
| 20 Gauge | 0.019″ | .596″ |
| 28 Gauge | 0.016″ | .534″ |
| .410 | 0.011″ | .399″ |
Full choke
It is important to reference that there is such a thing as a "light" full choke, however, its popularity has never really taken off. Therefore, the full choke is actually 0.010 in. greater than the improved modified at 0.035 inches. Its effective range is 30 to 45 yards with lead, and it's very important to understand that steel shot, in some cases, cannot be shot through a full choke although it is widely debated that higher-quality manufacturing will allow for the use of steel. But some still argue that patterns are inconsistent with steel and full chokes. Luckily, for us upland hunters, the use of a full choke does not have much practical application in the field.
We can leave that guessing to waterfowl hunters.
The full choke is marked as one notch or I, 1/1 according to the British, and one star (*) to the Spanish.
| | | |
| --- | --- | --- |
| 12 Gauge | 0.035″ | .695″ |
| 16 Gauge | 0.028″ | .633″ |
| 20 Gauge | 0.025″ | .590″ |
| 28 Gauge | 0.022″ | .528″ |
| .410 | 0.015″ | .395″ |
How to apply a choke to your situation
We have worked to provide a series of articles tackling the practical application of shotgun choke sizes based on upland game. We've covered such choke applications for birds like the chokes for pheasant, chokes for ruffed grouse, and chokes for bobwhite quail.
Some of those articles will suggest a switch in shotgun choke based on seasons. For example, early season ruffed grouse results in much closer shooting than later in the season when the leaves are down. To put it simply, you should consider the average distances you shoot at the upland game you are pursuing and then apply the distances above. On days where birds are jumpier, you may want to consider going to a tighter choke for longer shots.
| | | |
| --- | --- | --- |
| Choke Size | Lead | Steel Shot |
| Cylinder | 0 to 15 Yards | 0 to 20 Yards |
| Skeet | 5 to 20 Yards | 10 to 30 Yards |
| Improved Cylinder | 10 to 25 Yards | 15 to 30 Yards |
| Light Modified | 15 to 30 yards | 20 to 35 Yards |
| Modified | 20 to 35 Yards | 25 to 45 Yards |
| Improved Modified | 25 to 40 Yards | 30 to 50 Yards |
| Full | 30 to 45 yards | – – – |
*Note that the distances indicated here are based on 60 percent or more of the shot appearing in a 30-inch circle and not the effective velocity of the shot which is much lower in steel shot compared to lead. As this chart indicates, because steel weighs less than lead, it spreads at a slower pace.
We should pattern test our chokes and shotguns
It's also important to consider that not all chokes and shot mixed together are created equal. A No. 6 birdshot through a Beretta over-under with a modified choke might pattern differently than the same size choke and shot size combo in a different brand. That applies to different brands of shotgun shells, chokes, wad types, and even the shotgun themselves.
Testing on paper to see at what distances a 30-inch circle has an effective pattern should be part of our pre-season routines. It's popular consensus that once less than 60 percent of the shot appears in that circle, the shot is no longer effective at that distance. Exploring brands and combinations to find what the ideal scenario is for your application should be part of the routine for all of us.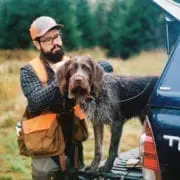 A.J. DeRosa
A.J. DeRosa founded Project Upland in 2014 as an excuse to go hunting more often (and it worked). A New England native, he grew up hunting and has spent over 35 years in pursuit of big and small game species across three continents. He has a passion for side-by-side shotguns, inspiring him to travel the world to meet the people and places from which they come. Looking to turn his passion into inspiration for others, AJ was first published in 2004 and went on to write his first book The Urban Deer Complex in 2014. He soon discovered a love for filmmaking, particularly the challenge of capturing ruffed grouse with a camera, which led to the award-winning Project Upland film series. AJ's love for all things wild has caused him to advocate on the federal and state levels to promote and expand conservation policy, habitat funding, and upland game bird awareness. He currently serves as the Strafford County New Hampshire Fish & Game Commissioner in order to give back to his community and to further the mission of the agency. When those hunting excuses are in play, you can find him wandering behind his Wirehaired Pointing Griffon in the mountains of New England and anywhere else the birds take them.