Weatherby introduces a modern side-by-side as its latest product as a new option in the growing market of entry-level side-by-side shotguns
Weatherby's addition of a new side-by-side shotgun can be viewed as a welcome newcomer or a resurrection story. The original Weatherby Orion side-by-side shotgun was first produced in Spain from 2002-2003. Next came the Athena D'Italia side-by-side shotgun, which was Italian-built. The newcomer is a very exciting play on the entry-level side-by-side Turkish market called the Weatherby Orion SxS. Its $1,099 MSRP makes it a real player in a small line of side-by-sides under $1,200.
Listen to more articles on Apple | Google | Spotify | Audible
My father covets the Weatherby name. A chance to shoot his Mark V 300 Wby Mag with an original Weatherby scope on it from 1978 was a right of passage. That gun has multiplied over the years; today, you can find many models and calibers in my father's collection. He perked up when I told him about the newest shotgun in my personal collection, the Weatherby Orion SxS 20-gauge.
Last year, he showed up to camp with a 20-gauge Orion over/under shotgun. With a slight jab (and concession to double guns), he said he had to try and fit in with the cool kids leaving his favorite Belgium-built Browning Auto 5 at home. I know better than to ask why his beloved Browning Citori "Signature Series" is not being carried in the grouse woods. It sounds like my father may be even "cooler" this grouse season if I pass along my latest shotgun addition to him.
The Basics of the Weatherby Orion SxS
I caught up with Weatherby International Sales Manager, Kyle Killen, to talk about the Orion Side-by-Side, from its purpose to its mechanics.
"Looking for a manufacturer for the Orion SXS was a process that went on for a little over a year," Killen explained. "The team sat down and put together what we wanted in a side-by-side shotgun. Key features that the shotgun had to have were a boxlock action made of steel, double triggers, interchangeable choke tubes, and compatibility with steel shot. We wanted the gun to have a simple elegance, dead reliability, and be affordable for the average American. In essence, we wanted to create a modern-day Fox Sterlingworth."
The Weatherby Orion SXS is available in two gauges: 20-gauge and 12-gauge. The 20-gauge I received tipped the scales at 6 pounds, 12 ounces. This means it comes in only a few ounces heavier than the widely popular CZ Bobwhite G2. This shotgun meets Gene Hill's "under 7 pounds" rule for a grouse gun. The 12-gauge comes in at 7.3 pounds, which is still respectable. Killen pointed out that "each gauge has its own sized receiver, so there is no excess bulk. While working with our manufacturer, we rounded all the edges of the action to create a sleek, minimalist look."
Overall, the Orion SxS sticks to the classic boxlock design (in this case, a round body). It also has a straight English stock with a slight cast and splinter forend with grade two wood.
"We forego engraving, choosing instead to bring the wood grade up a notch to a level 2," Killen added.
The length of pull comes in at 14 ¾ inches, which makes it slightly longer than its competitors in the side-by-side category. It has two triggers and a manual tang safety. I am a big fan that it has extractors rather than ejectors (public service announcement: pick up your shells).
The monobloc barrels are 28" long with a welcomed swamped rib. The swamped rib design removes the rib from the shooter's sight plane, leaving just a bead. The swamped rib undoubtedly sets this shotgun apart from others in the entry-level side-by-side category. I have a few swamped ribbed shotguns, including a recently custom-built RFM by Upland Gun Company, because of my fondness for the design.
It comes with five extended shotgun chokes (more on that later) using the Yildiz choke system with a skeet, improved cylinder, modified, improved modified, and full. It also chambers up to 3" shells for waterfowl and turkey hunters.
The Action Design is Different than Other Turkish Shotguns
Many people think this is just the same gun with a different label. It is not. The action itself is unlike anything I have previously seen. Del Whitman of D.C. Whitman Custom Gunsmithing called it a "split lump" design that resonates similarly to Blazer or Krieghoff.
"The split lump design is pretty cool. It makes room for cocking mechanisms under and between the lumps. It also makes the lumps wider, so it could be argued that it would have more side-to-side stability," Whitman said after seeing photos of the action.
I was delightfully surprised by the action and was excited to pick Killen's brain on the topic. "Mechanically, this action is as simplified and robust as possible," Killen explained. "It has a trigger-blocking safety and coil springs that drive the hammers. It benefits from a design that uses as few parts as possible, thus making it simple to work on and removing points of failure."
Take one look at this action, and you will understand why it's different from its competitors.
The Extended Chokes
The elephant in the room is the extended chokes. I would be a liar if I did not say I was very critical of Weatherby for adding these onto such a classic, side-by-side boxlock design. I can see the argument for them when considering the practicality of easily interchanging chokes in the field; there has been more than one windy day on the prairie where that could be useful for me. However, I felt like I was stretching when looking for a reason to have extended chokes.
I hit Killen pretty hard on this one and was pleasantly surprised by his response. "It came down to patterns for non-toxic shot. Steel shot, to be specific," Killen replied with confidence.
"Having parallel in shotgun chokes is something we've seen improve pattern density on steel shot. In the simplest of terms, it seems to allow the steel shot to stabilize after being constricted, which is important since steel shot does not compress like lead. We tested a constriction style choke where the constriction ends right at the muzzle, versus one with a length of parallel that follows the point of constriction. Consistently, the choke with parallel outperformed the choke without any parallel when we were shooting steel shot." Killen continued, "This was important to us as steel shot is the most commonly available non-toxic shot, and many wildlife management areas require non-toxic shot be used in them."
In layman's terms, their extended choke system is better patterned to stabilize harder, steel shot. But my general interest in ballistics kept me asking for more details.
My simple question was, "Why not just put the choke tubes inside?" Killen had the answer. "A standard choke would have about ¾ inches of parallel, whereas the extended choke has 1 ¼ inches. We also did not want to extend the choke inside as that would have created more jugging in the barrel, which we did not want from a design standpoint," Killen said.
The choke selection was somewhat surprising with the five chokes, including a skeet choke, which is a bit of a novelty regarding standard screw-in choke options. However, the grouse hunter in me appreciated it. Overall, I gave Weatherby a pass on the extended chokes despite my aesthetic snobbery because they genuinely had practical reasoning for doing it.
Overall Take on the Weatherby Orion SxS
The Weatherby Orion over/under shotgun has a solid reputation. You do not have to go too far to hear of people putting hundreds of rounds through them with little issue on trap ranges. Mechanically, Weatherby will stick to its classic quality when putting something on the market, and I only felt more confident about that after speaking with Killen.
While I have yet to put this shotgun on the patterning board (although I'll talk about that, too, once I do), I did well with it on the skeet range. I broke that 20-plus clay mark each time. While I typically prefer a lighter shotgun, this one played well out of the box. Considering the price point, Weatherby's Orion SXS adds more options to those wanting to get a working gun or dip their toes into the side-by-side market under the $1,200 mark.
This is not the Fausti-built Athena; to be clear, it would be unfair to compare the two. However, it is a significant new addition to Turkish-built side-by-side shotguns. More importantly, it is a new chapter for entry-level side-by-side shotguns. It could even indicate a broader market from other manufacturers to increase side-by-side consumer options. With competition comes an increase in quality and more overall satisfaction in the market itself.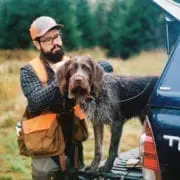 A.J. DeRosa
A.J. DeRosa founded Project Upland in 2014 as an excuse to go hunting more often (and it worked). A New England native, he grew up hunting and has spent over 35 years in pursuit of big and small game species across three continents. He has a passion for side-by-side shotguns, inspiring him to travel the world to meet the people and places from which they come. Looking to turn his passion into inspiration for others, AJ was first published in 2004 and went on to write his first book The Urban Deer Complex in 2014. He soon discovered a love for filmmaking, particularly the challenge of capturing ruffed grouse with a camera, which led to the award-winning Project Upland film series. AJ's love for all things wild has caused him to advocate on the federal and state levels to promote and expand conservation policy, habitat funding, and upland game bird awareness. He currently serves as the Strafford County New Hampshire Fish & Game Commissioner in order to give back to his community and to further the mission of the agency. When those hunting excuses are in play, you can find him wandering behind his Wirehaired Pointing Griffon in the mountains of New England and anywhere else the birds take them.