Like many have found growing up hunting, the Remington 870 pump shotgun is made for a wide range of applications
The smell of pine needles filled my father's townhouse as we came up the basement stairs. The anticipation had been killing me the whole ride up. I knew this would be the year I got my first gun! Sure enough, below the tree a box was wrapped up with my name on it, a fitting size for a gun. What else could it be? I laid awake in my bed that night, thinking of the countless adventures that would be wrapped up in that one present. Was it a Remington 1100, the Cadillac of my family's gunning world? Then I began to think, what if it's a 12-gauge? I've always been small framed, and other than my brother's old .410 single shot, everything in my family's gun cabinets were 12-gauges.
The morning came. And I'm sure like many American boys and girls across the country, I received my first Remington Model 870 Express Youth Model. More than 11 million 870s have been sold since 1950, to be precise. Mine was a 20-gauge to my excitement, and soon my father's gun cabinet revealed a collection of those yellow shells I would come to love. This shotgun would pave my way into the future of hunting. It shot my first ruffed grouse, my first American woodcock, and my first whitetail deer. In fact, at 41 years old, I still use it as my deer gun in the rifle-restricted areas of my childhood haunts.
In short, it's reliable and predictable. It can take a beating. And despite my attempts to swap over to an 1100 and many other models, I always went back to it for deer. Its biggest use these days is as my home defense gun because I trust it, know it better than any other shotgun I've owned.
The Remington 870 line comes from a wide range of guns, the Express being entry level. Starting at $417 MSRP it's hard to believe it's 2020. The step up in the world of wingshooting is the 870 Wingmaster starting at $847 MSRP, still very reasonable for a shotgun boasting this level of reliability.
My older brother had a Wingmaster. I always remember how much shinier it was than my matte finish youth model. It felt notably smoother when you pumped it, but as a 12-gauge I rarely shot it. I came to love matte finish at an older age, but in those days I was envious.
Versatility is everything with the Remington 870
This gun has versatility and reliability for the price. That above all is why I would recommend it to any new hunter out there. This is not a specialty shotgun, but when used correctly it can be good at anything to which it is applied. If it were a gun dog, it would certainly fall into the versatile breed category. The interchangeable chokes, standard since 1986, will allow you to explore various upland game and also the beloved wild turkey. Its ability to swap out barrels allows you to add a slug barrel for big game hunting and open sights.
This shotgun is produced in 12-gauge, 20-gauge, 28-gauge, and .410 bore, only adding to its versatility. Remington has reinvented their pump shotgun more than once. If you journey into the vintage pump shotguns that predated it you would find the bottom-ejector Model 10, then the Model 17, and lastly the Model 31. But for almost 70 years, the 870 has proved to be the right fit for the Remington brand.
This gun certainly holds particular importance to those new to hunting. Maybe you will not like upland hunting or waterfowl, maybe turkey hunting will be your thing. But past that, big game may be something you want to explore, as well.
As mentioned above the importance of interchangeable chokes is the cornerstone of a versatile shotgun, something often lost on vintage double guns and bespoke side-by-sides. Put in a full choke and turkey season is on; swap out to something wide open and woodcock here you come. Find yourself wanting to understand firsthand the practical application of different chokes? This gun will work. And since the 50s, Remington has noted their barrels are capable of handling steel shot.
Problems and issues with the Remington 870
One of the most common issues with the shotgun is that it does not take well to certain shotgun shells. Some say that low brass can cause extraction issues, others point towards cheap ammunition in general. I've certainly experienced some of these issues over the years. It is easily overcome, however; like many shotguns you should test what works best with it–a more common issue among semi-automatics. We all should take the time to pattern test our shotgun with various chokes and ammunition, anyways.
I've heard accounts of broken ejector springs, but for all the various ones owned in my family I have yet to see it happen. The replacement of said spring requires special tools that can be ordered, but most gunsmiths are equipped for the fix.
Like any shotgun not properly cared for, rust can become an issue. Some say more common because of the quality of finish on a low cost shotgun. Be sure to keep the surfaces well oiled and free from moisture and a shotgun can certainly last. Mine has developed some surface rust now and again, but it has always come off easily and I contribute most of that to its lack of use. Probably time I start a more regular maintenance program on it.
The history and advancement of the Remington 870
As noted above, the 870 pumps were an evolution in gun making, maybe one of the finest examples of Remington's ability to adapt with the times. The cheaper Express model became available in the mid-90s, cutting the sale price almost in half. The growth of sales was sparked by the introduction of the Express model and it helped push the gun over the 10 million sales mark.
The shotgun has held the record of the best selling shotgun since the early 80s and no company has yet to surpass it. Their bankruptcy in 2018 was due to a $950 million debt it had racked up. Some point to the defect in their X-Mark Pro trigger that was linked to several deaths as marking a decline in reputation for the company that was accompanied by a sales decline. Remington was bailed out, so don't worry, the 870 is still being produced.
In the 1960s the United States Marine Corps used the 870 Mark 1 which held 8 rounds and could affix a bayonet. It saw action in both the Vietnam War and the Iraq War. Various versions have been bought over the years by other Federal Agencies including the FBI, Secret Service, and Border Patrol. And notable local law enforcement organizations like the California Highway Patrol, LAPD, and the Pennsylvania State Police.
Why the Remington 870 matters to bird hunters
Learn how to properly use a pump shotgun and it is as effective as any shotgun in bird hunting. Some will certainly say other guns like semi-automatics and double guns are easier to shoot without the action needed to pump a second round in. But that has not stopped many from falling in love with this shotgun or learning to use it well. Its versatility makes it suitable for any upland game in North America with the simple swap of a choke and maybe for the more detail-oriented, a swap of barrels of different lengths. From their youth model shotgun up, a slip-on recoil pad can help lengthen things up for those that require a greater length of pull. There is also a large amount options with the 870 when it comes to buying used shotguns.
The Remington 870 pump shotgun will always hold a special place in my heart. Every time the action comes back, in floods my memories of all those "firsts." The yellow 20-gauge shells hold a greater meaning to me than my more recent 28 gauge additions. A collection sitting in my gun cleaning kit includes small white labels indicating dates and deer that 870 shotgun has gifted me, the rise of that first woodcock that fell in the trail in front of me as a child and the one turkey I shot with it. I have no doubt that this American classic shotgun will serve an equally fitting purpose for many others.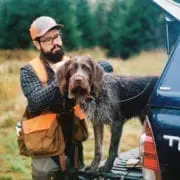 A.J. DeRosa
A.J. DeRosa founded Project Upland in 2014 as an excuse to go hunting more often (and it worked). A New England native, he grew up hunting and has spent over 35 years in pursuit of big and small game species across three continents. He has a passion for side-by-side shotguns, inspiring him to travel the world to meet the people and places from which they come. Looking to turn his passion into inspiration for others, AJ was first published in 2004 and went on to write his first book The Urban Deer Complex in 2014. He soon discovered a love for filmmaking, particularly the challenge of capturing ruffed grouse with a camera, which led to the award-winning Project Upland film series. AJ's love for all things wild has caused him to advocate on the federal and state levels to promote and expand conservation policy, habitat funding, and upland game bird awareness. He currently serves as the Strafford County New Hampshire Fish & Game Commissioner in order to give back to his community and to further the mission of the agency. When those hunting excuses are in play, you can find him wandering behind his Wirehaired Pointing Griffon in the mountains of New England and anywhere else the birds take them.