Home » Turkey Hunting » Can I Use a 20-Gauge to Hunt Turkeys?
Can I Use a 20-Gauge to Hunt Turkeys?
Photo by A.J. DeRosa
A look into breaking tradition by hunting turkey with a 20-gauge
Yes, yes, yes. I grew up in a family that was all about the 12-gauge. As a small-framed hunter, I've always been partial to the first gun I ever got as a kid, a 20-gauge Remington 870 pump youth model shotgun. Nevertheless, the hunters in my family were always 12-gauge this and 12-gauge that. They created some kind of impression that the 12-gauge was the end-all, say-all for hunting. It would not be until I was much older that I started to realize that the 20-gauge can have distinct advantages over the 12-gauge. In fact, a recent study of the Project Upland audience showed the 20-gauge to be more popular than the previous 12-gauge king. I first reverted back to a 20-gauge for ruffed grouse hunting. Someone told me that a lighter gun which I could shoulder more quickly would make a world of difference on wingshooting. It did. Now that might dumb down my whole venture into 20-gauge shotguns as I learned to like some weight for swing and spent more time obsessing over the Churchill Method of wingshooting.
When turkey season approached I started thinking about the idea of swapping over and trying a 20-gauge to hunt turkeys. Why not, I thought. My greatest concern was if the shotgun and shot would have enough to put a bird down. I must confess I did not grow up in a turkey hunting family. Most of my turkey hunting friends were first generation turkey hunters as well and the popularity of the 12-gauge eclipsed anything I had heard about sub-gauges.
The 20-gauge is lighter to hunt turkeys
Turkey hunting can sometimes mean miles of boot leather. For many, the idea of running and gunning is much more exciting than sitting still in a blind for hours, myself included. From cutting the edges of fields to my more recent ventures of hunting turkeys in log landings and big woods, there is a lot of exploring to be had. The idea of lugging a 12-gauge shotgun around has certainly lost its luster the older I get. And the idea of working smarter, not harder, is appealing.
There are certainly light shotguns in all gauges these days, but at 5′ 5″ and 150 pounds, I will stick to that 20-gauge going forward.
Less recoil from a 20-gauge to hunt turkeys
The idea that lighter weight means less recoil is not always true. Keep in mind that the lighter in weight the gun actually is, the less it will absorb the recoil. I have some 20-gauges that are as light as a feather and kick like a mule. However, if you put a 20-gauge at an equal setup to a 12-gauge, they will always kick less. This can make not only for easier handling but, more importantly, for better accuracy.
Past culture has always painted the picture of bigger calibers, gauges, and other things that were tied to an image of "being manly." The Neanderthal in that mentality, however, dismissed how much more deadly accuracy is than overkill. Less recoil always correlates with more accuracy.
The 20-gauge will put a turkey down from traditional lead loads to TSS
My first opportunity to shoot a turkey with a 20-gauge arrived on a nice old tom in New Hampshire. At 30 yards standing broadside, I let the shot rip. Now I knew the gun did great on paper, but I still had that 12-gauge superiority stigma stuck in my head. Like there was some reason that the 20-gauge wouldn't pack the punch needed to put a big old tom on the ground! That day I broke the age old myth in my own mind as I watched the tom go down just as hard with my 20-gauge as any 12-gauge kill I'd put on. Needless to say, I never looked back to the 12-gauge again.
The recent development of non-toxic shot options like the Tungsten Super Shot loads have changed the game to an even greater extent. People have reported dropping turkeys with a .410 bore at 60 yards. Sure, plenty of us question the ethics of such a practice, and you must also be mindful of state laws. Many states do not allow the use of anything under a 20-gauge or load sizes less than No. 7. Many of these new loads are as small as No. 9.
This past season I shot a tom at 45 yards with a 20-gauge and Federal TSS No. 7 shot. It is my farthest turkey to date and if it were not for my confidence in the load I never would have even taken a shot at that bird.
This development closes the gap even greater between the 20-gauge and the classic 12-gauge for turkey hunting.
What can a 12-gauge do that a 20-gauge cannot?
When I try to think practically of what benefits the 12-gauge may have, the only one that comes to mind is the cost of shotshells. But recent years have closed the economic gap between 20-gauge and 12-gauge ammunition, rendering what may have been the only real benefit of the 12-gauge null and void.
The was a time when I may have answered with some misinformed rendition of knockdown power, pellet count, and whatever else had become commonplace in culture. But after shooting many whitetail deer and many more turkeys with a 20-gauge, I have yet to understand how the 12-gauge benefits prove any greater than the advantages of a 20-gauge.
I once remember someone telling me that the center of a shot pattern is always the same. They all kill. This literal statement gives greater importance to your personal ability to shoot a shotgun accurately. We are all built differently, have different preferences, and ultimately it comes down to shooting a shotgun that works best for you, no matter what the gauge.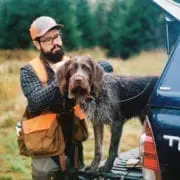 A.J. DeRosa
A.J. DeRosa founded Project Upland in 2014 as an excuse to go hunting more often (and it worked). A New England native, he grew up hunting and has spent over 35 years in pursuit of big and small game species across three continents. He has a passion for side-by-side shotguns, inspiring him to travel the world to meet the people and places from which they come. Looking to turn his passion into inspiration for others, AJ was first published in 2004 and went on to write his first book The Urban Deer Complex in 2014. He soon discovered a love for filmmaking, particularly the challenge of capturing ruffed grouse with a camera, which led to the award-winning Project Upland film series. AJ's love for all things wild has caused him to advocate on the federal and state levels to promote and expand conservation policy, habitat funding, and upland game bird awareness. He currently serves as the Strafford County New Hampshire Fish & Game Commissioner in order to give back to his community and to further the mission of the agency. When those hunting excuses are in play, you can find him wandering behind his Wirehaired Pointing Griffon in the mountains of New England and anywhere else the birds take them.