Photo by A.J. DeRosa
Another 'sleeper state' for Eastern turkeys in New England.
The line of jakes never seemed to end. There were three, then six, then 12 or more. I sat at the base of a tree for only a few minutes. We had daringly cut the distance from our first call back not 10 minutes before. There was a tom sounding off behind them, but I'd already shot one just an hour before. This is for meat — and this is Connecticut.
Connecticut is the southernmost state in New England and the third smallest state in the country by area. If you are a New England hunter you may think of it as a deer infestation where meat hunting is about as easy as it gets. If you are one of the insane American woodcock hunters of the eastern flyway then you may have chased the migration through this sleeper state. (Watch the film First Season). But the fun of Connecticut does not stop there, and as the winter fades into memory a sleeping giant awakens for spring turkey.
Spring Turkey Season
The 2019 spring turkey season runs April 24 to May 25. Like most northern states, that's later than our southern friends. There are many things to make this state special for Eastern turkey, starting with the abundance of population and running all the way to the liberal laws that govern bag limits. Speaking of bag limits, remember that line of jakes?
As they began their single file walk toward my position, I lined up on the first bird at about 15 yards. My shot rang out, and like all predictable jakes the two directly behind him took advantage of his bad turn of fate. As they towered over him a second shot rang out, and my two public land tags were filled. You may have remembered my comment about shooting a tom only an hour before? That bird was on private land and he made me work a little harder than these guys.
The state of Connecticut allows you to take 3 birds on private land and 2 birds on public (bearded birds only). On top of that, birds do not have to be reported between kills (but must still be tagged). That means you can in theory harvest 5 birds in a single day. You are still required to either call in or register them online.
Spring turkey season hours run from 30 minutes before sunrise to 12 noon — which during my Connecticut adventure proved enough time for me to put 11 pounds of turkey breasts in the freezer.
Fall Firearms Turkey Season
I have yet to hunt fall turkeys in Connecticut, and as many have found it often becomes more of an opportunist occasion than a targeted event. But for those of you dog lovers, the state allows the use of dogs on private land during the fall firearms season. You can also hunt turkey from 30 minutes before sunrise to 30 minutes after sunset.
You are allowed one bird on public land and two on private. There is a season for bowhunting and a season for shotgun. The 2019 shotgun season runs October 5-31 on both public and private lands.
Fall Archery Turkey Season
The archery season is a little more complex (and longer). On Connecticut state land the 2019 season runs September 16 to November 19 and on state bowhunting only areas from September 16 to December 31. The 2019 season on private land runs from September 16 to December 31. However, there is a special season for Zones 11 and 12 that allows bowhunting January 1-31, 2020.
Connecticut allows the use of crossbows during archery season and the minimum weight requirement for both crossbow and archery is 40 pounds draw.
Turkey Loads and Gauge requirements
The state of Connecticut requires a 20-gauge or greater to hunt turkeys. For those of you who appreciate more advanced turkey loads you are restricted to No. 4 through 7 ½. Also be aware that shotguns can hold no more than three loads.
Hunting License Requirements
The state requires all hunters to obtain a "Resident Game Bird Conservation Stamp" for both shotgun and archery ($28 for resident and non-resident). Firearms hunters must hold a "Firearms Hunting License" as well (resident cost $19 and non-resident $91) and archery hunters must hold an "Archery Deer/Small Game" License (resident $41 and non-resident $135).
Other Important Turkey Hunting Laws
It is unlawful to shoot a turkey roosting in a tree.
Cooperative drives are not permitted.
You may not call turkeys for another hunter unless you are properly licensed. Even if you have no tags left.
Electronic calls and baiting is against the law.
In all, Connecticut is a surprisingly amazing state to hunt Eastern wild turkeys. Although there are a fair number of hunters in the state, the birds on public land were still cooperative. In the early season the birds were still in large flocks and seemed to break later than expected. Connecticut turkey hunting is certainly worth the time, money, and adventure.
Read: Connecticut Small Game and Bird Hunting Seasons and Opportunities
The turkey hunting season dates, game bird species available, and other information is subject to change. The article may not reflect this. Please visit theConnecticut Department of Energy and Environmental Protection for the most up-to-date information on turkey hunting in Connecticut.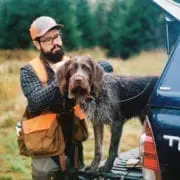 A.J. DeRosa
A.J. DeRosa founded Project Upland in 2014 as an excuse to go hunting more often (and it worked). A New England native, he grew up hunting and has spent over 35 years in pursuit of big and small game species across three continents. He has a passion for side-by-side shotguns, inspiring him to travel the world to meet the people and places from which they come. Looking to turn his passion into inspiration for others, AJ was first published in 2004 and went on to write his first book The Urban Deer Complex in 2014. He soon discovered a love for filmmaking, particularly the challenge of capturing ruffed grouse with a camera, which led to the award-winning Project Upland film series. AJ's love for all things wild has caused him to advocate on the federal and state levels to promote and expand conservation policy, habitat funding, and upland game bird awareness. He currently serves as the Strafford County New Hampshire Fish & Game Commissioner in order to give back to his community and to further the mission of the agency. When those hunting excuses are in play, you can find him wandering behind his Wirehaired Pointing Griffon in the mountains of New England and anywhere else the birds take them.