Home » Hunting Videos » New Englander – A Turkey Hunting Film with an NWTF Regional Director
New Englander – A Turkey Hunting Film with an NWTF Regional Director
New England is one of the most overlooked regions for good turkey hunting.
Fred Bird, the New England Regional Director of the National Wild Turkey Federation, is featured in this story set against the backdrop of a New Hampshire turkey hunt in Fred's home state. He talks about the evolving turkey culture of New England and shares inspiring stories that showcase the rising appeal of this American tradition to growing numbers of individuals and groups never before exposed to the hunting community.
New Hampshire (along with New England) is considered an up-and-coming region of the country for turkey hunting. With much later seasons than southern areas, it allows many to continue their passionate pursuit of this iconic American bird.
When that turkey hollers back at you, you got him to do that. That's special … There is nothing else in the hunting woods that can compare to that for me." – Fred Bird
You can catch Fred on the Morning Thunder Podcast along with co-host Jay Scott as they explore all things turkey hunting and address hunting conservation issues throughout the country.
This film was made in collaboration with the National Wild Turkey Federation, which has been at the forefront of turkey conservation efforts in the United States since 1973 and continues to expand its work to benefit all wildlife through habitat management.
Watch: Poor Man's Elk – Hunting Turkeys in Film
"When the National Wild Turkey Federation was founded in 1973, there were about 1.5 million wild turkeys in North America. After decades of dedicated work, that number hit an historic high of almost 7 million turkeys. The foundation of our success? Standing behind science-based conservation and hunters' rights. Thanks to the tremendous efforts of our dedicated volunteers, professional staff and committed partners, we have had many successes that advanced our mission. Together, we have facilitated the investment of $488 million in wildlife conservation and the preservation of North America's hunting heritage. Our returns have included improving more than 17 million acres of wildlife habitat and introducing 100,000 people to the outdoors each year." — NWTF website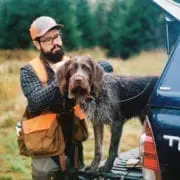 A.J. DeRosa
A.J. DeRosa founded Project Upland in 2014 as an excuse to go hunting more often (and it worked). A New England native, he grew up hunting and has spent over 35 years in pursuit of big and small game species across three continents. He has a passion for side-by-side shotguns, inspiring him to travel the world to meet the people and places from which they come. Looking to turn his passion into inspiration for others, AJ was first published in 2004 and went on to write his first book The Urban Deer Complex in 2014. He soon discovered a love for filmmaking, particularly the challenge of capturing ruffed grouse with a camera, which led to the award-winning Project Upland film series. AJ's love for all things wild has caused him to advocate on the federal and state levels to promote and expand conservation policy, habitat funding, and upland game bird awareness. He currently serves as the Strafford County New Hampshire Fish & Game Commissioner in order to give back to his community and to further the mission of the agency. When those hunting excuses are in play, you can find him wandering behind his Wirehaired Pointing Griffon in the mountains of New England and anywhere else the birds take them.