Photo by A.J. DeRosa
Connecticut offers amazing bird hunting like woodcock and pheasant as well as other small game hunting opportunities
The tailgate dropped at about 9 a.m. I searched my strap vest pockets for my English lead, an item I often do not need right out of the gate in my more rural ruffed grouse hunting adventures. As I struggled with my Wirehaired Pointing Griffon to get his GPS collar on, a few deer hunters came out of the woods from the trail behind us, dragging a white-tailed deer.
They looked at us (including my local friend) with a bit of confusion and the question came as soon as they re-gained their composure. "You know they do not stock pheasant here, right?"
Jesse and I exchanged glances; the question was not that crazy. In fact, a week earlier someone pulled up in a car and asked what we were hunting. "Woodcock," Jesse replied. The gentleman with an all-serious look on his face said, "I did not know they still stocked woodcock here," and drove away. To be clear: American woodcock cannot be stocked, but that presumption puts a target on the idea of woodcock hunting in Connecticut.
When one thinks of the state of Connecticut and bird hunting, it's tough to see through its reputation as a Mecca for suburban deer hunting. And for those that try to fill the high of pheasant hunting with stocked birds across the state, the program gives ample opportunities. But hidden past those stocked birds lies the spectacle of the great migrations of the upland hunting gem, the American woodcock. Despite not allowing small game hunting on Sundays, over the past few years I've found myself wandering down from New Hampshire at regular intervals to pursue this "wandering soul." In fact it became the final chapter in the film First Season I did some years back.
| | | | |
| --- | --- | --- | --- |
| Game Species* | Dates | Daily/season Limits | Unit Restrictions |
| Woodcock | Oct 21 – Nov 14 and Nov 17 – Dec 12, 2020 | 3/9 | None |
| Pheasant | Oct 17 – Dec 31, 2020 and Jan 1 – Feb 28, 2021 | 2/10 | Zone Restrictions Apply |
| Pheasant Youth | Oct 10, 2020 | 2/10 | Units Restricted |
| Quail | Oct 19 – Oct 31, 2020 | 2/10 | None |
| Chukar and Huns | Oct 17 – Dec 31, 2020 and Jan 1 – Feb 29, 2021 | 2/10 | None |
| Ruffed Grouse | Oct 17 – Nov 30, 2020 | 1/8 | None |
| Snipe | Sept 1 – Sept 30 and Oct 15 – Nov 28, 2020 | 8/24 | None |
| Virginia and Sora Rail | Sept 1 – Sept 30 and Oct 15 – Nov 28, 2020 | 25/75 | None |
| Clapper and King Rail | Sept 1 – Sept 30 and Oct 15 – Nov 28, 2020 | 10/30 (only 1 king) | None |
| Crow | Aug 8 – Oct 9 and Oct 17 – Nov 30, 2020 | No Limit | Hunting Wed, Fri, Sat Only |
| Crow Late Season | Jan 11 – March 28, 2021 | No Limit | None |
| Gray Squirrel | Sept 1 – Dec 31, 2020 and Jan 1 – Feb 28, 2021 | 8/40 | None |
| Cottontail Rabbit | Oct 17 – Dec 31, 2020 and Jan 1 to Feb 28, 2021 | 3/25 | None |
| Snowshoe Hare | Nov 21 – Dec 31, 2020 and Jan 1 – Jan 31, 2021 | 2/10 | None |
| European Hare | Oct 17 – Dec 31, 2020 and Jan 1 – Feb 28, 2021 | 1/10 | None |
*All game hunting seasons, limits, and laws are subject to change. There is no legal hunting on Sundays for small game in Connecticut. For the latest information from the state check out the DEEP website. This information was last updated in August of 2020.
Woodcock hunting in Connecticut
Like all in states, American woodcock hunting limits and seasons are governed by the federal government because of their migratory status. That makes the daily limit 3 and the possession limit 9. The season is split into two stretches, the first running late October to mid-November and the second from mid-November to about mid-December. Although you can certainly find some isolated populations of resident birds, the woodcock migration makes for incredible flight bird days.
Riverways, federal and state properties, overgrown farmland, and ample soft soil are all found with relative ease. The first time I hunted the state Jesse, who is also a trapper, figured out the idea of overlaying soil data and wetlands maps to find woodcock habitat. It proved to be an effective method. On days the flights are in (and the shooting is straight) we can close a limit in as short as an hour. Other days you may have to wander a bit more, and on the days the flights are gone you can work for just a couple flushes. But when it's good, the woodcock hunting is really good. Twenty-plus flush days are not uncommon when timed right with the migration.
Hunting woodcock in Connecticut requires a Firearm Hunting or Archery Deer/Small Game license plus a Connecticut Migratory Bird Conservation Stamp. The stamp includes the HIP Permit required for federal compliance and cost $17 for both non-resident and resident hunters. No federal duck stamp is required to hunt woodcock.
Pheasant hunting in Connecticut
The state of Connecticut has over 40 stocking sites across the state and in 2019 they released 20,000 birds. A junior pheasant hunting training day is offered on a single Saturday before the season opens up. And in an effort to reduce over-hunting on Saturdays, the state has designated key areas with Saturday day permit requirements.
For those targeting woodcock, it's not uncommon to come across a pheasant in some of the woodcock covers you hunt, and a free meal is tough to pass up. If interested, you should also purchase the Resident Game Bird Conservation Stamp which is required to hunt pheasant in the state. The cost is $28 for resident and non-resident hunters; resident youth hunters (12-17) pay $14. You must also possess a Firearm Hunting or Archery Deer/Small Game license.
To learn more about pheasant stocking sites, Saturday programs, and youth opportunities get the latest info here: Connecticut Pheasant Program
Quail hunting in Connecticut
At one time the Northern bobwhite quail was native to the Connecticut landscape. To date, the opportunities to hunt bobwhite in Connecticut are very limited and may feel more like hunting for Sasquatch. The reality is the season exists more for dog training and field trails than for wild quail. The normal season opening is for a brief two-week window near the end of October into November. A longer season (including late season) is opening on Nod Brook WMA and the Flaherty, Mansfield, and Sugarbrook Field Trial Areas, running all of January and February as well late October to the end of the year.
The Resident Game Bird Stamp is required for these opportunities and private landowners are required to get a free Landowner Resident Game Bird Stamp. Also required is the Firearm Hunting or Archery Deer/Small Game license
Other game bird hunting opportunities
Although ruffed grouse season runs for just over a month, the population is very isolated and has suffered a serious decline over recent decades. (Read: Can We Stop the Decline of the Ruffed Grouse?). The daily bag limit is only one bird; populations can be very difficult to pin down and are vulnerable in most cases. Chukar and Hungarian partridge season dates exist but this is due to preserve hunting and training dogs. No wild populations occur of either upland species. All of these birds require the Resident Game Bird Stamps as well as a Firearm Hunting or Archery Deer/Small Game license
Other migratory bird hunting opportunities
The Wilson's snipe season overlaps woodcock hunting dates in Connecticut with liberal bag limits of 8 birds a day. Past that rail populations, including Virginia and sora, clapper and king can be found in strong numbers and can jump-start your wingshooting season into early September. Virginia and sora rails offer a 25 daily bag limit. Clapper rails account for a 10 bird daily bag limit of which one can be a king rail. All rail hunting requires the use of non-toxic shot. And for those who like to go after one of the smartest of all birds, the crow offers a generous no-limit season ranging from early August to November, and then again from January to the end of March. All of these birds require a firearm hunting or archery deer/small game license and a Connecticut Migratory Bird Conservation Stamp. Get the latest migratory bird hunting information from the DEEP: here
Squirrel and rabbit hunting in Connecticut
Connecticut is home to the Eastern gray squirrel, and from early September to the end of February they offer those interested in these tasty overlooked small game great opportunities to enjoy the hunting seasons. Squirrel habitat in Connecticut is vast, offering plenty of public land squirrel hunting locations. The state is also home to Eastern cottontail rabbit, a common neighbor of woodcock with an overlapping season. The state also boasts snowshoe hare and European hare seasons. Check the hunting graph to take a look at the long seasons offered. A Firearms or Archery Deer/Small Game license is the only license required to hunt small game in Connecticut.
The generous turkey hunting opportunities in Connecticut could certainly make it a sleeper state for such opportunities. Be sure to check out our article for an in-depth look at turkey hunting seasons, limits, and opportunities: Turkey Hunting Connecticut
Hunting licenses requirements for Connecticut
Like most states Connecticut requires a hunter's safety certificate to purchase a hunting license. They have a very efficient online sportsmen license system that can be accessed here. You can also buy licenses in person at one of the listed licensing agents. Connecticut offers two base licenses when it comes to hunting small game and birds: the Firearms Hunting or the Archery Deer/Small Game. Past that the state offers a 3-day non-resident bird hunting license for $35. The stamps for hunting resident game birds or migratory birds are still required.
| | | |
| --- | --- | --- |
| LICENSE* | Resident | Non-Resident |
| Firearms Hunting | $19 | $91 |
| Junior Firearms (12-15) | $11 | $11 |
| 65+ Firearms | Free | — |
| Archery Deer/Small Game | $41 | $135 |
| Junior Archery Deer/Small (16-17) | $21 | — |
| 3-Day Bird Hunting | — | $35 |
| Game Bird Stamp | $28 | $28 |
| Game Bird Stamp Junior (12-17) | $14 | — |
| Migratory Bird Stamp | $17 | $17 |
| Migratory Bird Stamp Junior | $9 | — |
* License fees, laws, and availability is subject to change. For the latest information please go to the DEEP website.
Conservation and non-profit groups in Connecticut
Ruffed Grouse Society Chapter – NUTMEG
Robert C Smith
11 Rachel Ln. 
Ivoryton, CT 06442-1155 
Phone: (860) 767-3937 
E-Mail: rcs76@comcast.net 
NAVHDA Southern New England Chapter
 Chapter President - Jim Wysor
 120 Sartori Road 
 Stafford Springs, CT 06076
 Phone: (860) 558-7595 
 Email: wysorj@gmail.com 
SUBSCRIBE to the AUDIO VERSION for FREE : Google | Apple | Spotify
ProjectUpland.com On the Go is brought to us by: ESP – Digital Hearing Protection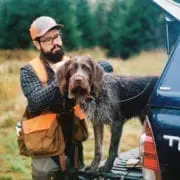 A.J. DeRosa
A.J. DeRosa founded Project Upland in 2014 as an excuse to go hunting more often (and it worked). A New England native, he grew up hunting and has spent over 30 years in pursuit of big and small game species across three continents. He started collecting guns on his 18th birthday and eventually found his passion for side-by-side shotguns, inspiring him to travel the world to meet the people and places from which they come. Looking to turn his passion into inspiration for others, AJ was first published in 2004 and went on to write his first book The Urban Deer Complex in 2014. He soon discovered a love for filmmaking, particularly the challenge of capturing ruffed grouse with a camera, which led to the award-winning Project Upland film series. AJ's love for all things wild has caused him to advocate on the federal and state levels to promote and expand conservation policy, habitat funding, and upland game bird awareness. He currently serves as the Strafford County New Hampshire Fish & Game Commissioner in order to give back to his community and to further the mission of the agency. When those hunting excuses are in play, you can find him wandering behind his Wirehaired Pointing Griffon in the mountains of New England and anywhere else the birds take them.