Home » Hunting Videos » First Season – Journey of a First Bird Dog
First Season – Journey of a First Bird Dog
A candid and honest look at a first season with a bird dog.
If there is one thing I hope that people take from this film it is the true reality of bird dogs. We all start somewhere, whether you are the Creative Director of Project Upland or not. Failure is okay, it is part of the journey. This film is meant to break down the walls of unrealistic expectations, show all of us that no one is perfect no matter what resources they may have in this process or outward projection they give. Even the best dog trainers in the country started from nothing.
My dog is not the best. I am not the best trainer in the upland community. However, he is my best, and I do my best, and that is the dynamic we must embrace. Together, my dog and I add up to our own measure of success and failure, never losing sight of the fact that this journey has nothing to do with the rest of the world. It is our world, a world we share often among the greater community, but it is not a competition. Never be afraid to ask for help, feel as if you are being judged, be embarrassed when it does not work out. We have all been there and for those that tell you otherwise, take it with a grain of salt.
My dog is a Wirehaired Pointing Griffon. His name is Grim, with one "m" as in Harry Potter. I have many personal reasons that I chose this breed, but absolutely not because "my breed is the best." Pick a breed that fits who you are, what fits within your goals. Do not get caught up in the falsehood that "mine is better than yours." Instead, do it for who you are.
"There are many firsts along the road of a gun dog. Some good, some bad, but all part of an incredible journey . . . It will challenge who you are, define an aspect of life that has been missing. They will steal you heart and lure you further into the uplands. And like Grim, they become part of the fabric we call family."
I could write a book on the advice I have absorbed to this point about training a first bird dog. But there is one thing I would say above all others: I believe that the best measure in life is to wake up and try and become a better version of ourselves each day. That is the most realistic and accurate measure we can ever apply to our own lives. So goes the world of training a bird dog. Wake up, try to improve, repeat.
I could not have gone from thinking my dog would never point to the moments that are now seared in my memory without the upland community. A trainer like David Trahan, my breeder, the countless people I meet on the road who have always listened and given nonjudgmental advice. I needed more training than my dog. He, after all, was bred to be this way. My most recent motto has been "how to not fuck up my dog" because training ourselves is often the greatest challenge.
It took till the very last day of our first season for me to see Grim point again and again. It was the first day I truly felt like it all came together. Up to that moment it seemed impossible. Each dog is different, and that process may be quicker or slower for some. Do not give up.
"These fall days belong to him now. No longer can I call these cuts my own. The joy found at the silence of a bell and the rise of wings in a deafening forest is like a siren calling. And with the realization of how short their lives are it becomes even more impending. Time will reveal its unfair bargain between my best friend and me. But although I fear that day, you could never trade the now. Our memories together will live on, we will always have our first season."
The most selfish thing I will say here is to please share this story, this film. Help us to pull back the veil of bird dog training and inspire more people to take this important journey.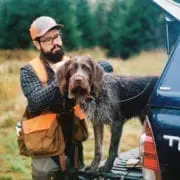 A.J. DeRosa
A.J. DeRosa founded Project Upland in 2014 as an excuse to go hunting more often (and it worked). A New England native, he grew up hunting and has spent over 30 years in pursuit of big and small game species across three continents. He started collecting guns on his 18th birthday and eventually found his passion for side-by-side shotguns, inspiring him to travel the world to meet the people and places from which they come. Looking to turn his passion into inspiration for others, AJ was first published in 2004 and went on to write his first book The Urban Deer Complex in 2014. He soon discovered a love for filmmaking, particularly the challenge of capturing ruffed grouse with a camera, which led to the award-winning Project Upland film series. AJ's love for all things wild has caused him to advocate on the federal and state levels to promote and expand conservation policy, habitat funding, and upland game bird awareness. He currently serves as the Strafford County New Hampshire Fish & Game Commissioner in order to give back to his community and to further the mission of the agency. When those hunting excuses are in play, you can find him wandering behind his Wirehaired Pointing Griffon in the mountains of New England and anywhere else the birds take them.