Home » Hunting Videos » Our Connection – A Turkey Hunting Film on Connecting with Our Food
Our Connection – A Turkey Hunting Film on Connecting with Our Food
Turkey hunting is one of the closest connections we can have between nature and our food.
Jesse St Andre is a Maine native and a true New Englander. From growing up hunting the North Country to his current stomping grounds turkey hunting in Connecticut, Jess brings us along on his journey of removing store-bought meat from his family's diet. Wild turkey is among those varieties of table fare for him and his family.
Read: Game Meat Profile: Wild Turkey, Nutrition, Cooking, and Handling
Jesse explores his unique love for the Eastern wild turkey in particular. The idea of engaging a single animal in a sequence of calling right to the dinner table is one that cannot be easily summarized. It is one of the most human experiences we can have in our modern world.
"In order to get the full experience of your connection with nature and that food source, it just doesnt get any tighter than with a wild turkey . . . "
Jesse is part of the Northwoods Collective (parent company to Morning Thunder). He serves as the R3 advisor as well as brand manager of the Urban Deer Complex. You can find Jesse all over the country hunting all sorts of new meat for his freezer. He is also a passionate trapper and gatherer, further evidence of his pure love for all things wild.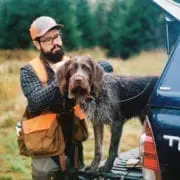 A.J. DeRosa
A.J. DeRosa founded Project Upland in 2014 as an excuse to go hunting more often (and it worked). A New England native, he grew up hunting and has spent over 30 years in pursuit of big and small game species across three continents. He started collecting guns on his 18th birthday and eventually found his passion for side-by-side shotguns, inspiring him to travel the world to meet the people and places from which they come. Looking to turn his passion into inspiration for others, AJ was first published in 2004 and went on to write his first book The Urban Deer Complex in 2014. He soon discovered a love for filmmaking, particularly the challenge of capturing ruffed grouse with a camera, which led to the award-winning Project Upland film series. AJ's love for all things wild has caused him to advocate on the federal and state levels to promote and expand conservation policy, habitat funding, and upland game bird awareness. He currently serves as the Strafford County New Hampshire Fish & Game Commissioner in order to give back to his community and to further the mission of the agency. When those hunting excuses are in play, you can find him wandering behind his Wirehaired Pointing Griffon in the mountains of New England and anywhere else the birds take them.