New Hampshire is a sleeper state for world-class ruffed grouse and snowshoe hare hunting, as well as other small game opportunities.
There are some dog points that are seared into our memories, never to be forgotten, never to be repeated. Grim, my Wirehaired Pointing Griffon, locked up on point a mere twenty yards ahead of me on an overgrown tote road that was immediately adjacent to well-kept and truck-friendly logging road. I could see the large, mature grouse not five feet off his nose as he visibly shook with excitement. Just below, my friend, stood guard with his side-by-side shotgun if the bird decided to break down the mountain.
The grouse held steady and, thankfully, so did my dog. As I stepped just a couple yards away from the grouse, it lifted its wings for a straight rise to the top of the young canopy. Time froze. It seemed as if the bird floated, rather than flying like a bat out of hell in true New England grouse fashion. I shouldered my side-by-side with my bead buried in a mass of brown, golden, and gray feathers. It was so close that I could not miss.
That is—if I shoot. But the excitement of the point and my personal obsession with the dog's moment in time made the act of taking my safety off an afterthought that I could regret for the season. As I fumbled through my mistake, throwing my rhythm into disarray, a single shot rang out and the grouse crumpled to the ground.
A few moments later as I dropped to the main road, Grim popped out a few yards behind me with large ruffed grouse in his mouth. His butt was shaking from how vigorously he was wagging his tail as he made his way to Joe and me. The three of us were ecstatic and I remember looking at Joe to say, "You have no idea how grateful I am that you shot that bird."
Although I am not a native of New Hampshire, it has been providing me with ruffed grouse and woodcock memories since my first days afield as a child. Today, despite a drastic decline in grouse numbers in southern parts of the state, the north is still a stronghold of world-class ruffed grouse hunting. Among other pursuits, you can find a very healthy culture of hounds tracking snowshoe hare throughout the state's northern reaches.
New Hampshire Bird Hunting and Small Game Season Dates
Game Species*
Dates
Daily/Possession Limits
Notes
Ruffed Grouse
Oct. 1 – Dec. 31, 2023
4 Daily Limit
—
American Woodcock
Oct. 1 – Nov. 14, 2023
3/9
—
Pheasant (stocked)
Oct. 1 – Dec. 31, 2023
2/10
—
Snipe
Sept. 15 – Nov. 14, 2023
8/24
—
Quail, Chukar, Huns (*not wild or stocked by state)
Oct. 1 – Dec. 31, 2023
4 Daily Limit
—
Snowshoe Hare
Oct. 1, 2023 – Mar. 31, 2024
2 Daily Limit
3 Daily Limit in Zones A-G and J1
Cottontail Rabbit
Oct. 1, 2023 –
Jan. 31, 2024
2 Daily Limit
H2, K, L, M ONLY
Eastern Gray Squirrel
Sept. 1, 2023 – Jan 31, 2024
5 Daily Limit
—
*These dates are subject to change and were last updated in August 7, 2023. For the most up to date seasons check out:
https://www.wildlife.state.nh.us/hunting/hunt-dates.html
Ruffed Grouse
Without a doubt, ruffed grouse hunting is the most popular of all the upland hunting species in New Hampshire. The northern parts of the state host active New England logging operations which provide phenomenal habitat for the ruffed grouse that has been relatively uninterrupted for the last 100 years. Overgrown, abandoned farms litter the southern part of the state, making for some great pocket covers; although the further south one goes, the less viable the populations.
The ruffed grouse season runs from October 1 to December 31, 2023 with a daily bag limit of 4 birds.
American Woodcock
American woodcock hunting is another phenomenal upland species to pursue in New Hampshire. Some parts of the state hold both residents and migratory birds. This makes for some of the best days of bird hunting in New Hampshire. For those in the southern parts of the state, migratory birds bring phenomenal and exciting hunting close to home; following the migration further down through New England is quite the easy experience.
The American woodcock is governed by federal law with a season that runs from October 1 through November 14. The daily bag limit is three birds and, like always, requires a free HIP number.
The Ring-necked Pheasant (Stocked)
Pheasant hunting is, without a doubt, a major American pastime. In New Hampshire, you will find stocking locations spread throughout the state. Although wild birds no longer exist (some credit this to harsh winters, but habitat loss is the largest culprit), there are many stocking sites that will give you an opportunity in the state; New Hampshire's website for stocking locations lists 63 locations.
Due to rising costs, New Hampshire will stock 10,000 pheasant this year. Almost 11,000 birds will be stocked for about 4500-5000 license holders in 2022. Hunting pheasant before noon is prohibited on the following dates due to stocking, October 5-6, 12-13 and 19-20.
An additional hunting license of $31 is required for hunting pheasant in New Hampshire.
The ring-necked pheasant season runs from October 1 to December 31, 2023. The daily bag limit is two birds with a season limit of ten.
Rabbit Hunting in New Hampshire
The state of New Hampshire offers opportunities to hunt two separate species of rabbit: the cottontail and the snowshoe hare. Snowshoe hare has becoming increasingly popular in the north country with the recent growth in the overall hare population and is even a travel destination for many hardcore rabbit hunters. With plenty of overlap with the upland bird season, they make for great opportunistic targets (and meals) for those of us who do not discriminate against fur. The snowshoe hare hunting season in New Hampshire opens October 1, 2023 and runs until December 2024.
Squirrel Hunting in New Hampshire
Eastern gray squirrel populations are thriving in New Hampshire and the opportunities for a mixed bag are greatly increased with the addition of these treetop dwellers.
The statewide season runs from September 1, 2023 to January 31, 2024 with a daily limit of five. This is a great way to keep those versatile dogs working in any part of the state for a longer season. Despite what stigmas we may hold, they are also good to eat.
Turkey Hunting in New Hampshire
The Eastern wild turkey populations are very healthy in certain parts of New Hampshire. As of 2019, the use of shot sizes #2 and above "accommodates the use of modern, heavier-than-lead loads that utilize a blend of shot sizes." One example of this is the Federal TSS loads. You can use a 10 gauge to a 20 gauge and archery with a minimum draw weight of 30 lbs.
2019 also brought the ability to shoot a second spring turkey in zones H1, H2, J2, K, L, or M (male only). New Hampshire also offers a fall turkey season for archery and shotgun, which allows the taking of either sex turkey.
In the Spring of 2024, the act of reaping/fanning turkeys will be illegal in the state of New Hampshire after a narrowly passed vote with the New Hampshire Fish & Game Commision.
For those of us that prefer dogs in everything we do, the fall turkey season in New Hampshire allows the use of hunting dogs to break up flocks. This is a great opportunity to expose those versatile and flushing breeds to a new game species.
Eastern Wild Turkey
Dates
Limit
Notes
Spring Season
May 1 – May 31, 2023
1 Male/Bearded Only
2nd allowed in WMUs H1,
H2, J2, K, L or M
Fall Archery
Sept 15 – Dec 15, 2020
1 Either Sex
Except WMU A
Fall Archery
Sept. 15, – Dec. 8, 2023
1 Either Sex
WMU A
Fall Shotgun
Oct 10 – Oct 16, 2023
1 Either Sex
D2, G, H1, H2, I1, I2, J1, J2,
K, L, M
For more detailed information of the laws and regulations for turkey hunting in New Hampshire check out the state website.
Other Bird Hunting New Hampshire Species
Although there are seasons for northern bobwhite quail, chukar, and Hungarian partridge, there are no naturally-occurring populations. You can often find them next to private preserves as a result of pen-raised releases for private bird hunting operations. The bag limits are governed by the same laws as ruffed grouse hunting. There is a daily limit of 4 birds, running from October 1 to December 31, 2023.
New Hampshire Hunting Licenses and Hunters Safety Course
The New Hampshire license structure is pretty simple and those traveling from out of state can go right to the small-game-only option without requiring a regular hunting license. For residents, $32 will get you out hunting grouse and woodcock throughout the state. There is a $2.50 wildlife habitat fee that all hunters must pay when buying a license.
The state of New Hampshire requires a hunters safety course certificate to purchase a hunting license. They also offer a Mentor License Program for one year in which you must hunt with a fully-licensed hunter. After the first year, the hunters safety certificate is required for a second year license purchase. The New Hampshire course can be completed partially online and followed up with a field day. To find out more, check out the New Hampshire Hunter Safety Course.
Dog Training Rules and Regulations
Before you get to excited training your dog on spring woodcock, New Hampshire recognizes a quiet period for hunting dogs from April 15 to July 15, 2023. The running of dogs on wild birds, bear, and hare is illegal during that time period. Both professional and amatuer dog handlers are required to have a current hunting license as well as a $5 permit to train dogs. You can get the form: here
Project Upland Magazine Content from New Hampshire
If you go back to the very beginning of Project Upland Magazine, you will not have to go far to see the influence that the New Hampshire uplands had on the platform. The first-ever Project Upland film, Searching-A New England Bird Hunting Tale, was filmed in New Hampshire. Other films from the state include The Experience, Partridge Country, and Live for October.
As the founder of Project Upland, I would say this state fueled my imagination to help inspire the platform's inception. The film First Season, which stands as our highest-watched film to-date, has a good portion inside the Granite state but also follows the woodcock migration to Connecticut. Most recently, the one-hour feature film collaboration with Backcountry Hunters and Anglers called #PublicGrouse had its last segment in New Hampshire.
Conservation and Non-Profit Organizations for New Hampshire Bird Hunting
North American Versatile Hunting Dog Association (NAVHDA)
Ruffed Grouse Society and American Woodcock Society
The bird hunting season dates, game bird species available, and other information is subject to change and may not be reflected in this article. Please visit the New Hampshire Fish and Game Department for the most up to date information on bird hunting in New Hampshire.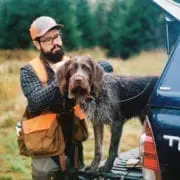 A.J. DeRosa
A.J. DeRosa founded Project Upland in 2014 as an excuse to go hunting more often (and it worked). A New England native, he grew up hunting and has spent over 35 years in pursuit of big and small game species across three continents. He has a passion for side-by-side shotguns, inspiring him to travel the world to meet the people and places from which they come. Looking to turn his passion into inspiration for others, AJ was first published in 2004 and went on to write his first book The Urban Deer Complex in 2014. He soon discovered a love for filmmaking, particularly the challenge of capturing ruffed grouse with a camera, which led to the award-winning Project Upland film series. AJ's love for all things wild has caused him to advocate on the federal and state levels to promote and expand conservation policy, habitat funding, and upland game bird awareness. He currently serves as the Strafford County New Hampshire Fish & Game Commissioner in order to give back to his community and to further the mission of the agency. When those hunting excuses are in play, you can find him wandering behind his Wirehaired Pointing Griffon in the mountains of New England and anywhere else the birds take them.