Embark on a thrilling hunt for grouse and huns amid the serene prairies and rolling hills of North Dakota, the Peace Garden State.
As my Wirehaired Pointing Griffon, Grim, went on point beyond my comfort zone, I couldn't help but worry. He's crowding those sharptails, I thought to myself. Meanwhile, Tyler's English Setter pointed gracefully 20 yards behind Grim.
"He's used to the forest air," Tyler explained, "He needs to learn the scenting conditions of the prairie." To my disbelief, the sharp-tailed grouse tolerated my dog's presence at the edge of a small bush. The birds sprang up like popcorn, and I connected with a single shot as one veered behind us. Tyler also marked a bird, but my eager dog tried unsuccessfully to retrieve both at once in his own selfish manner. It is a wonderful memory I will never forget.
September beckons. Each year it draws us from the East to the vast West, the allure of prairie birds enticing us. The thrill of rising sharp-tailed grouse against the open landscape and hunting coveys of Hungarian partridge over a pointing dog is irresistible. Even for those living in these grand American prairies, the fascination never wanes, offering a striking contrast to thick northeastern forests.
While many Americans flock to well-known destinations like California for their diverse and scenic landscapes, the interior states, such as North Dakota, hold their own hidden gems. This state offers unexpected wonders, from the unique Badlands to the charming Red River Valley. Moving westward from the Red River Valley, one encounters the Drift Prairie, featuring the hilly Great Plains, providing excellent opportunities for bird hunting in North Dakota.
For those eager to explore the hunting opportunities in North Dakota, OnX Hunt has updated their app to reflect digitally posted land in the state, making identifying huntable acres much easier. The State Land Department manages over 700,000 acres; additionally, the state boasts numerous national wildlife refuges covering more than 200,000 acres. Many of these lands provide exceptional hunting experiences for upland game enthusiasts.
| | | | |
| --- | --- | --- | --- |
| Game Species* | Dates** | Daily/Possession Limits | Notes |
| Sharp-tailed Grouse | Sept. 09, 2023 – Jan. 7, 2024 | 3/12 | — |
| Hungarian Partridge | Sept. 09, 2023 – Jan. 7, 2024 | 3/12 | — |
| Ring-necked Pheasants | Oct. 7, 2023 – Jan. 7, 2024 | 3/12 | — |
| Ring-necked Pheasants (Youth) | Sept. 30 – Oct. 1, 2023 | 3/6 | — |
| Ruffed Grouse | Sept 9, 2023 – Jan 7, 2024 | 3/12 | — |
| Sage Grouse | CLOSED | NONE | — |
| Prairie Chicken | CLOSED | NONE | – |
| Doves | Sep.t 1 – Nov. 29, 2023 | 15/45 | — |
| Woodcock | Sept. 23 – Nov. 6, 2023 | 3/9 | – |
| Snipe | Sept. 9 – Dec. 3, 2023 | 8/24 | – |
| Sandhill Crane (Unit 1 & 2) | Sept. 16 – Nov. 12, 2023 | 3/9 (Unit 1) & 2/6 (Unit 2) | (Unit 1 & 2) |
| Tree Squirrel | Sept. 9, 2023 – Feb. 29, 2024 | 4/12 | |
*These season dates were last updated on September 11, 2023. Please see North Dakota Game & Fish website for the most up-to-date information.
Sharp-Tailed Grouse
Sharp-tailed grouse is one of the biggest allures to upland hunting in North Dakota. Large tracts of publicly accessible land in prime habitat make this bird's abundance a strong pull for out-of-state hunters. Native shortgrass prairie is the key to this species' success in North Dakota, which is a critically threatened habitat. They are most commonly found on the western side of the state.
The season for sharp-tailed grouse hunting runs from September 9, 2023, to January 7, 2024, with a daily bag limit of three birds.
Hungarian Partridge
Hungarian partridge, more commonly known as "Huns," is abundant in North Dakota. A non-native species, they occur in the wild after a successful Canadian introduction spread into the US. Huns rely on agricultural production, something North Dakota does not lack. Hungarian partridge are a covey bird, and the excitement of watching the covey rise over a pointing dog is a great highlight to a day of sharp-tailed grouse hunting.
The Hungarian partridge hunting season opens on September 9, 2023, and closes on January 7, 2024. There is a daily bag limit of three birds.
Ring-Necked Pheasant
Most people think of pheasant hunting in South Dakota, but North Dakota is no slouch on wild populations of ring-necked pheasants. These wild populations are often found next to agricultural lands in wet draws with cattails. They are an exciting target for the upland hunter looking to pursue America's love affair with pheasant. Check out Crosby or Mott—towns considered by some to be the "Pheasant Capital of the Nation."
The season for pheasant hunting runs from October 7, 2023, to January 7, 2024, with a daily bag limit of three. The youth pheasant season is September 30 to October 1, 2023, with a daily limit of three.
Dove, Ruffed Grouse, Snipe, and Other Small Game Species in North Dakota
While North Dakota is known for its prairie birds, there are other opportunities for upland hunters in North Dakota. With Minnesota to the east of the Red River Valley, North Dakota offers a unique chance to hunt ruffed grouse, too. The aspen forests in the Turtle Mountains and Pembina Hills are good places to look for ruffed grouse. The ruffed grouse hunting season runs from September 9, 2023, to January 7, 2024, with a daily bag limit of three.
Dove hunting season begins September 1 and ends November 29, with a daily bag limit of 15. Snipe season runs from September 9 until December 3, 2023. The daily bag limit for snipe is eight. On the more uncommon side, American woodcock have a season for bird hunting in North Dakota. The season runs from September 23, 2023, to November 6, 2023, with a daily bag limit of three.
Depending on the population levels, North Dakota has had seasons for prairie chicken and sage grouse, but these two species have been protected for conservation in recent years. It looks unlikely that a season will be open in the coming years.
North Dakota Hunting License Requirements and Fees
| | | |
| --- | --- | --- |
| License | Resident | Non-resident |
| Fishing and Hunting Certificate | $1 | $2 |
| General Game and Habitat License (required) | $20 | $20 |
| Small Game License – Annual | $10 | N/A |
| Small Game License – 14 day (or two 7 day) | N/A | $100 |
| Sandhill Crane | $10 | $30 |
The North Dakota Hunter Safety Course and Dog Training
North Dakota requires anyone born after 1961 to complete an approved hunter education course before applying for a hunting license. People under 12 are exempt if they are licensed and accompanied by a parent or guardian. An apprentice hunter validation option exists for anyone over 12, but a licensed adult must accompany them. For more information, see the hunter safety course.
From August 16 to May 31, you can train your dog for bird hunting in North Dakota on public land. You will be fined one hundred dollars if you train your dog in any Wildlife Management Area during the closed season. Professional and amateur trainers (with four or more dogs) using training birds must apply for a dog training permit. You can print the permit here.
North Dakota Blaze Orange and Non-Toxic Shot Requirements
In North Dakota, lead shot is prohibited when hunting waterfowl, sandhill cranes, and snipe. When hunting these species, lead shot cannot be in guns, pockets, or within arm's reach. Additionally, all US Fish and Wildlife Service lands, which includes National Wildlife Refuges, Wildlife Development Areas, and Waterfowl Production Areas require non-toxic shot when hunting upland birds.
Hunters must wear blaze orange when hunting big game in North Dakota. However, hunters are not required to wear blaze orange when hunting upland birds. That being said, Project Upland always recommends that upland hunters wear blaze orange while afield.
Related Conservation and Non-Profit Organizations for North Dakota Bird Hunting
North American Versatile Hunting Dog Association
*The bird hunting season dates, game bird species available, and other information is subject to change. The article may not reflect this and was last updated on September 11th, 2023. Please visit the North Dakota Game and Fish Department website for the most up-to-date information on bird hunting in North Dakota.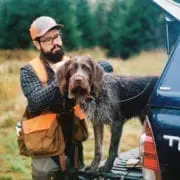 A.J. DeRosa
A.J. DeRosa founded Project Upland in 2014 as an excuse to go hunting more often (and it worked). A New England native, he grew up hunting and has spent over 35 years in pursuit of big and small game species across three continents. He has a passion for side-by-side shotguns, inspiring him to travel the world to meet the people and places from which they come. Looking to turn his passion into inspiration for others, AJ was first published in 2004 and went on to write his first book The Urban Deer Complex in 2014. He soon discovered a love for filmmaking, particularly the challenge of capturing ruffed grouse with a camera, which led to the award-winning Project Upland film series. AJ's love for all things wild has caused him to advocate on the federal and state levels to promote and expand conservation policy, habitat funding, and upland game bird awareness. He currently serves as the Strafford County New Hampshire Fish & Game Commissioner in order to give back to his community and to further the mission of the agency. When those hunting excuses are in play, you can find him wandering behind his Wirehaired Pointing Griffon in the mountains of New England and anywhere else the birds take them.