'The way life should be' when it comes to many things in Maine — including bird hunting
The bell came to an abrupt stop. "Where is he?" the out-of-state hunter asked with a sense of eagerness.
"Up in that dahk covah," was the calm and deliberate reply from a man of average height but a level of ruggedness only found in the Maine woods.
A hundred yards ahead, the white coat of the small English Setter was barely visible inside a patch of softwoods that blocked out the sun like a fabled forbidden forest. 'Dark cover', that's a new one, I thought to myself. I had heard all sorts of Maine slang when it came to pahtridge hunting. Limb fruit, Maine chickens, ground sluice. . . the words have been adding up in a veritable dictionary of upland culture.
The ruffed grouse, in true fashion, ran its way out the other side of the softwoods and broke at the edge. The dog held staunch. Not bad for a dog that was bought after a chance encounter in a rest stop just outside the Canadian border. Only in Maine.
Moose, black bear, and heavy-bodied "big woods bucks" likely come to mind first when thinking of hunting in Maine. Iconic deer hunting legends like tracker Hal Blood and the timeless stories of the Allagash dominate Maine's reputation. But Maine has other hunting opportunities that are unique and, in some cases, unparalleled in the upland world. And although Burton Spiller, author of Grouse Feathers, retired to New Hampshire, Maine was his home.
The opportunities to hunt ruffed grouse and woodcock in the most forested state in the country is something that should be on every bird hunter's bucket list. And while you are at it, Maine also offers world-class snowshoe hare hunting. Did I mention sea ducks? That is for another time.
Game Species*
Dates**
Daily/Possession Limits
Notes
Ruffed Grouse
Sept 30 – Dec 30, 2023
4/8
—
American Woodcock
Sept 30 – Nov 21, 2023
3/9
—
Pheasant
Sept 30 – Dec 30, 2023
2/4
—
Bobwhite Quail
Sept 26 – Dec 31, 2020
4/8
—
Snipe
Sept 1, 2023 – Jan 3, 2024
8/24
—
Soar and Virginia Rail
Sept 1 – Nov 21, 2023
25/25 combined subspecies
—
Snowshoe Hare
Sept 30, 2023 – Mar 30, 2024
4/8
Vinalhaven Island,
Knox County closes Feb 28, 2024
Gray Squirrel
Sept 30 – Dec 30, 2023
4/8
—
Crow
Aug 1 – Sept 23, 2023 and Feb 5 – Apr 15, 2024
No Limit
WMDs 1-6
Crow
Aug 1 – Sept 23, 2023 and Jan 23 – Mar 31, 2024
No Limit
WMDs 7-29
Spruce Grouse
No Season
—
—
Cottontail Rabbit
No Season
—
—
*This information was last updated on August 6th, 2023 and is always subject to change. Please go to Maine Department of Inland Fisheries and Wildlife for the most up-to-date and detailed season, laws, and regulations.
**There is no hunting on Sundays in the state of Maine
Ruffed Grouse
Whenever anyone thinks of bird hunting in Maine, the thick, young covers that ruffed grouse inhabit automatically come to mind—and rightfully so. The entire state is covered with them from top to bottom thanks to a healthy logging industry that has been rotation cutting these forests for over 100 years. This equates to thousands of covered acreage, creating endless opportunities for grouse hunters. Put in the time and the cuts can be found. Places like the gateway roads such as the "Golden Road" offer truly remote, and I mean scary remote, opportunities at grouse not conditioned to bird dogs. These are referred to as "Maine chickens" that will hold for a point more often than usual. User beware: in some northern parts of the state, spruce grouse still exist but there is no legal hunting season for them.
Grouse hunting opportunities are spread throughout the whole state. Like anywhere in the country, the more the developed the area, the more wary the birds.
Maine's ruffed grouse season started opening earlier than its traditional October opener; since 2019, opening day is the last Saturday of September. In 2023, that means September 30th.
Watch the Maine ruffed grouse hunting film: Those Moments – A Story of Maine Bird Dogs and Hunting
American Woodcock
American woodcock are generally hunted along with ruffed grouse when bird hunting in Maine. These wonderful little game birds are known for their distinctive long beaks and whistling wings when they take flight. Maine has a resident woodcock population in addition to serving as a stopover for migrating woodcock from Canada. They are found in much the same type of covers as grouse as well as stopover cover in the most Southern reaches of the state.
The American woodcock season is subject to Federal law and traditionally opens the first legal hunting day in October (as Sunday hunting is closed in Maine). In 2023 it opens September 30, 2023, and runs until November 21, 2023. Expect to find late-season woodcock only in the southern parts of the state due to the migration when colder weather occurs.
(Woodcock are a migratory bird. When buying your Maine license, you must indicate your intention of hunting a migratory bird for the Harvest Information Program, also known as a HIP number, per federal regulation)
Snipe and Rails
Snipe and rails are rarely thought about when considering bird hunting in any location. Bird hunting in Maine is no exception, but these birds can be found inland as well as in coastal marshes. Wilson's snipe are similar in size and shape to woodcock. They are known for their amazingly fast flying, darting every which way, making them extremely hard to shoot—hence the etymology of the word sniper. They put even the best wingshooter's abilities to the test. Rails are small birds that also inhabit both inland and coastal marshland, offering a unique hunting opportunity to those looking to pole around the salt marshes in canoes and kayaks. Although considered waterfowl, hunting rails is a great chance to dabble in new pursuits.
Maine's snipe season is from September 1, 2023 to January 3, 2024 with a bag limit of 8 and a possession limit of 24. The rail season, which includes sora and Virginia rails, runs from September 1, 2023 to November 21, 2024 with a bag limit of 25 and a possession limit of 25 of combined species. This season is two week longer than previous years. Both are regulated under Federal law because they are migratory birds.
(Governed by Federal migratory law. HIP survey required. Additionally, the use of lead shot is prohibited in Maine for the harvest of rails)
Ring-necked Pheasant (Stocked)
Pheasants are not native to Maine, but due to stocking efforts by the Department of Inland Fisheries and Wildlife, they are available to those who would like to go pheasant hunting in Maine. Every year, several thousand birds are released at around twenty different stocking sites. To find out more about pheasant hunting and stocking in Maine, go to the Maine Department of Inland Fisheries & Wildlife.
Pheasant hunting season runs from September 30 to December 33,, 2023 with a daily bag limit of 2 birds of either sex and a possession limit of 4.
(Those who wish to hunt pheasant must purchase a pheasant permit in addition to their Maine hunting license.)
Snowshoe Hare
If Maine is known for its ruffed grouse hunting, it should also be known for its healthy snowshoe hare population. It won't take long for you to hear the chorus of hounds on hare when hunting good grouse country in Maine. From local hunting guides hosting people from all over the country to local houndsmen and women, it is one of the best northern states to hunt snowshoe hare.
Like most species, their populations go through cycles. The summer 2020 reports are predicting high numbers this season. That is usually good news for ruffed grouse, too, as hare makes a far easier target for predators and often helps curb the predatory attention on ruffed grouse.
Opening the last Saturday in September and running all the way to March 30, 2024, it is one of the best small game hunting opportunities in the state of Maine.
Other Small Game Species
Gray squirrel can be found in abundance in the southern parts of the state and offer a season that coincides with ruffed grouse. Although bobwhite quail are listed with a hunting season, no wild or state-stocked populations exist. These birds are left over from dog training and potentially from hunting preserves. If you get really bored, crow can keep you sky blasting well past other hunting seasons in the state.
Finally, both spruce grouse and cottontail rabbit are illegal to hunt in the state of Maine. In the southern part of the state, officials ask that any cottontail accidentally shot be reported to Fish and Game for proper research and location information.
Hunting Licenses and Maine Hunters Safety Course
| | | |
| --- | --- | --- |
| LICENSE* | Resident | Non-Resident |
| Small Game Hunting (16 and older) | $15.00 | $75.00 |
| Junior Hunter (0 to 15 years) | $8.00 | $35.00 |
| Serviceman (Dependant) Hunting | $10.00 | N/A |
| Disabled War Veteran | Free | N/A |
| 3-Day Small Game Hunting (valid for 3 consecutive days) | N/A | $50.00 |
| Pheasant Permit (Cumberland and York Counties) | $17.00 | $17.00 |
*These fees represent the 2023 Maine hunting license prices
Maine is a pretty affordable state to hunt as a resident. For $15 a resident can experience some of the best grouse hunting in the United States. Non-residents need to pay a bit more, but $75 is still a reasonable fee with no hidden fees or permits outside stocked pheasant permits.
Anyone who had a hunting license in the state of Maine prior to 1979 does not need a hunters safety certificate, but everyone else does. The state offers three formats for taking a hunters safety course: a standard classroom setting, a home study course, and an online course. Both the home study and online course still require a 7-hour, in-person exam and field day.
Find course date availability and other up-to-date information on the firearms safety course in Maine here.
Apprentice Hunting License
The state of Maine offers an opportunity to obtain a resident or non-resident "apprentice" hunting license up to five times. Those who hunt with this permit must be accompanied by a properly licensed hunter 18 years or older when out hunting.
| | | |
| --- | --- | --- |
| LICENSE* | Resident | Non-Resident |
| Hunting Apprentice (includes bear & turkey permits) | $26.00 | $115.00 |
| Hunting Apprentice Small Game (Includes turkey) | N/A | $75.00 |
Maine Bird Dog Training Laws
Maine does not have a quiet period on wild birds (not including turkeys), but one must still possess a current hunting license to train bird dogs in such a manner.
All season dates on projectupland.com are tentative at the time of the article's release, please check season dates on the proper department website for each state you plan on hunting. Visit Maine's Department of Inland Fisheries and Wildlife for the most updated information.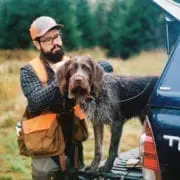 A.J. DeRosa
A.J. DeRosa founded Project Upland in 2014 as an excuse to go hunting more often (and it worked). A New England native, he grew up hunting and has spent over 35 years in pursuit of big and small game species across three continents. He has a passion for side-by-side shotguns, inspiring him to travel the world to meet the people and places from which they come. Looking to turn his passion into inspiration for others, AJ was first published in 2004 and went on to write his first book The Urban Deer Complex in 2014. He soon discovered a love for filmmaking, particularly the challenge of capturing ruffed grouse with a camera, which led to the award-winning Project Upland film series. AJ's love for all things wild has caused him to advocate on the federal and state levels to promote and expand conservation policy, habitat funding, and upland game bird awareness. He currently serves as the Strafford County New Hampshire Fish & Game Commissioner in order to give back to his community and to further the mission of the agency. When those hunting excuses are in play, you can find him wandering behind his Wirehaired Pointing Griffon in the mountains of New England and anywhere else the birds take them.