Home » Hunting Videos » No Cure (Dean Redbeard Mundhenke) – A Southern Turkey Hunting Film
No Cure (Dean Redbeard Mundhenke) – A Southern Turkey Hunting Film
Exploring the legend of turkey hunter Dean "Redbeard" Mundhenke
Dean "Redbeard" Mundhenke is a legend in the turkey hunting community. Most notably known for his Madhatter Calls and his appearance in the award-winning film "The Disease". The South is known for its rich culture in turkey hunting and here "Redbeard" captures the essence of what the pursuit of wild turkeys means to the heritage of the land and people.
"I plan on turkey hunting till I die or my lungs collapse. It wouldn't bother me if a Gobbler causes my death. That's the God's honest truth."
Now Nathaniel Maddux, the same filmmaker of "The Disease" brings the second installment to this turkey icon in the short Morning Thunder film- "No Cure". Will this be the last chapter in the story of Dean "Redbeard" Mundhenke? Or will he continue to haunt the Southern landscape hunting the Eastern wild turkey as his legend grows.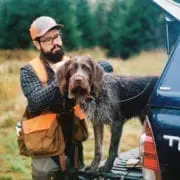 A.J. DeRosa
A.J. DeRosa founded Project Upland in 2014 as an excuse to go hunting more often (and it worked). A New England native, he grew up hunting and has spent over 35 years in pursuit of big and small game species across three continents. He has a passion for side-by-side shotguns, inspiring him to travel the world to meet the people and places from which they come. Looking to turn his passion into inspiration for others, AJ was first published in 2004 and went on to write his first book The Urban Deer Complex in 2014. He soon discovered a love for filmmaking, particularly the challenge of capturing ruffed grouse with a camera, which led to the award-winning Project Upland film series. AJ's love for all things wild has caused him to advocate on the federal and state levels to promote and expand conservation policy, habitat funding, and upland game bird awareness. He currently serves as the Strafford County New Hampshire Fish & Game Commissioner in order to give back to his community and to further the mission of the agency. When those hunting excuses are in play, you can find him wandering behind his Wirehaired Pointing Griffon in the mountains of New England and anywhere else the birds take them.