Home » Hunting Dogs » Setters of the Project Upland Community
Setters of the Project Upland Community
Photo by A.J. DeRosa
Fantastic Setters and Where to Find Them (in our films).
If there is a good way to get a passionate conversation going, it's to talk bird dog breeds. And Project Upland is always game to help fuel a little bit of our breed obsessions . . . (Check out the Bird Dogs for Habitat by Pheasants Forever and vote for your breed of choice). But here, we're going to dive into some of our community's data and talk about the setter, specifically. Though I am a Griffon guy, I will try to keep this unbiased. And truth be told, boy, do I love to watch a good setter.
Last year we conducted a survey of our community and asked what breed of dogs you owned. Here is some of that data along with where you can find setters in the Project Upland spotlight.
Coming in at just over 20.58 percent of the community, English setters narrowly beat out No. 2, the German shorthaired pointer, which followed closely at 19.81 percent. Full disclosure: there may be some bias here as Project Upland got its start in the grouse woods. Needless to say, we attracted a lot of our North Country brothers and sisters into our stories early on.
Setters of the Project Upland Staff
You can find a couple setters among the Project Upland staff. But there is one setter in our inner circle that has stolen the spotlight. His name is Hartley.
Hartley is podcast host and Brand Communications Director, Nick Larson's English setter. He's been known to fill up more than his fair share of memory cards of the Project Upland filmmakers and photographers. He (maybe knowingly) strikes a good pose, point, and whatever else the camera seems to gravitate towards. Though much of Hartley's modeling has not been released, you can still catch quick glimpses of him in a few films like The North Winds, Adventure Awaits, Noise by the Fire, and maybe even a few flashes in Fourth Generation. It is probably inevitable that Hartley will get his own story some day. It will be up to Nick to do him right.
Films that had Setters in Them
Some films in Project Upland have certainly highlighted (or at least dabbled in) this bird dog breed from the film Timber Rocket (amazing opening grouse point), and Earl the Pearl. I also do not think a good representation of setter love could be complete without upland artist Jay Dowd aka @UplandLowlife in his appearance of the Ruffed Grouse Society #HealthyForests film. Emmylue, Georgie, and good ole Toothy Ruthie have licked the lenses of Project Upland cameras. There will be more to come of Jay and his love for setters in the future.
The Most Unusual Setter Film
Dad is a Breeder is maybe the most unusual of all the English setters featured in Project Upland films. This film takes us to the Italian Alps with filmmaker Andrea Cavaglia and his family's bloodline of setters. The unique, more historic method of laying down on point brings to attention the long history of the setter bloodlines. Rumor has it that Pineridge Grouse Camp in Minnesota may bring the bloodline to the states . . .
The Most Iconic and Historic Setter Film
Probably the most iconic moment for setters in our films was our collaboration with the Ruffed Grouse Society featuring the legend Walt Lesser. If you have never read the book The Real Ryman Setter: A History With Stories from the Appalachian Grouse Covers and you are a setter fan, this is a must. Walt is an amazing man who captures a time gone by. To be in his presence was like walking into a George Bird Evans book. Speaking of which, if you are a George Bird Evans fan and have heard the stories of "The Gates" this film was shot at the actual location. Further, Walt was the man who introduced Evans to this iconic location in the Canaan Valley of West Virginia. His breed bloodline was started by a dog from Evans himself as you can hear in the film, Upland Icon – Walt Lesser.
So for all you English setter folks in our community, put this article in a saved tab to help get through the off season as we count the days to fall. And for those who just love bird dogs, shotguns, birds, and stories, well, save it anyways as you will find a lot of shared passion throughout these stories of the upland community. Don't worry: there are plenty of films that have other bird dog breeds. Stay tuned.
And for you setter folks, it would be tough for us to stop featuring more setters in our stories.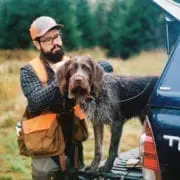 A.J. DeRosa
A.J. DeRosa founded Project Upland in 2014 as an excuse to go hunting more often (and it worked). A New England native, he grew up hunting and has spent over 30 years in pursuit of big and small game species across three continents. He started collecting guns on his 18th birthday and eventually found his passion for side-by-side shotguns, inspiring him to travel the world to meet the people and places from which they come. Looking to turn his passion into inspiration for others, AJ was first published in 2004 and went on to write his first book The Urban Deer Complex in 2014. He soon discovered a love for filmmaking, particularly the challenge of capturing ruffed grouse with a camera, which led to the award-winning Project Upland film series. AJ's love for all things wild has caused him to advocate on the federal and state levels to promote and expand conservation policy, habitat funding, and upland game bird awareness. He currently serves as the Strafford County New Hampshire Fish & Game Commissioner in order to give back to his community and to further the mission of the agency. When those hunting excuses are in play, you can find him wandering behind his Wirehaired Pointing Griffon in the mountains of New England and anywhere else the birds take them.