Home » Hunting Videos » Adventure Awaits – A Pineridge Grouse Camp Story
Adventure Awaits – A Pineridge Grouse Camp Story
Deep in the grouse covers of Minnesota sits the Pineridge Grouse Camp, known for its magical allure.
Pineridge Grouse Camp is not your average bird hunting lodge. This grouse hunting outfit in the heart of Minnesota Ruffed Grouse and American Woodcock country reflects many intriguing layers of people, stories and culture. Based in the quaint town of Remer (Bigfoot Capital of Minnesota), it has become a hub for grouse culture. From opening season parties to hosted educational events it helps to further the beauty of the grouse woods.
Listen: Pineridge Grouse Camp – Jerry Havel – Project Upland Podcast Episode #20
Jerry Havel is the owner and operator of this infamous outfit. Imagine a world where the whiskey flows, gun dogs can go anywhere, Parker shotguns are loaned like candy, every meal is a sacred event and the campfire is serenaded with the live musing of an award-winning blues artist. This is what Jerry has created. A place many of us have come to dream about in the off-season, where the scent of whiskey always brings us back to the memories we have made there.
"It's about the dogs, the birds and the guns. It's very romantic and peaceful and you get to escape. This is a true wild bird hunt."
Many people have come to make Pineridge their home away from home. Here we can truly capture the celebration that is grouse culture. It's the adventure that awaits us every year as the summer fades to cooler days and the leaves begin to turn. Come for the journey into the magic of grouse camp.
"Its magical. When I go to heaven, I want to come back to Pineridge and the covers. The grouse woods is just a special place."
To find out more about Pineridge Grouse Camp check them out: http://bit.ly/PineridgeGrouse
To find out more about bird hunting in Minnesota check up on the latest upland game species, regulations and season: Bird Hunting in Minnesota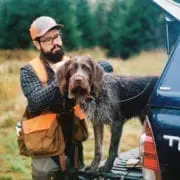 A.J. DeRosa
A.J. DeRosa founded Project Upland in 2014 as an excuse to go hunting more often (and it worked). A New England native, he grew up hunting and has spent over 30 years in pursuit of big and small game species across three continents. He started collecting guns on his 18th birthday and eventually found his passion for side-by-side shotguns, inspiring him to travel the world to meet the people and places from which they come. Looking to turn his passion into inspiration for others, AJ was first published in 2004 and went on to write his first book The Urban Deer Complex in 2014. He soon discovered a love for filmmaking, particularly the challenge of capturing ruffed grouse with a camera, which led to the award-winning Project Upland film series. AJ's love for all things wild has caused him to advocate on the federal and state levels to promote and expand conservation policy, habitat funding, and upland game bird awareness. He currently serves as the Strafford County New Hampshire Fish & Game Commissioner in order to give back to his community and to further the mission of the agency. When those hunting excuses are in play, you can find him wandering behind his Wirehaired Pointing Griffon in the mountains of New England and anywhere else the birds take them.