Home » Hunting Videos » Fourth Generation – A Sage Grouse Hunting Film – Presented by OnX Hunt
Fourth Generation – A Sage Grouse Hunting Film – Presented by OnX Hunt
For four generations the Moss family of Montana has been hunting Sage Grouse.
Montana is a place of many natural wonders, one of those a vast sage steppe that is home to the iconic sage grouse. Here we are captivated by a very personal story of struggle, tradition, and the escape of the uplands. Brandon Moss is not only a fourth generation sage grouse hunter but a passionate bird dog trainer. His love for sage grouse conservation is equal to his love for the American Brittany. This is his journey from childhood to the present day — backdropped in the boundless and haunting beauty of sage habitat.
"I am a fourth generation sage grouse hunter. My grandfather started hunting them with his father in 1909."
What makes this story even more unique: though Brandon is a Montana native, we follow him to an area he has never hunted before. At the camp, the crews of Project Upland and OnX Hunt converged in an AirBnB to pursue these huge upland birds. Armed with OnX Hunt he navigates not only his own success but also first birds for the film and photography crews. By identifying large tracts of huntable land along with sage grouse habitat, he demonstrates the benefits OnX Hunt brings for public land hunters.
"I literally have things that my great grandfather learned about sage grouse in the 1800s, have been taught to me, that I am still using today."
Sage grouse are considered an iconic bird of the West. More recently, they have become the subject of major conservation issues surrounding their loss of sage grouse habitat. Folks like Brandon Moss continue to work at grassroots levels to volunteer and educate on the unique issues facing the sage grouse and conserving the species for future generations.
Listen: A Fourth Generation Montana Upland Bird Hunter, Brandon Moss – Project Upland Podcast Episode #43
This is a Project Upland Original Film presented by OnX Hunt.
A Film by A.J. DeRosa and Chet Hervey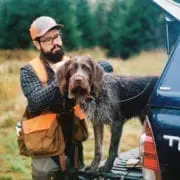 A.J. DeRosa
A.J. DeRosa founded Project Upland in 2014 as an excuse to go hunting more often (and it worked). A New England native, he grew up hunting and has spent over 30 years in pursuit of big and small game species across three continents. He started collecting guns on his 18th birthday and eventually found his passion for side-by-side shotguns, inspiring him to travel the world to meet the people and places from which they come. Looking to turn his passion into inspiration for others, AJ was first published in 2004 and went on to write his first book The Urban Deer Complex in 2014. He soon discovered a love for filmmaking, particularly the challenge of capturing ruffed grouse with a camera, which led to the award-winning Project Upland film series. AJ's love for all things wild has caused him to advocate on the federal and state levels to promote and expand conservation policy, habitat funding, and upland game bird awareness. He currently serves as the Strafford County New Hampshire Fish & Game Commissioner in order to give back to his community and to further the mission of the agency. When those hunting excuses are in play, you can find him wandering behind his Wirehaired Pointing Griffon in the mountains of New England and anywhere else the birds take them.