Home » Conservation » Ben Jones President and CEO of the Ruffed Grouse Society – Champion of the Bellwether
Ben Jones President and CEO of the Ruffed Grouse Society – Champion of the Bellwether
The Dr. Ben Jones story is bigger than just the ruffed grouse .
Ben Jones walked to the front of the conference room of the North American Versatile Hunting Dog Association's (NAVHDA) 50th anniversary annual meeting. To my delight, I had the unique opportunity to introduce him. "I believe in Ben Jones." It's a sentence I have found myself saying more and more about the new president and CEO of the Ruffed Grouse Society. Believing in the people who steer the ship of conservation is more important than ever as we face the future of our planet. And with hunting we face a moment of stark change in public opinion, industry divide, and troubling waters. Decline is, in fact, the best word to describe just about everything in our community.
A single slide in his presentation pointed out the critical issue of ruffed grouse being listed as a species of "greatest concern need" in 18 states and the incredible challenges facing wildlife conservation. Can we make a difference? "Yep, just after we solve world peace, end hunger, and find a cure for cancer." Ben said with a slight inviting smile. The crowd accepted him with a heartfelt laugh. But that statement left us with the sense that Ben is all in, whatever it takes. That was the first time I saw Ben make a public speech, his passion as intoxicating as in a personal conversation with him. You cannot fake that.
SUBSCRIBE to the AUDIO VERSION for FREE : Google | Apple | Spotify
I have met many leaders, politicians, CEOs, and industry people. Some seem to be rehearsed, going through PR-driven motions that suggest a lack of true belief. Now, under Ben's leadership, there's a different feeling within the Ruffed Grouse Society and the American Woodcock Society. I have hope that this is a pivotal moment for ruffed grouse, the bellwether of all forest wildlife. Climate change, habitat decline, lack of awareness, public policy, and other enemies are pounding at the door. The line is drawn, and Dr. Ben Jones is in the war room.
We find ourselves at a critical crossroad for ruffed grouse. All our plans of the past have consistently fallen on deaf ears or have not worked. And despite our understanding of the science, the future of the ruffed grouse somehow remains dark. The health of our public forests is at stake. But what is a healthy forest? I talked more with Ben about these issues on a recent hunting trip.
"A healthy forest is a fully functioning ecosystem," he says. "It sequesters carbon, filters water, cleans the air, and provides homes for wildlife. Diversity is so important, and in a healthy forest, much of that diversity is driven by disturbance. Fires maintaining grassy areas, storms knocking down trees to give saplings their chance at becoming the next gatekeepers, sheltered coves protecting old trees from the same storms and fires. It all comes together in a natural mix of young, old, short, and tall—diversity.
"But in our human dominance of the planet, we have eliminated many of these natural factors—beavers seen as a nuisance, fire snuffed out, storms more likely to wipe out human developments than initiate new stages of forest growth," Ben continues. "Worse yet, we have the legacy of past exploitation, when, within a decade or two of 1900, practically every tree was cut to the ground. Driven by the likes of Theodore Roosevelt and Gifford Pinchot, we came up with a new plan for sustainable management of our vast forest resources."
In 2005 Ben earned a PhD in Natural Resources from the University of Tennessee, where he worked on the Appalachian Cooperative Grouse Research Project (ACGRP). The ACGRP was one of the largest cooperative wildlife research projects ever undertaken. Its focus was learning about ruffed grouse biology and their forest habitats across the Appalachian region. His study area was in western North Carolina on the Nantahala National Forest.
"I was completely immersed in ruffed grouse biology and habitat use for five years, spending seven days a week tracking radio-tagged grouse, monitoring survival, habitat use, nesting, and brood-rearing," he explains. "I had an incredible opportunity to look into the everyday lives of this forest bellwether."
In December 2005 Ben went on to become the Pennsylvania Game Commission's public lands section chief, where he oversaw habitat management and hunting access on 1.5 million acres of state game lands. Later he was promoted to habitat division chief, a position in which he oversaw all habitat management programs on public and private lands, including an additional 2.3 million acres of private lands in the Hunter Access Program, various Farm Bill Programs, the Prescribed Fire Program, GIS and Habitat Planning, and the agency's Pittman-Robertson Program.
The other thing about Ben is he is not just a forest nerd; he is a hunter. When he was in his teens, his neighbor would let him borrow his Brittany, and after running his own beagle all morning he would switch gears to ruffed grouse and American woodcock in the afternoon.
"I got starry-eyed about bird dogs while in Mississippi hunting with my dear friend Daryl Jones and his Elhew pointers," Ben recalls. "I got my very own bird dog, an English setter when I was 24."
He still keeps setters to this day.
The month of October, sacred in the hearts of grouse hunters, is a rush of 31 days. A passage of seasons inside a season. The early October days of leaf-covered trees is a subject of cursing to the impatient grouse hunter and stir-crazy bird dogs. The color that comes next in mid-October complements the missed shots with beautiful golden yellows, reds, and oranges as shot pellets pull them down early for a slow and silent fall to a forest bottom. But the last window of the October season . . . that is sacred. We lay aside the colorful pictures of glorious New England days and embrace the promise of better shooting and hunting the unforgiving ruffed grouse.
That moment in time is where I found myself with just regular Ben Jones, maker of fine maple syrup, bluegrass musician of ample campfire qualifications, respected camp cook, passionate hunter-gatherer, and devoted conservationist. Along with RGS Northeast Regional Director Joe Levesque, we banished ourselves to the northern reaches of logging country in New Hampshire, a paradise of public access and a rotating diverse aged forest of superior ruffed grouse habitat.
After winding our way through a web of logging roads, we parked our two trucks along a cover that I will discreetly call the Ridge for the protection of cover rights. It is public access, and if you do your homework you can find it as well, but you'll have to earn it like that. I had hunted this cover in and out over the years, as had Joe even before we met. Habitat speaks volumes to good hunting and sets us grouse hunters in orbit around each other, just out of sight.
A calm English setter stood on the tailgate of Joe's truck—Sadie, a close family friend's dog, as his own setter was down for the count due to issues with his nails. My Wirehaired Pointing Griffon whined and scratched at his kennel. He knew someone else got picked for first string. Ben scratched the old dog's neck as we finished gearing up. The intimacy between that sweet dog and Ben is one that comes from two things, a love of bird dogs, and a bias towards setters. Love at first sight.
At this point I have known Ben for well over a year. The first time we met we sat in his office at the Ruffed Grouse Society headquarters in Pennsylvania trying to read each other. We talked of grouse and woodcock hunting and then moved on to conservation. From there our conversation led to topics I know both of us have lain awake many nights thinking about. Public perception, the future of our forests, and what Ben has amply pointed out is an extinction event happening before our eyes.
"The cost of failure is a species extinction," he explains. "If we look at trends between now and out to 2050, out to 2080, just a lifetime, then we are looking at an extinction of a species across a range where it has persisted on for some 25 thousand years. An extinction caused by our actions and inactions. It's not just a species; if you are losing the bellwether there are a lot of other wildlife that will fall by the wayside. And we are realizing to some extent it could be our demise as well.
"Past transgressions gave rise to the conservation movement, then forest and wildlife management as scientifically sound professions," Ben continues. "In place of gluttony we learned how to sustainably use timber harvests . . . to responsibly manage forests for the good of ourselves, our forests, and the wildlife that call them home. With natural disturbances suppressed, we must play this role in the human-dominated environment we have created. And we can, and should, do it well."
Ben is one of those that suffers from a healthy case of wanderlust. "What's over that crest?" "Let's see what's over that ridge." "Let's go try that spot." There is no doubt that grouse hunting is punctuated with spells of nostalgia that can seem strange to other cultures. The five senses are perpetually speaking to a grouse hunter's mind—the look of dense stem counts through a northern forest, the feel of a shotgun in your hands, the bitter taste of past ripened highbush cranberry that you can never help but sample, the hypnotizing sound of a dog's bell, and a thousand messages from the most vicious of senses, smell.
Each smell that slowly blends and drifts through the day winds us through daydreams. The smell of fir, the forest floor, and even the stench of a hard-worked wet dog. Scent, the strongest memory trigger, is especially jumpstarted by gun smoke. What a way to suck us into the past—it will get you every time.
We began our climb up the side of the Ridge, guns in hand, with Sadie out front and Wil Sensing, the filmmaker of #PublicGrouse, in tow behind Ben. We hadn't moved more than 150 yards when chaos ensued—no opportunity to daydream just yet. Well over a dozen birds moved, and we had some misses that were easily forgotten as everyone spent shells. Then came a bit of a blunder on a point—a brood that could have been easy pickings. But, like a bad game of chess, we made every advance on the dog wrong, hesitated, and three young birds flew out without a shot ever fired.
As we regrouped, Ben was glowing. "This is great bird numbers," he said with a smile as Joe and I exchanged subtle looks. "Thank God it went that well so quickly." Still no birds in the bag, but stories were already flowing, and excuses answered by healthy poking on accountability. The Ridge stole us away that day, and as we descended back down on an old tote road covered in dying raspberry bushes, we stopped at a pile of grouse droppings.
I snapped some photos and smiled "this will make for some good content on the website." Ben, as joyous as me, looked at the conifer base where the bird had spent the night. "That is a classic grouse roost. Incredible, isn't it?" These small things that add up to a big picture really do excite him.
We continued back to get Grim, my gun dog, up next to get a chance at some birds. As I thought of how excited he would be, I fell behind Joe and Ben when Sadie suddenly snapped on point. Fast can describe most grouse encounters, and this one was no exception. I had a stadium seat to the whole thing. Ben snapped up his over-under with seasoned precision, and it kissed his shoulder as shot rang out. I watched the bird spiral to the ground and quickly worked to catch up.
The grouse was dead, wings spread wide, tail open. Silence held the air as we all stood in a circle around it. "No one will ever believe it landed like that," Joe said. Wil had already taken the picture. The glow on Ben's face as he methodically examined the gray tail and copper body was unmistakable.
Later that night, we sat around the camp kitchen as Ben prepared woodcock and grouse. He drank Hamm's as I, in typical millennial fashion, poked fun at myself for my craft IPA. We ate, moved along to the basement, and sat around an old buck stove. Ben kept the thing fed as we lost ourselves to stories, adventures, and the future of our forests. And in keeping with the overarching theme of this issue, we common people toasted to wild birds in wild places, which we could never encounter without the word public.
The story of our beloved ruffed grouse is a #PublicGrouse story. From national forests, where we advocate for sustainable management in the Southern Appalachians, to vast northern landscapes, and the listing of ruffed grouse as endangered in key states are all public stories that factor in our tradition. I cannot even list all the complex issues the grouse faces in its future. Not only do I not understand all of them, but such a discussion would fill volumes. But it's a conversation I challenge all to explore and become involved in.
"When you hear 'just let nature take its course,' think critically about how we have disrupted nature in so many manners that these ecosystems are not fully functional," Ben says. It's on us now to make sure we have diverse forests, to judiciously use timber harvests and prescribed fire. It is on us to keep them going, that is conservation."
In all the phones calls, meetings, and email chains I have been on with Ben he has been a diplomat, a bridge builder. When discussing disagreements about the future of our forests, he says, "Let's at least agree on our common ground and sort out the rest later." That line is helping relationships progress among organizations that bitterly disagreed in the past. He is tireless, often takes calls from me and who knows who else on weekends and holidays to spitball ideas, push projects along, and just plain care. He is relentless.
Bellwether is an apt descriptor for the ruffed grouse and the ideals of a healthy forest. And Dr. Ben Jones is the champion of the bellwether standing as a steward of the American forest in our time.
"We need, as a society, to think about the importance of our forests," he says. "The importance of a working forest and how forests can and should be ingrained in our lives, in our local communities, our economies, and cleaning our water, cleaning our air, and sequestering carbon, this is so much a bigger story than just about ruffed grouse, but for human life on this planet."
ProjectUpland.com On the Go is brought to us by: ESP – Digital Hearing Protection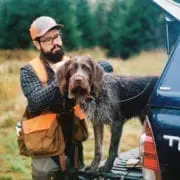 A.J. DeRosa
A.J. DeRosa founded Project Upland in 2014 as an excuse to go hunting more often (and it worked). A New England native, he grew up hunting and has spent over 35 years in pursuit of big and small game species across three continents. He has a passion for side-by-side shotguns, inspiring him to travel the world to meet the people and places from which they come. Looking to turn his passion into inspiration for others, AJ was first published in 2004 and went on to write his first book The Urban Deer Complex in 2014. He soon discovered a love for filmmaking, particularly the challenge of capturing ruffed grouse with a camera, which led to the award-winning Project Upland film series. AJ's love for all things wild has caused him to advocate on the federal and state levels to promote and expand conservation policy, habitat funding, and upland game bird awareness. He currently serves as the Strafford County New Hampshire Fish & Game Commissioner in order to give back to his community and to further the mission of the agency. When those hunting excuses are in play, you can find him wandering behind his Wirehaired Pointing Griffon in the mountains of New England and anywhere else the birds take them.