Home » Conservation » Science Can Save the Future of Upland Game
Science Can Save the Future of Upland Game
© Roxane Bay/Adobe Stock
The opening letter of the Spring 2021 issue of Project Upland Magazine
Science-based management is something the hunting community has touted as the proper way to address conservation issues in America. The idea being to leave emotions out of our season dates, bag limits, and management practices. Far too often science can fall victim at the ballot box and is an all too tempting proposition to politicize. Science is the method our biologists and other gatekeepers use to combat what seems to be a never-ending decline in our natural world including our beloved game birds.
Personally, I love science, it's not subject to someone's opinion, but merely a factual process that is peer reviewed, challenged, and confirmed by other qualified scientists. I would argue that scientists are some of the most important people in our society. Their quest rather noble. It finds problems, fixes problems, and advances us as a civilization over time.
What if I told you we could have the greatest positive impact on upland game birds by embracing science and solve more in the next seven years than we have in past decades? What if I also told you this idea can be mainstream and result in more habitat creation than we could have imagined in our lifetime? As a believer in science-based management it's a no brainer, "tell me more!"
We could achieve things like bringing working forests across the North American landscape to a scale that we never thought possible. Create more CRP than we could have ever imagined. Help stop the spread of invasive cheatgrass in its tracks. Push back on the destruction of the sage steppe by halting conifers from overtaking these native landscapes. And even increase nesting success of various game birds in the future.
Have you guessed the scientific movement I am talking about yet?
It's combating the effects of climate change.
When it comes to upland game birds and climate change, rising temperatures in key parts of America reveal two major points. One is the problem and the other is the solution.
The problem is the onslaught of things mentioned above like invasive plants degrading native habitat, changing weather patterns that affect nesting and wintering, and the spread of disease. The solutions, now embraced by mainstream society, which contain many parts, also include the increase of working forests and the expansion of CRP to curb carbon in our atmosphere. Both practices creating amazing opportunities for more habitat, the only defense these birds have against this grim future.
You might have caught my mention of "seven years" earlier in this letter. That reference is to the Climate Clock in Time Square NYC that marks just under seven years and counting to when climate change is no longer reversible. As a result, this movement could be the fastest, and greatest, push forward for habitat creation of this century.
From data research into Project Upland I know that 91 percent of the people reading this believe climate change is real. And with good reason as an overwhelming 98 percent of studies published by scientists support climate change and of the 2 percent remaining, they either contained errors or could not be replicated. In fact, it's not even a new idea. The effects of greenhouse gases were first discovered in 1896 and over the past 125 years we have begun to obtain a greater understanding of what climate change is.
The irony that any hunter would push back against climate science is rather shocking. But when looking outside of the Project Upland community a significant number of hunters do not believe in climate change and even more damning is many hold positions of power in our very industry despite claiming to believe in science-based management practices. As a community we must arm ourselves with the scientific facts, expand information sharing on the topic, and reach out to those leaders to embrace science.
Project Upland is committing to increase media coverage on the science around climate change and upland game birds in North America to arm our community with the proper information to propel this incredible opportunity to increase habitat and biodiversity across the uplands. We will seek to raise awareness around those on the very cutting edge of science for these birds and even help with some funding of research along the way. The impending doom of both the decline of game birds and climate change are evident in just one lifetime. If we can ever truly sustain the upland lifestyle this topic is the line in the sand.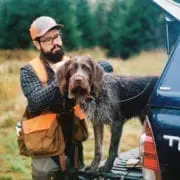 A.J. DeRosa
A.J. DeRosa founded Project Upland in 2014 as an excuse to go hunting more often (and it worked). A New England native, he grew up hunting and has spent over 35 years in pursuit of big and small game species across three continents. He has a passion for side-by-side shotguns, inspiring him to travel the world to meet the people and places from which they come. Looking to turn his passion into inspiration for others, AJ was first published in 2004 and went on to write his first book The Urban Deer Complex in 2014. He soon discovered a love for filmmaking, particularly the challenge of capturing ruffed grouse with a camera, which led to the award-winning Project Upland film series. AJ's love for all things wild has caused him to advocate on the federal and state levels to promote and expand conservation policy, habitat funding, and upland game bird awareness. He currently serves as the Strafford County New Hampshire Fish & Game Commissioner in order to give back to his community and to further the mission of the agency. When those hunting excuses are in play, you can find him wandering behind his Wirehaired Pointing Griffon in the mountains of New England and anywhere else the birds take them.