Use this quick and simple quail roast recipe for evenly cooked moist quail meat that will keep you coming back for more.
The same way uplanders like the hunting action to be during a day afield, hot and fast is how quail meat should be roasted. Quail, depending on species, will vary in size, though the methods here should apply universally to whatever approximately 5-ounce bird you bag. Do yourself a favor and save both flavor and juiciness by plucking your birds and keeping the skin on.
Trussing is essential for any bird you're roasting whole. I've yet to find what I consider a great truss method for wild birds. Until I do, a bit of Google research tells us that trussing birds means to draw both legs and wings close to the body so those cuts cook evenly. This is especially important for wild birds with tougher legs and wings compared to domestic chickens.
When roasting small wild birds, we are testing the upper limits of our ovens. Before you preheat your oven, make sure you have a skillet that has no issue reaching 550-600 degrees Fahrenheit. For my oven, roasting quail for 14 minutes at 525 degrees is the sweet spot. The skin gets crispy after 14 minutes and the meat is still juicy. Depending on your oven, if you can go higher than 525 degrees, consider roasting it for 12 to 13 minutes. If 500 is as high as you can go, roast for 15 to 16 minutes. Keep in mind that if you opt for crispier skin, you lose out on a little bit of juice. If you opt for a bit of blush in the breasts and an infernal breast temp of 150 degrees, you likely won't get that crispy skin. It's your call.
The gravy portion of this recipe is optional. Sometimes, I prefer my quail as-is. I let them rest for a few minutes after they're done roasting, then take them in both hands and chow down.
Quick Roasted Quail
Roasting smaller game birds like quail, is fast, and results in moist, even cooked meat.
Ingredients
4

Whole

Quail

preferably plucked

Kosher salt

Freshly cracked black pepper

½-1

lemon

depending on how much lemon zest you want in your gravy

½

Bulb

fresh garlic

bottoms cut off but not peeled

Cooking spray
Vegetables for roasting skillet
Gravy
¼

cup

white wine

1

cup

pheasant, quail, or chicken stock
Roux
1

tbsp

all-purpose flour

½

tbsp

sunflower (or similar) cooking oil

1

tsp

Kitchen Bouquet Browning & Seasoning Sauce
Instructions
Fully thaw your quail and pat them dry. Dust them on all sides with kosher salt and freshly cracked black pepper. Allow them to sit in the fridge with ample airflow overnight so the meat can absorb the salt and the skin can dry.

Two hours prior to cooking, remove your quail from the fridge, truss the birds, and allow them to sit out at room temp. You can truss the birds prior to putting them in the fridge overnight too, if you want.

To cook, preheat your oven to 525. In a cast iron skillet, add the lemon flesh side down along with the garlic. Arrange the cut roasting vegetables in a way that your quail gets ample airflow all the way around when roasting.

After seven minutes of roasting, spray all sides of the quail with the cooking oil. Roast for another seven minutes or until slightly crispy.

When the quail are done roasting, make the gravy. Remove the skillet from the oven. Take the quail out of the skillet, making sure any juices from their cavities go back into the skillet. Lightly tent a piece of tin foil over the quail and let them rest while you make the gravy. Remove vegetables, lemon, and garlic from the skillet, too.

Place the skillet on the stovetop and turn the heat to medium-high. Deglaze the skillet with white wine, then add pheasant, quail, or chicken stock. Turn the heat to low. In a separate small saucepan, add one tablespoon all-purpose flour mixed with 1/2 tablespoon sunflower (or similar) cooking oil. Keep the heat on medium and stir the roux until it's the color of wet sand. Add in the browning seasoning, mix it in, then add to the warm stock in the skillet. Stir to thicken the gravy.

Serve the quail with a little bit of gravy poured over top and enjoy.
Notes
Reach out to me on Instagram (@WildGameJack) with any questions or comments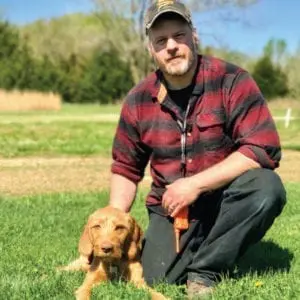 Jack Hennessy
Jack Hennessy grew up in the South Suburbs of Chicago and didn't start hunting until he attended graduate school in Spokane, Washington, at the age of 26. Hennessy began work in professional kitchens in high school but didn't start writing wild game recipes until he joined the Spokesman-Review in 2014. Since then, his recipes have appeared with Petersen's Hunting, Backcountry Journal, Gun Dog Magazine, among many others. He now lives with his wife, daughter, and Wirehaired Vizsla, Dudley, in Wichita, Kansas.