This slow but simple wild game recipe will make the perfect moist pheasant roast with evenly cooked meat.
Minimalist ingredients, simple techniques, and unforgettably delicious; this is how the perfect slow-roasted pheasant meat should always be described. The incredible gravy that comes along with it is just an added bonus.
Pheasant is the largest upland bird I'd recommend roasting whole. The reason being is that thighs and legs cook at different rates than breast meat. Thighs and legs require low-and-slow methods to allow their collagen to break down, producing tender bites of meat. This recipe features a cooking temperature compromise. The oven temperature I recommend is a little high for breasts, but it's the bullseye temperature (or close to it) for thighs and legs. Additionally, before roasting, sear the sides of your whole bird and target the thighs, legs, and wings. This gives those cuts a jumpstart on cooking while the breast meat remains away from direct heat. With larger birds, like wild turkey for example, the size ratio between their breasts, thighs, and legs is quite varied. It is difficult to find that temperature compromise when roasting birds of that size.
Hopefully, you have plucked roosters for this recipe. Keeping the skin on not only avoids drying the bird out while cooking, but retains a lot of flavor. For a guide on plucking your birds and more reasons why you should do so, check out this article.
Whole Roasted Pheasant
This slow but simple wild game recipe will make the perfect moist pheasant roast with evenly cooked meat.
Ingredients
1

whole

rooster

preferably plucked

Kosher salt and freshly cracked black pepper

1

tsp

freshly minced thyme

1

tsp

freshly minced sage

1

freshly minced rosemary

¼

lemon

½

bulb

fresh garlic

bottoms cut off but not peeled

Olive oil
Vegetables for roasting skillet
Gravy
¼

cup

white wine

1

cup

pheasant or chicken stock

1

tbsp

all-purpose flour

½

tbsp

sunflower (or similar) cooking oil

1

tsp

Kitchen Bouquet Browning & Seasoning Sauce
Instructions
Fully thaw the pheasant and pat it dry. Dust on all sides with kosher salt and freshly cracked black pepper. Allow the pheasant to sit in the fridge with ample airflow overnight so the meat can absorb the salt and the skin can dry.

Two hours prior to cooking, remove the pheasant from the fridge, truss the bird, and allow it to sit out at room temp.

To cook, heat an oven-safe (preferably cast-iron) skillet to 400 degrees Fahrenheit. Preheat your oven to 325. Add a very thin layer of olive oil to skillet. Carefully sear thighs, legs, and wings—whatever will touch the skillet when your pheasant is on its side. Sear until the skin is light brown.

Remove pheasant and lightly oil with olive oil. Sprinkle the fresh herbs over all sides. Stuff the bird with lemon and garlic. Slice your vegetables so they serve as logs to prop up the pheasant. This way, the oven heat can reach all sides of the bird, or close to it.

Roast your pheasant at 325 for 50 minutes. Then, turn the oven up to 450 and roast for three minutes. You can insert a meat probe prior to sliding the roast into the oven, but the goal is to have internal temp of both breasts and the thickest part of the thighs hit 170.

When you're done roasting, remove the skillet from the oven. Remove the pheasant from the skillet and allow it to rest uncovered (or lightly tented with foil).

Place the skillet on the stovetop and turn the heat to medium-high. Deglaze your skillet with white wine, then add your pheasant or chicken stock. Turn down the heat to low. In a separate small saucepan, add 1 tablespoon all-purpose flour mixed with 1/2 tablespoon sunflower (or similar) cooking oil. Keep the heat on medium and stir the roux until it's the color of wet sand. Add the browning seasoning, mix it in, then add the mixture to the warmed stock in the skillet. Stir in to thicken gravy.

To serve, carve pheasant and top with gravy. Enjoy!
Notes
Reach out to me on Instagram (@WildGameJack) with any questions or comments.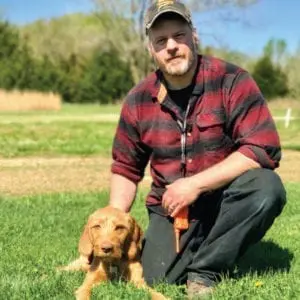 Jack Hennessy
Jack Hennessy grew up in the South Suburbs of Chicago and didn't start hunting until he attended graduate school in Spokane, Washington, at the age of 26. Hennessy began work in professional kitchens in high school but didn't start writing wild game recipes until he joined the Spokesman-Review in 2014. Since then, his recipes have appeared with Petersen's Hunting, Backcountry Journal, Gun Dog Magazine, among many others. He now lives with his wife, daughter, and Wirehaired Vizsla, Dudley, in Wichita, Kansas.