Home » Small Game Cooking » Roasted Quail with Bourbon Cranberry Sauce
Roasted Quail with Bourbon Cranberry Sauce
Serve up this upland twist on a traditional meal to your holiday guests this season
Cranberry sauce is a prerequisite for any holiday meal. Whether it's jelly from the can—I have many friends and family who genuinely love this option—or homemade most would agree it better be on the table one way or the other.
This one includes bourbon, so make sure to save some for the chef. Do note most alcohol (but not all) will burn off. I feel comfortable serving a little to my 4-year-old daughter, but please know if someone has an aversion, a small percentage will remain in the sauce.
The fresh basil brings out the most in this sauce and dish overall. You can use it with any upland bird here (or any game, really). I think we can all agree that cranberry sauce is ubiquitous during the holidays. Often, it's the glue holding that hodgepodge of food together on your plate, or perhaps it's dolloped delicately to the side. Make sure to salt this one to taste, as bitterness versus sweetness in cranberries can vary. Feel welcome to add more brown sugar, too, if you'd like.
Further, it's my firm belief that spatchcocking quail is often the easy way to cook these birds. Your mileage may vary per cooking time as different ovens are different. The goal is to get the breasts close to 165 degrees internally, and the legs closer to 180 degrees. You don't want dry breasts, but you also don't want underdone legs, so sometimes cooking these birds is a matter of compromise, thus breasts may get closer to 170 when making sure legs and thighs are finished.
Roasted Quail with Bourbon Cranberry Sauce
Jack Hennessy
Serve up this upland twist on a traditional meal to your holiday guests this season
Ingredients
4

whole quail

spatchcocked

12

oz

fresh cranberries

1

medium yellow onion

thinly sliced

1

tsp

fresh ginger

minced

1

tsp

fresh garlic

minced

1

Mandarin orange

juiced and zested

1/2

cup

bourbon

1

cup

chicken stock

2

tbsp

brown sugar

2-4

oz

fresh basil

chiffonade

Olive oil

Kosher salt

Fresh cracked black pepper
Instructions
Spatchcock quail and dust with kosher salt and freshly cracked black pepper. Leave outside the fridge for 1 hour to bring to room temperature.

To make cranberry sauce, first finely dice a medium yellow onion. In a large skillet, heat a thin layer of olive oil on medium heat and add the onion. Dust with kosher salt and freshly cracked black pepper.

Once onions are slightly seared and brown, turn heat to medium-low and continue to caramelize onions. Once onions are caramelized (about 20-30 minutes), add 1 teaspoon each of freshly minced ginger and garlic. Raise heat to medium and stir in for 2-3 minutes.

Deglaze skillet contents with 1/2 cup of bourbon. Stir in for a few minutes. Add 1 cup of chicken stock, followed by 12 ounces of fresh cranberries, juice and zest from one mandarin orange, and 2 tablespoons of brown sugar. Stir frequently as cranberries crack and release juice. The sauce is done when most cranberries have cracked and the sauce has a jelly-like texture but still some texture of actual cranberries. Salt to taste. Turn to low until ready to serve.

To roast quail, pre-heat the oven to 400 degrees Fahrenheit. Add quail to a baking sheet or some sort of oven-safe grate, lightly coat with olive oil. Roast skin-side-up for 12 minutes, then turn on broiler and sear for 5 minutes. Ideally, when done, skin is brown and breasts are around 165 and legs are closer to 180.

To serve, let quail rest for 5 minutes. Either dollop cranberry sauce on quail or the side and top with fresh basil, cut chiffonade.
Nutrition
Calories:
1824
kcal
Carbohydrates:
28
g
Protein:
145
g
Fat:
116
g
Saturated Fat:
33
g
Polyunsaturated Fat:
25
g
Monounsaturated Fat:
48
g
Trans Fat:
1
g
Cholesterol:
573
mg
Sodium:
627
mg
Potassium:
1745
mg
Fiber:
5
g
Sugar:
17
g
Vitamin A:
2017
IU
Vitamin C:
34
mg
Calcium:
141
mg
Iron:
8
mg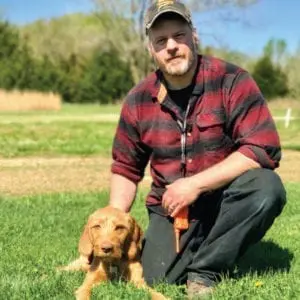 Jack Hennessy
Jack Hennessy grew up in the South Suburbs of Chicago and didn't start hunting until he attended graduate school in Spokane, Washington, at the age of 26. Hennessy began work in professional kitchens in high school but didn't start writing wild game recipes until he joined the Spokesman-Review in 2014. Since then, his recipes have appeared with Petersen's Hunting, Backcountry Journal, Gun Dog Magazine, among many others. He now lives with his wife, daughter, and Wirehaired Vizsla, Dudley, in Wichita, Kansas.