A complete guide to turning pheasant, grouse, chukar, quail, and other birds into cooking stock and broth
If you shoot birds, I can promise you one thing: you should be making more stock. You already make stock? Then the question is, could you make more? Whether butchering your birds, roasting them whole, or however you prepare them, if you have leftover bones, these serve as the basis for some amazing stock. This is also an answer to what to do with those thighs—which are riddled with tendons—while simultaneously adding flavor to create a broth and causing the meat to fall off the bones of those thighs.
You can make stock with bones from any upland game bird, though with smaller birds, you will need more carcasses to make an ample amount of stock. In this particular recipe, I was able to yield approximately 48 ounces of very flavorful broth from one rooster pheasant carcass plus mirepoix (chopped celery, onion, and carrots). I say "broth" because I used wings and legs with the meat and, as I understand it, once you add meat it becomes broth rather than stock. Also, typically speaking, broth is something you can sip, while stock may be something you cook with.
This recipe can serve as the basis for an incredible soup, ramen, pasta, risotto, or even for added liquid while making sausage. The possibilities are endless when you have upland stock or broth on hand. In terms of storage and preservation, it keeps for a short time in the fridge, but can stay good for upwards of 2 years if frozen or pressure canned (check your pressure canner's instructions on how to can stock).
Roasting the carcasses ahead of time helps release the collagen and produces rich, deep flavor from the bones and leftover meat bits. If you're daring, you can save your bird feet to peel and declaw and use for additional collagen. Stock, especially when rich with collagen, is nutritious, delicious, and offers various health benefits including increased joint strength and flexibility, which is crucial for when you plan to hike half-day marathons afield in the fall.
It's generally accepted that the more tender, loving care you give to the stock in the form of hours, the better the final product will be. Overall, you should plan to spend at least 5 hours preparing this recipe, though you can simmer for as long as 12 hours, if you'd like. Make sure to cover if doing so and barely simmer on very low. If you have a lot of carcasses, you can definitely make more stock, thus taking full advantage of the time invested.
Homemade Pheasant Cooking Stock and Broth
This recipe will help you turn any type of upland birds into good cooking stock and broth. It can be applied to grouse, pheasant, quail, chukar, and more.
Ingredients
1

pheasant (legs, wings, even neck and giblets, if possible)

1

Medium

yellow onion

chopped

2

Large

carrots

chopped

½

Stalk

celery

chopped

½

Cup

whole black peppercorns

2

Sprigs

fresh thyme

2

Sprigs

fresh sage

2

Sprigs

fresh rosemary

3-4

bay leaves

Kosher salt and freshly cracked black pepper

Sunflower oil

Whisky to deglaze skillet or roasting pan
Optional
Pheasant feet, peeled and declawed

3-4

Ounces

fresh ginger

chopped

1

Bunch

green onions

chopped
Instructions
Preheat oven to 425 degrees Fahrenheit. In an oven-safe skillet or pan, add a thin layer of sunflower oil (or similar cooking oil) along with pheasant carcass(es). Lightly salt and pepper and roast for half hour. Add giblets, if you have them, and roast for another 15 minutes. (If you don't have giblets, just roast carcass(es) for total of 45 minutes.)

Remove skillet or pan and take carcass from skillet and pan set aside. Place skillet or pan on a burner, heat on medium, and deglaze skillet or pan with whisky to pick up any brown bits with a wooden spoon or rubber spatula. You shouldn't need more than a couple ounces of whisky to glaze. Add brown bits (after deglazing) to a large stock pot.

In that same large stock pot, add a very thin layer of sunflower oil (or similar cooking oil) followed by chopped onion, carrots, and celery, along with black peppercorns, and heat on medium. Lightly salt and pepper and stir until seared.

Once vegetables are seared and slightly soft, add roasted pheasant carcass(es) and giblets to stock pot. Evaluate where pheasant sits and make sure to add enough water to cover 3-4 inches above those bones. (Pheasant parts may float, so best to evaluate what level of water prior to adding water.)

Add fresh herb sprigs and barely, barely simmer for 1-1/2 hours. You want your water to barely bubble (just a few pops here and there) with water temperature no higher than 180.

After 1-1/2 hours, remove the fresh herb sprigs and cover pot. Continue to barely simmer on very low for 3 hours.

Drain stock through paper-towel- or cheesecloth-covered sieve to pull out any debris. You can salt to taste once strained. Cool in fridge before covering or sealing (if not pressure canning). Stock will last for 7-10 to days in fridge, longer if frozen or pressured canned (up to 2 years).
Keyword
Chukar, Grouse, Pheasant, Quail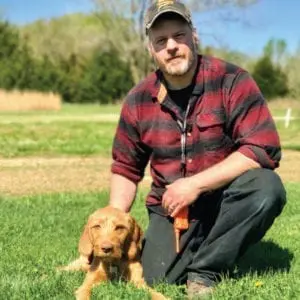 Jack Hennessy
Jack Hennessy grew up in the South Suburbs of Chicago and didn't start hunting until he attended graduate school in Spokane, Washington, at the age of 26. Hennessy began work in professional kitchens in high school but didn't start writing wild game recipes until he joined the Spokesman-Review in 2014. Since then, his recipes have appeared with Petersen's Hunting, Backcountry Journal, Gun Dog Magazine, among many others. He now lives with his wife, daughter, and Wirehaired Vizsla, Dudley, in Wichita, Kansas.