Home » Small Game Cooking » Understanding Quail Meat: Nutrition, Cooking Tips and Handling
Understanding Quail Meat: Nutrition, Cooking Tips and Handling
Though small and a sometimes difficult quarry to bag, quail are delicious birds and can be used in a wide range of dishes
Small but worth the effort, when it comes to popular game birds and miles covered by canines chasing a flush, quail is likely second only to pheasant.
Several species exist nationwide and what quail species a hunter swings on will vary by region. Bobwhite quail are the most commonly hunted species and considered the gentleman of game birds, though regardless of what quail you put in your bag, the below profile will help you transform your quarry into incredible table fare.
General nutrition
(Based on 100-gram/3.5-ounce serving)
123 calories
23 grams protein
3 grams fat
Quail meat overview
Small, tasty, succulent if cooked correctly, quail is a fan favorite among upland hunters and their family members sitting around the table.
Flavor profile
While there may be very subtle differences in flavor between species—mostly due to diet—quail is one of the more mild-tasting upland birds and therefore is very versatile in terms of recipe creation.
Yields
Rarely will you find a quail weighing more than 5 ounces and once dressed these birds weigh, on average, 4 ounces. Obviously, some of that weight is bones, but it's likely fair to say you'll get 2-3 ounces of actual meat from each quail.
General methods for cooking quail
I recommend either dry brining or wet brining quail ahead of cooking. Also, it's best to bring these birds to room temp prior to cooking. Quail are best-served whole and benefit, generally speaking, from most hot-and-fast cooking methods, as such an approach crisps up the skin while also cooking to both breasts and legs to ideal temperatures.
For quail, I am a big proponent of spatchcocking these birds, which is cutting out the spine and flattening the bird. This allows me to grill them for crispy skin but also turn over, meat side up, and place legs near indirect heat to finish them off.
Hank Shaw employs a very hot oven—500 degrees Fahrenheit—for about 15 minutes for his "Simple Roast Quail" recipe. In his book, "Pheasant, Quail, Cottontail," he also goes over another solid method: "Pan-Roasted Quail," but for me, I am more caveman than gourmet when it comes to quail, so I almost always spatchcock.
Breasts
Breasts are best served at 150-160 degrees Fahrenheit internal temperature and, ideally, nothing past this. To make sure breasts get here while legs reach a higher temp, I sometimes place quail breasts down on an ice pack so breasts stay cool while legs come to room temp.
Wings, legs and thighs
Like most wild birds, these harder-working cuts require a bit more time and a higher internal temperature to tenderize. For the internal temperature, 180-190 is the target and, as mentioned above, bringing these birds to room temperature prior to cooking will help breasts hit 150-160 and legs 180-190.
Tenderloin
Tucked behind the breast, this separate, more tender strip of meat is super, super small on quail, and not really worth separating.
Giblets (gizzard, liver, neck, and heart):
Gizzard: Giblets are very, very small on these birds but are edible. I truthfully rarely bother with quail giblets, especially after only bagging a few. Cleaning the gizzard is a challenge, and, honestly, I normally don't do this for these small birds.
Liver: Very small but the more you have, the more options you have.
Heart: Also supremely small. A very quick roll through a hot, oiled skillet with a tiny pinch of salt could make for a tasty treat.
Neck: I never save these on such small birds.
Enjoy! Reach out to me on Instagram (@WildGameJack) with any questions or comments.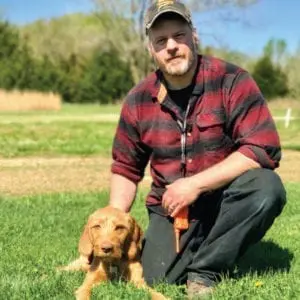 Jack Hennessy
Jack Hennessy grew up in the South Suburbs of Chicago and didn't start hunting until he attended graduate school in Spokane, Washington, at the age of 26. Hennessy began work in professional kitchens in high school but didn't start writing wild game recipes until he joined the Spokesman-Review in 2014. Since then, his recipes have appeared with Petersen's Hunting, Backcountry Journal, Gun Dog Magazine, among many others. He now lives with his wife, daughter, and Wirehaired Vizsla, Dudley, in Wichita, Kansas.