Photo by Jack Hennessy
Want to learn how to properly brine those game birds for more moist meat?
Between the spring and the early fall this year, our family has put a lot of chukar in the freezer while training our 1-year-old Wirehaired Vizsla, Dudley. Anyone who has cooked chukar knows the meat can dry out quickly but here I want to present some techniques that not only apply to a great-tasting chukar, but upland birds in general.
Brining upland game: Making it moist
First off: brining. I brine all the birds I shoot. Brining does a few key things: it sucks out residual blood, leaving you with a nice clean piece of meat. The salt in the brine binds to muscle fibers and helps retain moisture while cooking. Lastly, a good brine imbues the bird with flavor.
The brine recipe in this article is one I employ for everything from quail to Canada goose. I may add a few extra things here and there (coriander seeds or sliced jalapeños, for example), but the base brine always remains the same. To ensure smaller birds don't become overly salty, I vary brine times based on the size of a bird.
Quail, grouse, chukar, etc.: 6-8 hours
Pheasant, mallards, etc.: 8-12 hours
Larger cuts from birds like turkeys or Canada goose: 18-24 hours
Always make certain to thoroughly rinse off the meat upon removing from the brine.
Brine ingredients for upland game
1 gallon cold water
1/2 cup kosher salt
1/2 cup white sugar
1/2 cup whole black peppercorns
1 cup fresh garlic, smashed
8 ounces (1/2 pound) fresh ginger, smashed
Steps to brining and grilling
In a large pot, stir all brine ingredients until sugar and salt is dissolved.
Add thawed birds and allow to brine for 6-8 hours.
Upon removing birds from brine, THOROUGHLY rinse all parts under cold water then pat dry with paper towels and place in fridge, skin side up, with plenty of room and ventilation so skin can dry.
Heat grill or skillet to 400 degrees Fahrenheit. Make sure grill is clean, lightly oiled and hot. Place birds skin-side down and press so all portions of bird are in contact with the grill.
Sear until golden brown then flip, doing the same on the other side.
Finish in oven or covered grill at 325 for 15-20 minutes, until legs are tender.
Before grilling, always make sure the bird's skin is completely dry, as wet skin leads to potentially mushy exterior or, at very least, a less-than-perfect sear.
Finally, make sure your grill is clean. Yes, you can wash or use a grill scraper, but when the grill is hot, before cooking, you should take a rag oiled with sunflower or olive oil (any food-safe oil really) and run in over grill until clean. Leave a light coating behind so food doesn't stick.
Enjoy! Reach out to me on Instagram (@WildGameJack) with any questions or comments.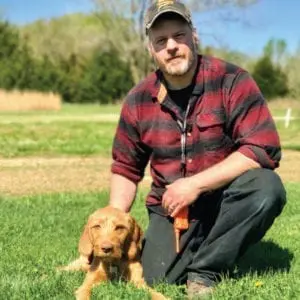 Jack Hennessy
Jack Hennessy grew up in the South Suburbs of Chicago and didn't start hunting until he attended graduate school in Spokane, Washington, at the age of 26. Hennessy began work in professional kitchens in high school but didn't start writing wild game recipes until he joined the Spokesman-Review in 2014. Since then, his recipes have appeared with Petersen's Hunting, Backcountry Journal, Gun Dog Magazine, among many others. He now lives with his wife, daughter, and Wirehaired Vizsla, Dudley, in Wichita, Kansas.