Warm up on these snowy days with a classic chicken soup recipe using pheasant meat
No other cupboard staple has as much nostalgia packed inside it as a can of Campbell's Chicken Noodle Soup. That red-and-white label and name are synonymous with love, care, and comfort. Mom reached for it when we were sick, and it's a tried-and-true choice for these colder months. With this soup recipe, we'll stay true to that classic Campbell's taste. However, instead of centering this meal around chicken, I incorporate pheasant meat and pheasant stock to give this soup a cherished upland flavor. 
Any upland bird will work in this recipe, though white-fleshed birds taste best. In the directions, I share two methods you can use to cook your pheasant meat: a sous-vide method and how to cook the pheasant meat in the soup itself. If you have a way you prefer for cooking your upland birds with soup in mind, feel welcome to follow those tried-and-true methods. The bottom line is that you want tender, small bits of upland bird in your soup. The size and texture should mirror that of Campbell's Chicken Noodle Soup.
Many copycat Campbell's Chicken Noodle Soup recipes call for using chopped spaghetti noodles. While those resemble the noodles in the classic soup, the flavor and texture do not. Instead, I opt for a particular brand of fine egg noodles, though any egg noodles will do.
This recipe itself is straightforward. What puts it a step above other recipes is the homemade pheasant stock, which you can learn how to make here. The stock takes a whole day to cook, but the more you make, the more you will have on hand for future soups and recipes. In a pinch, store-bought chicken stock works, but it won't compare to homemade upland bird stock.
Classic Pheasant Noodle Soup
Warm up on these snowy days with a classic chicken soup recipe using pheasant meat
Cook Time
30

minutes
mins
Total Time
10

hours
hrs
30

minutes
mins
Ingredients
12-14

oz

Breasts and thighs from one rooster

White wine

Kosher salt and freshly cracked black pepper

4

large

garlic cloves

smashed
Soup Ingredients
48

oz

pheasant stock

12

oz

bag of Helmuth Homemade Fine Egg Noodles (or similar)

1

tbsp

granulated garlic

1

tbsp

onion powder

1

tbsp

white sugar

Salt to taste

Chopped Italian (flat-leaf) parsley for garnish (optional)
Instructions
Check out this recipe for directions on making pheasant stock or broth.

To sous-vide cook your pheasant, heat the sous-vide container to 150 degrees Fahrenheit using the sous-vide cooker. Lightly salt and pepper the thighs. Seal them with a bit of pheasant stock or broth and a couple of cloves of freshly smashed garlic. Sous vide the thigh meat for 10 hours. For the breasts, do the same thing, but sous vide them for just two hours. To do so, add the breasts to the same sous vide container as the thighs when two hours remain on the thighs' sous vide timer.

Once the sous vide pheasant meat is ready, finely chop the meat and add it to a large soup or stock pot along with any liquids from sous vide bags, 48 ounces of pheasant stock or broth, onion powder, granulated garlic, and the egg noodles. Set the heat to low; you don't want to see much more than a bubble here or there. Cook the soup until the egg noodles are tender. Salt to taste before serving.

If you're not using a sous-vide cooker and are cooking the pheasant meat directly in the soup, follow these steps: Add 48 ounces of stock to a large soup or stock pot. Dice the thigh meat and add it alongside onion powder and granulated garlic. Set the heat to low. Cook until the thigh bits are tender, likely at least an hour. Dice your breast meat and add it in. Once it's fully cooked after approximately 15-20 minutes, add in your egg noodles and cook them until they're tender. Salt to taste before serving.

Serve each bowl with freshly baked or toasted bread and garnish it with chopped Italian parsley.
Notes
Enjoy! Reach out to me on Instagram (@WildGameJack) with any questions or comments.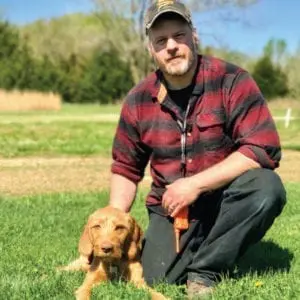 Jack Hennessy
Jack Hennessy grew up in the South Suburbs of Chicago and didn't start hunting until he attended graduate school in Spokane, Washington, at the age of 26. Hennessy began work in professional kitchens in high school but didn't start writing wild game recipes until he joined the Spokesman-Review in 2014. Since then, his recipes have appeared with Petersen's Hunting, Backcountry Journal, Gun Dog Magazine, among many others. He now lives with his wife, daughter, and Wirehaired Vizsla, Dudley, in Wichita, Kansas.