This quick adaptation of the classic Vietnamese soup uses a couple shortcuts to turn the concept into an easy weeknight meal
There are likely a few of you reading this right now and shaking your fist in frustration. "Quick and easy pho doesn't exist," you think to yourself while grinding your teeth. And I get it. Pho (pronounced "fuh") is a labor of love that pays off after several hours of laboring with said love. The broth is a key component and many would argue that it can't just be store-bought. During several years of working in a professional kitchen, I made hundreds of batches of broth and yes, I can tell you—it takes time. Is it worth it? Yes. How much more is it worth, exactly? That opinion will vary from person to person.
So this recipe isn't to discount any of the great pho recipes out there. There are two main shortcuts involved here: store-bought broth and using cheesecloth to make a seasoning bundle that can be quickly removed (versus having to strain). A great broth requires hours of effort and makes use of normally discarded parts like feet and tendons.
All the ingredients listed here should be able to be sourced from most major grocery stores. If I can find them in south-central Kansas, I'm suspecting most of you will be able to find them as well. Lastly, I chose to grill the pheasant instead of placing it raw into broth and allowing the hot broth to cook the meat. Why? Because I enjoy the flavor of meat after it has been seared and caramelized, as opposed to cooked slowly in liquids.
You will need some cheesecloth and some kitchen twine. A lot of recipes call for anise stars, which are less potent than the seeds themselves. Most grocery stores don't carry those (at least not in Kansas), so I opted for a smaller amount of anise seeds.
Easy Pheasant Pho
Jack Hennessy
A quick adaptation of a classic Vietnamese soup using skinless pheasant breast
Prep Time
20

minutes
mins
Cook Time
1

hour
hr
30

minutes
mins
Total Time
1

hour
hr
50

minutes
mins
Cuisine
American, Vietnamese
Ingredients
Broth and fillings
4

skinless pheasant breasts

lightly salted and peppered

sunflower oil

12

oz

rice noodles

1

medium yellow onion

sliced

64

oz

chicken broth

3

cups

water

¼

cup

fish sauce

1

tbsp

Sambal chili paste

1

tsp

sesame oil

1

tbsp

brown sugar

kosher salt

to taste
Seasonings to go in the cheesecloth
3

oz

fresh ginger

smashed

2

cloves

garlic

smashed

½

tsp

anise seeds

1

tbsp

coriander seeds

whole

½

tbsp

black peppercorns

whole
Toppings for serving
jalapeños

sliced

bean sprouts

cilantro

freshly minced

chives

freshly minced
Instructions
Spread open a large piece of cheesecloth and add ginger, garlic, anise seeds, coriander seeds, and whole black peppercorns. Be sure to smash the ginger and garlic to release more flavor into the broth. Bundle and tie with kitchen twine.

In a large pot, add chicken broth, water, fish sauce, Sambal chili paste, brown sugar, sesame oil, and a teaspoon of kosher salt to start.

Slice one medium onion into rings and add to broth. Add the cheesecloth bundle. Bring to a very low simmer over medium-low heat and simmer gently for 1½ hours. Stir often, making sure to move around the cheesecloth bundle.

In a large (preferably cast-iron) skillet, heat a very thin layer of sunflower (or similar cooking) oil on medium-high heat.

Dust pheasant breasts with salt and pepper and sear both sides adequately, cooking fully to an internal temp of 160 degrees Fahrenheit. Remove from heat and set aside.

Once broth has simmered for 1½ hours, remove the cheesecloth bundle. Salt to taste.

Prepare rice noodles according to package instructions.

Slice one pheasant breast per serving and add to smaller pot or large bowl alongside the rice noodles.

Pour or scoop in steaming broth over sliced pheasant and noodles.

To finish, each person can add bean sprouts, sliced jalapeños, freshly minced cilantro and chives to suit their own taste.
Nutrition
Keyword
Pheasant, Pho, Soup
Enjoy! Reach out to me on Instagram (@WildGameJack) with any questions or comments and be sure to check out my other wild game recipes and cooking instructions here.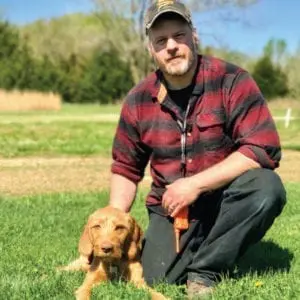 Jack Hennessy
Jack Hennessy grew up in the South Suburbs of Chicago and didn't start hunting until he attended graduate school in Spokane, Washington, at the age of 26. Hennessy began work in professional kitchens in high school but didn't start writing wild game recipes until he joined the Spokesman-Review in 2014. Since then, his recipes have appeared with Petersen's Hunting, Backcountry Journal, Gun Dog Magazine, among many others. He now lives with his wife, daughter, and Wirehaired Vizsla, Dudley, in Wichita, Kansas.