Warm up with those cool fall days with this dumpling soup recipe with a pheasant flare.
South-central Kansas Summer can been a long one and a hot one. Needless to say, I welcome fall. As always, fall means cooler weather, and cooler weather calls for soup.
Want to know a trade secret? Every great soup begins with homemade stock. This recipe of mine will show you how to make pheasant stock. Read how to make stock or broth with your birds, then put that broth to work and make this next-level soup.
This pheasant dumpling soup isn't complicated. The pheasant stock is the real star here, and the dumplings absorb that goodness and let you experience it with every mouthful. Sous vide cooking your pheasant meat isn't essential, but it is recommended to maximize the tenderness of your bird. Of course, you can bake, grill, or employ another favorite method for cooking your pheasant prior to adding it to this soup.
At least one rooster carcass can make 48 ounces of tasty stock. The more bones, the better. However, as you may have guessed, you can make your stock, broth, or this entire soup with any upland bird.
Making stock or broth takes several hours. Most of this time is spent babysitting your stock pot, making sure it doesn't rise above barely a simmer. Even though this effort sounds quite minimal, you should make stock during the day. Don't make the mistake of leaving your stock pot barely simmering overnight. I've done that and woken up to a pot with no liquids, because, at some point, my stock pot contents got too hot and evaporated. Get up early if you have to and set aside at least seven hours to prep, babysit, and make a good stock or broth. After all, it's the first step in making unforgettable soup.
Pheasant Dumpling Soup
This dumpling soup recipe gives a tasty vibe to the tradition of eating pheasant in America.
Prep Time
30

minutes
mins
Cook Time
10

hours
hrs
15

minutes
mins
Cuisine
American, Chinese
Equipment
Breasts and thighs of a Rooster Pheasant
Ingredients
1

Rooster Pheasant

Breasts and thighs

White wine

Kosher salt and freshly cracked black pepper

4

large

garlic cloves

smashed
Dumplings
1

cup

flour

2

tsp

baking powder

½

tsp

kosher salt

½

tsp

white sugar

½

tsp

granulated garlic

1

tbsp

melted salted butter

½

cup

whole milk
Soup
48

oz

pheasant stock

2

medium

carrots

diced and sautéed

2

stocks

celery

sliced and sautéed

4-5

stocks

scallions

sliced

2

tbsp

salted butter

Kosher salt and freshly cracked black pepper

Juices from sous vide

Optional chopped Italian(flat-leaf) parsley

for garnish
Instructions
For directions on how to make pheasant stock orbroth, check out this recipe

To sous vide pheasant, heat the sous vide container to 150 degrees Fahrenheit using the sous vide cooker. Lightly salt and pepper the thighs and seal them with a little bit of white wine and two cloves of freshly crushed garlic. Sous vide the thighs for 10 hours.

For the breasts, do the exact same thing as the thighs, but only sous vide them for 2 hours. When there's two hours left on the sous vide's timer for the thighs, simply add the breasts to the same sous vide container and both the breasts and thighs will be done at the same time.

To make the soup, sauté carrots and celery in butter in a large stock pot until slightly seared and mostly soft. Lightly salt and pepper them. Add in the pheasant stock and scallions and bring it to a very low simmer.

To make the dumplings, mix the dumpling ingredients in a mixing bowl. Use a soup spoon to ladle individual dumplings into the soup once the soup is barely simmering. They are done cooking after doubling in size, then shrinking back down after absorbing stock. This usually takes 10 to 15 minutes.

To complete the soup, diced sous vide cooked pheasant and add it to the soup. I recommend adding all liquids from sous vide bag into soup.

Serve with freshly baked or toasted bread and garnish with chopped Italian parsley.
Notes
Reach out to me on Instagram (@WildGameJack) with any questions or comments.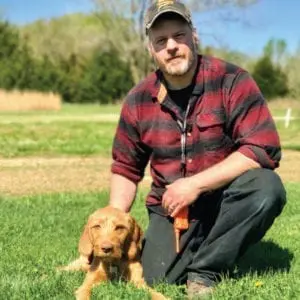 Jack Hennessy
Jack Hennessy grew up in the South Suburbs of Chicago and didn't start hunting until he attended graduate school in Spokane, Washington, at the age of 26. Hennessy began work in professional kitchens in high school but didn't start writing wild game recipes until he joined the Spokesman-Review in 2014. Since then, his recipes have appeared with Petersen's Hunting, Backcountry Journal, Gun Dog Magazine, among many others. He now lives with his wife, daughter, and Wirehaired Vizsla, Dudley, in Wichita, Kansas.