Inspired by a family tradition and classic Christmas movie, this egg drop soup is great for the holidays
My wife's family dinner tradition on Christmas Eve is soup. It may sound odd to those who serve up a feast, but once you start pouring the egg nog and sneaking a couple of grandma's freshly baked cookies, it starts to make a lot of sense.
And anyone who has watched A Christmas Story likely remembers the scene at the end where the family heads out for Chinese on Christmas day. Perhaps you have even worked something similar into your holiday traditions. So for this recipe, I combined that popular Christmas-movie meal with my wife's family tradition of soup for an incredibly tasty egg drop soup that includes shredded upland bird meat. When creating this, I used pheasant breasts in this instance but you can use any white-fleshed meat.
The only remotely difficult part of this recipe is making sure your heat is low and the soup is not simmering when adding eggs, as you don't want them to curdle—you want those pretty egg drop flowers instead. This recipe is, in my opinion, as good or better than some takeout offerings and incredibly easy to make. Hopefully, this soup finds a place in your recipe Rolodex; perhaps it might even become your holiday family tradition. On that note, the Hennessy family wishes you and yours happy hunting and holidays.
Reach out to me on Instagram (@WildGameJack) with any questions or comments.
Upland Bird Egg Drop Soup
Jack Hennessy
Inspired by a family tradition and classic Christmas movie, this egg drop soup is great for the holidays.
Ingredients
1

pound

white-flesh upland bird meat

1/4

cup

black peppercorns

4

large cloves fresh garlic

48

oz

chicken stock

portioned

5

eggs

lightly beaten

1

tsp

kosher salt

1/4

tsp

sesame oil

1/2

tsp

white sugar

1/2

tsp

white pepper

1/2

tsp

turmeric

3

tbsp

cornstarch

1/4

cup

cold water

Fresh scallions

sliced for garnish

Olive oil
Instructions
In a large pot, poach upland meat (I used pheasant breasts) in 24 ounces chicken stock with black peppercorns and smashed garlic cloves for 1 hour. The chicken stock should be just below simmering (you don't want it simmering as that is too high of heat).

Once the meat can be shredded by hand (could be less than 1 hour), remove it from the chicken stock and place it on a cutting board. Let it cool for 5 minutes before shredding. Once shredded, set the meat aside.

Strain liquids through a sieve and paper napkin or coffee filter to remove peppercorns, garlic, and any other bits. Add liquids back to the large pot, along with 24 ounces more chicken stock, hand-shredded meat, 1 teaspoon kosher salt, 1/4 teaspoon sesame oil, 1/2 teaspoon white sugar, 1/2 teaspoon white pepper, and 1/2 teaspoon turmeric.

For 20 minutes, allow a very low simmer. While soup simmers, make a corn-starch slurry by combining 3 tablespoons of corn starch with 1/4 cup cold water in a bowl and mix. Add slurry to the pot and stir in to thicken the soup.

Crack 5 eggs into a medium bowl and barely whisk. I stab the egg mix with fork tines, with the occasional wrist flick.

Turn heat down (likely to medium-low) so soup is barely below a simmer (but not simmering at all). When at this temperature, very slowly drizzle in the egg and stir into soup with a ladle to produce egg flowers (but not curdle eggs).

Turn heat to low while you cut fresh scallions for garnish.

Ladle soup into bowls and garnish with sliced scallions. 
Nutrition
Calories:
515
kcal
Carbohydrates:
29
g
Protein:
38
g
Fat:
27
g
Saturated Fat:
8
g
Polyunsaturated Fat:
6
g
Monounsaturated Fat:
11
g
Trans Fat:
1
g
Cholesterol:
300
mg
Sodium:
1229
mg
Potassium:
863
mg
Fiber:
4
g
Sugar:
6
g
Vitamin A:
547
IU
Vitamin C:
4
mg
Calcium:
126
mg
Iron:
4
mg
Keyword
Soup, upland game birds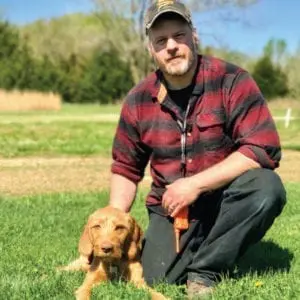 Jack Hennessy
Jack Hennessy grew up in the South Suburbs of Chicago and didn't start hunting until he attended graduate school in Spokane, Washington, at the age of 26. Hennessy began work in professional kitchens in high school but didn't start writing wild game recipes until he joined the Spokesman-Review in 2014. Since then, his recipes have appeared with Petersen's Hunting, Backcountry Journal, Gun Dog Magazine, among many others. He now lives with his wife, daughter, and Wirehaired Vizsla, Dudley, in Wichita, Kansas.