This Mexican inspired pheasant dish is sure to be a family favorite
Depending on who you ask, flautas are the same thing as taquitos: loose meat rolled in a tortilla and fried until crispy. Some argue the difference is flautas used flour tortillas, while taquitos use corn tortillas. In a cooking context, "flautas" translates to "flutes," and that is exactly what flautas look like after frying. My daughter saw these on the menu at a local Mexican restaurant recently and told me, "The second I saw those, I knew they were for me." Of course, I went home and replicated the recipe with pheasant.
You can make this dish with any wild game meat. I recommend using a sous vide to cook your pheasant, but you can also poach your birds in chicken stock, chili paste, and tequila for a similar result. The recipe calls for a pepper puree, or thoroughly blended dried chiles after they have been rehydrated. Using actual pepper puree is best, but you can substitute tomato paste here or even pureed chipotles in adobe sauce. Keep in mind that the chipotles in adobo will be spicy, so you may wish to dial back the amount or keep the amount of seeds in the puree to a minimum.
Sometimes, I have trouble finding cotija cheese in my local stores. Don't tell the purists, but feta is a comparable substitute. I also recommend making the sauce ahead of time and reheating in a saucepan prior to serving if you're on a time crunch.
Pheasant Flautas
This Mexican inspired recipe is sure to be a family favorite while using up your pheasant meat
Cook Time
20

minutes
mins
Course
Appetizer, Main Course
Ingredients
1

pound

deboned pheasant

kosher salt and freshly cracked black pepper

2

tbsp

Sambal chili paste

1 ½

oz

tequila

48

oz

chicken stock

*If not using a sous vide

1

medium

yellow onion

finely diced and caramelized

12

medium

flour tortillas

8

oz

Mexican shredded cheese

(any mix of asadero, oxaca, or quesadilla)

2-4

oz

cotija cheese

(you could use feta in a pinch)

Freshly chopped cilantro

Avocado oil or similar cooking oil

Cornstarch to make a slurry to serve as glue for tortillas
Green Chili Enchilada Sauce Ingredients
1 ½

pounds

tomatillos

roasted and pureed

5

large

jalapeños

halved, seeded, roasted, and pureed

4

large

garlic cloves

roasted and pureed

½

cup

pepper purée

(or tomato paste or pureed chipotles in adobe sauce)

2

tbsp

creamy peanut butter

2

tbsp

honey

1

tbsp

chili powder

1

tbsp

dry oregano

1 ½

tbsp

kosher salt

½

tbsp

cumin

½

tbsp

apple cider vinegar
Instructions
Make the sauce first. Remove the husks from your tomatillos. Cut off the stems, halve, and remove the seeds from your jalapeños. Peel the garlic. Lightly oil all these vegetables and roast them at 250 degrees Fahrenheit for one hour.

Meanwhile, remove the seeds from the dry chiles and rehydrate them in hot water for 10 to 15 minutes, or until soft. Remove the stems and blend them thoroughly in a blender. A food processor won't blend the chiles as thoroughly.

Once the tomatillos, garlic, and jalapeños are adequately roasted, thoroughly blend all of them along with 1/2 cup of your pepper purée. Add the mixture to a medium saucepan along with the peanut butter, honey, chili powder, dry oregano, kosher salt, cumin, and apple cider vinegar. Barely simmer the sauce for one hour, stirring frequently and being careful not to let it burn. Salt to taste.

To prepare the pheasant, debone all the meat and lightly dust it with kosher salt and freshly cracked black pepper. If you're using a sous vide, seal the pheasant meat up with tequila and chili paste. Sous vide cook at 180 F for two hours for breast meat or eight hours for leg and thigh meat. This may require you to separate different cuts into different sous vide bags. If you're not using a sous vide, after seasoning the meat, add it to a medium saucepan and cover it with chicken stock plus chili paste and tequila. Barely simmer the meat for 2.5 to three hours, or until all meat shreds easily.

When you're ready to prep and cook the flautas, in a large skillet, add a thin layer of avocado oil (or similar cooking oil). Heat it on medium-high. Add the finely minced yellow onion and lightly salt and pepper it. Once it's slightly seared, turn the heat to medium-low. Remove the onions once they're slightly caramelized and soft, approximately 20 minutes.

Add a bit more avocado oilI to that same skillet that you cooked the onion in. Turn the heat medium; the ideal frying temp here is 400 F.

Shred your pheasant meat and mix it with Mexican-style shredded cheese. Add it to the middle of each tortilla and roll it up tightly. Remember, it should look like a flute. To seal the edge of the rolled tortilla end, mix a bit of cornstrach with water to create a paste. Add that paste to the edge, which serves as an adhesive.

Roll all flautas and fry two to three at a time, being careful to not crowd the skillet. Rotate them until the sides are golden brown. Remove them and let grease drip off. You may wish to have them sit on a paper towel for half a minute and turn to remove the extra grease. Plate them, top them with sauce, then cotija cheese crumbles. Garnish with freshly chopped cilantro. Enjoy!
Notes
Note: Pepper purée is made from rehydrated dried 4-5 each of California and chipotle chiles (seeded, stems removed before blending thoroughly).
Reach out to me on Instagram (@WildGameJack) with any questions or comments.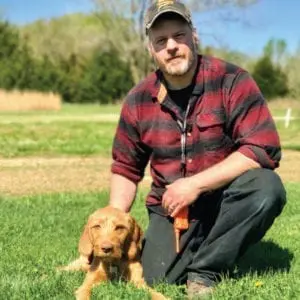 Jack Hennessy
Jack Hennessy grew up in the South Suburbs of Chicago and didn't start hunting until he attended graduate school in Spokane, Washington, at the age of 26. Hennessy began work in professional kitchens in high school but didn't start writing wild game recipes until he joined the Spokesman-Review in 2014. Since then, his recipes have appeared with Petersen's Hunting, Backcountry Journal, Gun Dog Magazine, among many others. He now lives with his wife, daughter, and Wirehaired Vizsla, Dudley, in Wichita, Kansas.