Take your time with this delicious Mexican dish inspired by a Spokane, Washington, restaurant and choose between enchiladas or tostadas
One of my favorite restaurants while living in Spokane, Wash., was Rancho Chico on the north side of town. It had amazing margaritas and a fantastic enchilada sauce that contained peanut butter as one of the ingredients.
While I have experimented with enchilada sauces over the years, this is the first time I attempted incorporating peanut sauce. Long story short: it was a hit at home, and I highly recommend giving this one a try. If it's too thick for your liking, you can add chicken stock until the desired consistency is met.
The other great thing about this recipe is the ability to cook your upland bird meat at your own pace. After an initial sear, adding chicken stock and a little bit of enchilada sauce will help braise and tenderize tougher cuts, like legs and thighs from older roosters.
Lastly, on the topic of enchiladas versus tostadas, enchiladas are accomplished by rolling into the shape of mini burritos while tostadas utilize flat, baked tortillas. Admittedly, the easiest, fasted route is opting for tostadas, but the decision is yours, ultimately.
Enjoy! Reach out to me on Instagram (@WildGameJack) with any questions or comments.
Upland Enchiladas or Tostadas
Jack Hennessy
Take your time with this delicious Mexican dish inspired by a Spokane, Washington, restaurant and choose between enchiladas or tostadas.
Ingredients
1

lb

upland game meat

2

tbsp

Montana Mex Mild Chile Seasoning Blend (or other favorite Mexican seasoning)

1/2

medium onion

finely minced

1/2

cup

chicken stock

1/4-1/2

cup

enchilada sauce

8

6-inch yellow corn tortillas

Sunflower or peanut oil

Cooking spray

Kosher salt

Ground black pepper

Sour cream and minced cilantro

for garnish
Enchilada Sauce
1

lb

gaujillo chilis

rehydrated and turned into paste

1

lb

ancho chilis

rehydrated and turned into paste

1/2

yellow onion

finely minced

2

tsp

fresh garlic

minced

30

oz

crushed tomatoes

1

cup

chicken stock

1/3

cup

creamy peanut butter

1

tbsp

chili pepper

1

tbsp

brown sugar

1/2

tbsp

paprika

1/2

tsp

kosher salt

1/2

tsp

ground black pepper

1/2

tsp

ground coriander

1/4

tsp

cumin
Instructions
To make the chili paste, add all the dried peppers to large pot and cover with water. Bring to a low boil for 15 minutes to rehydrate, then strain. Once strained, scoop a large portion and put it into steel China cap strainer. Use a durable steel spoon to mash peppers so pulp comes through sieve. Have a bowl below to catch paste. Get as much as you can with each scoop of rehydrated peppers then discard, adding more scoops until you've mashed all peppers through sieve. Use a plastic scraper/rubber spatula to scrape off pulp from outer edges of sieve into bowl. 

To make the sauce, in a medium saucepan heated on medium-low, add a thin layer of cooking oil and half an onion, finely diced. Lightly salt and pepper. Brown onion then add 2 teaspoons of finely minced garlic. Heat for 1-2 minutes more, stirring often.

Add paste to the same medium saucepan with creamy peanut butter and mix in thoroughly. Add remaining ingredients from enchilada sauce mix and stir thoroughly. Heat on medium-low at barely a simmer for 30 minutes, stirring often and careful not to burn, then reduce heat to low.

To cook your choice of upland meat, heat a large (preferably cast-iron) skillet on medium with a thin layer of cooking oil. Add half of a medium onion, finely minced. Lightly salt and pepper. Stir onions until brown. 

Add skinless, deboned meat to skillet along with 2 teaspoons of spice mix and a 1/4 teaspoon of kosher salt. Sear meat on all sides. Add 1/2 cup of chicken stock and 1/4 to 1/2 cup of enchilada sauce to skillet. Stir in. Meat is done with you can use two sets of tongs to pull apart in skillet. Shred in skillet.

Once the meat is fully cooked and shredded, heat oven to 375 degrees Fahrenheit. Spay both sides of all tortillas. If rolling into enchiladas, you will need to heat tortillas in a oven for few minutes before rolling or the tortilla will break. In a large baking dish or two, either place flat tortillas down and top with meat from skillet and cheese, or place meat into tortilla and roll. (You may wish to spray baking dish(es) with cooking oil).

If making tostadas, add another tortilla atop meat and cheese (which is atop flat tortilla). Top either tostadas or rolled enchiladas with enchilada sauce and more cheese and place in oven for 6-7 minutes, until tortillas are adequately baked.

To serve, top with sour cream and freshly minced cilantro.
Nutrition
Calories:
859
kcal
Carbohydrates:
133
g
Protein:
37
g
Fat:
29
g
Saturated Fat:
6
g
Polyunsaturated Fat:
9
g
Monounsaturated Fat:
10
g
Trans Fat:
1
g
Cholesterol:
44
mg
Sodium:
1096
mg
Potassium:
3251
mg
Fiber:
42
g
Sugar:
65
g
Vitamin A:
30750
IU
Vitamin C:
66
mg
Calcium:
200
mg
Iron:
12
mg
Keyword
upland game birds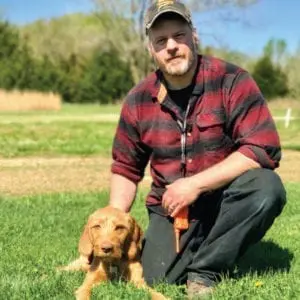 Jack Hennessy
Jack Hennessy grew up in the South Suburbs of Chicago and didn't start hunting until he attended graduate school in Spokane, Washington, at the age of 26. Hennessy began work in professional kitchens in high school but didn't start writing wild game recipes until he joined the Spokesman-Review in 2014. Since then, his recipes have appeared with Petersen's Hunting, Backcountry Journal, Gun Dog Magazine, among many others. He now lives with his wife, daughter, and Wirehaired Vizsla, Dudley, in Wichita, Kansas.