This classic dove appetizer recipe style is known as crowd pleaser from hunters and non-hunters alike.
Dove hunting scratches that upland itch for many hunters eager to swing on some birds. Hunting doves is the perfect way to knock the rust off and get your shotgun tracking as it should. If it isn't too hot out, it's a good opportunity to bring the dog along, too.
Dove limits are generous. If you're bagging a bunch, you may be looking to make quick and delicious work of these birds upon returning home. The solution? Dove poppers. They're quick, easy, and unforgettably mouthwatering.
There is no shortage of new and exciting ways to stuff a dove nugget into a pepper. Everyone has their own take when it comes to making dove poppers. Slight tweaks are what make this classic dove hunter's recipe one's own. You could try a new dove popper recipe each season and likely never run out of ideas for the rest of your dove hunting career.
Here's my take on this familiar recipe. It exemplifies key components I consider essential to an acclaimed dove popper:
Peppers soaked in some sort of acid help balance out the fat of the cheese and dove itself
A dry brine for dove breasts aids in flavor and moisture retention
Cheese choice shouldn't be boring and should pair with overall flavor composition
Some folks like to soak their peppers in lime juice. I opt for pineapple juice and choose a cheese that pairs well with pineapple like aged Manchego. Other cheese options include Swiss Gruyere, aged cheddars, and Parmigiano Reggiano. And cream cheese, I suppose.
Ideally, poppers should be served when the dove is medium-rare (or close to it). If you want both a medium-rare dove and crispy, crispy bacon, pre-cook your bacon for five to 10 minutes in the oven at 400 degrees. This is just enough to get a cook going, but not enough that you can't still wrap the bacon around the peppers. Additionally, if you prefer soft peppers with little to no crispiness to their bite, pre-roast or pre-smoke your peppers enough to soften them a bit.
Perhaps you'll try this recipe as it's written here. Maybe you'll take one aspect or technique and apply it to your tried and true variation. There is no such thing as a wrong recipe if you're having fun afield and everyone involved enjoys the experience of both cooking and eating dove, especially when it comes to dove poppers.
Dove Poppers – Easy Wild Game Appetizer
This classic dove appetizer recipe style is known as crowd pleaser from hunters and non-hunters alike.
Cook Time
45

minutes
mins
Ingredients
6

doves

skinless, breasted out

Dusting of kosher salt and freshly cracked black pepper

12

jalapeño peppers

halved and seeded

46

oz

can of pineapple juice

1

pound

aged Manchego cheese

12

slices

classic-cut bacon

(thin, not thick-cut)

More freshly cracked black pepper
Instructions
Halve and remove the seeds from the jalapeño peppers. Soak the peppers overnight in pineapple juice.

During that same timeframe, breast out your doves and lightly dust them with kosher salt and freshly cracked black pepper. Let the breasts sit in the fridge overnight.

When ready to stuff your poppers, slice the Manchego cheese so a sliver will fit in each halved pepper. Add the slivers of cheese to your peppers, followed by one dove breast per pepper, then tightly wrap in bacon. Pin the pepper closed with a couple toothpicks.

Dust all sides of bacon-wrapped peppers with freshly cracked black pepper.

Heat a medium skillet on medium heat. Sear all sides of your poppers until the bacon is brown and slightly crisp. Another option: Cook your poppers on an oven-safe baking tray or skillet for 10 minutes in a preheated 450 degree oven.

Remove and let poppers rest for three to five minutes. Serve and enjoy!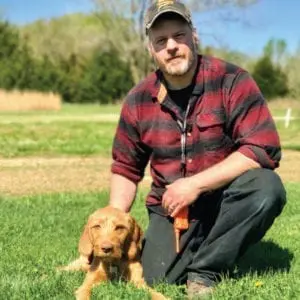 Jack Hennessy
Jack Hennessy grew up in the South Suburbs of Chicago and didn't start hunting until he attended graduate school in Spokane, Washington, at the age of 26. Hennessy began work in professional kitchens in high school but didn't start writing wild game recipes until he joined the Spokesman-Review in 2014. Since then, his recipes have appeared with Petersen's Hunting, Backcountry Journal, Gun Dog Magazine, among many others. He now lives with his wife, daughter, and Wirehaired Vizsla, Dudley, in Wichita, Kansas.