Photo by Jack Hennessy
Upland game bird thighs make perfect shredded taco meat when slow-cooked and braised
Bird thighs were made for tacos. Upland birds have to walk and run for a living, so their legs are notoriously tough and full of tendons. When cooking the thighs, a slow, low, and long braise creates meat that falls off the bones so you can easily remove tendons instead of having to strategically chew around those impediments. This recipe is incredibly simple and, although I used pheasant in this instance, you can use any set of upland bird thighs for this recipe.
I've made several variations of wild bird thigh tacos and even though I remain vigilant when it comes to pulling out bones and tendons at the end, I always manage to leave some behind by mistake. Since it is sometimes difficult to differentiate shredded thigh meat from tendon, my recommendation is to try to pull bones and tendons prior to shredding the meat. This may mean picking them out halfway through cooking, when the meat is chunkier and less tender and therefore won't shred very easily. Do note that if you hit either of the legs with shot, you may have to deal with sharp pieces from the broken leg. Be super careful with those legs—you may wish to save those for a different recipe, or serve only to adults who will be careful when chewing.
A little bit of soda like Coca-Cola, with its acidity, will aid in denaturing the wild bird meat in the slow cooker. This is a technique that I also apply to pork shoulder when making BBQ pulled pork. Yes, you can use a Dutch oven here, but keep your oven temperature around 180 degrees Fahrenheit if doing so and check often to make sure that the liquids haven't evaporated.
Pheasant Thigh Tacos With Mango Salsa
Jack Hennessy
Turn that pheasant thigh meat into Mexican inspired taco experience.
Prep Time
15

minutes
mins
Total Time
5

hours
hrs
15

minutes
mins
Cuisine
American, Mexican
Ingredients
2

pheasant thighs

1

red bell pepper

½

medium yellow onion,

finely minced

⅓

cup

Coca-Cola

½

cup

pheasant stock

1

mango,

diced

1

tbsp.

salted butter

½

tsp.

Sambal chili paste

¼

tsp.

cumin

¼

tsp.

white pepper

6-inch white corn tortillas

Sunflower oil

(or comparable cooking oil)

Dustings of kosher salt and freshly cracked black pepper

Freshly minced cilantro for garnish

(optional)
Instructions
Lightly dust thighs with salt and pepper and sear on grill or in skillet (heated to 400 degrees F) to caramelize the exterior.

Add grilled thighs to the slow cooker and set to low. Add 1 red bell pepper, 1/3 cup Coca-Cola, and 1/2 cup pheasant stock.

Finely dice half of a medium yellow onion and caramelize in a skillet. Do this by adding a light coating of oil to the skillet and set heat to medium-low. Lightly salt and pepper and stir often for 20-30 minutes until onions are soft and dark brown. When onions are caramelized, add them to the slow cooker.

Braise thighs in the slow cooker for 4-6 hours, until meat falls off bone. Shred and remove all traces of bones and tendons. Turn the slow cooker to Warm once the meat is shredded.

To make the mango salsa, dice the mango into 1/4- to 1/2-inch chunks. Mangoes have a thin, football-shaped pit in the middle. Use a good vegetable peeler or sharp knife to slice off the skin, then cut off from the pit in sections and dice.

Heat a small saucepan on medium-low and add 1 tablespoon of salted butter followed by the diced mango. Dust with kosher salt and freshly cracked black pepper, then add 1/2 teaspoon Sambal chili paste, 1/4 teaspoon cumin, and 1/4 teaspoon ground white pepper.

Stir often until the mango chunks are mostly soft. This may take approximately half an hour or so.

Fry six corn tortillas in thin layer of sunflower oil (or comparable cooking oil, not olive oil) on both sides until crisp.

Add shredded thigh meat to tacos and top with the mango salsa. Garnish with freshly minced cilantro.
Nutrition
Keyword
Pheasant, Tacos, upland game birds
Enjoy! Reach out to me on Instagram (@WildGameJack) with any questions or comments and be sure to check out my other wild game recipes and cooking instructions here.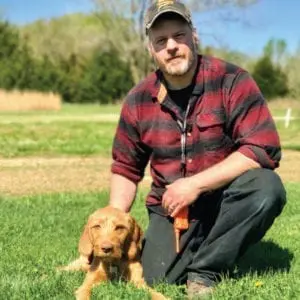 Jack Hennessy
Jack Hennessy grew up in the South Suburbs of Chicago and didn't start hunting until he attended graduate school in Spokane, Washington, at the age of 26. Hennessy began work in professional kitchens in high school but didn't start writing wild game recipes until he joined the Spokesman-Review in 2014. Since then, his recipes have appeared with Petersen's Hunting, Backcountry Journal, Gun Dog Magazine, among many others. He now lives with his wife, daughter, and Wirehaired Vizsla, Dudley, in Wichita, Kansas.