Born from his daughter's love of Taco Bell's chicken quesadilla, the author delivers an upland-inspired version of the meal
I have a confession to make: Taco Bell is one of my and my daughter's favorite restaurants to visit together.
This is likely due to a daddy-daughter date a couple of years ago (pre-COVID) when she fell in love with the décor and, of course, their chicken quesadilla. Just recently, I attempted to recreate that special sauce that they lacquer on their quesadillas. While I believe I succeeded in coming pretty close, my daughter's opinion was, "It kinda tastes like it."
Admittedly, this sauce has a bit more zing due to freshly squeezed lime juice (I don't know if Taco Bell's contains much—if any—lime juice). In terms of quesadillas, I think these are a great appetizer (and potential dinner) to make with your kids. The kids can help add toppings and they get to see how you put wild birds to work in a fan-favorite, kid-menu recipe.
You don't have to use the toppings I recommend here, and you can use any upland bird, not just quail. I demoed a version of this recipe during Pheasant's Forever's Pheasant Fest on their Wild Game Cooking Stage a few years back. There I had all sorts of ingredients kids could add to their quesadilla and they did so themselves (with me cooking it afterward). I had one family return one year and say their son learned to love cilantro from trying it at that demo, so you never know what your kids will learn to enjoy until they try it for the first time!
Also, as you might suspect, hand-shredding your upland birds is another great way to check for and remove shot. For other techniques, you can check out this piece I did on the subject.
Lastly, please know you can assemble these quesadillas ahead of time and just put them in the fridge, covered with plastic wrap or a lid, then heat the skillet whenever, spray quesadilla with oil and toss in, because every parent knows the value of a "snack at the ready." Also, the sauce can be used as a dipping sauce (either as a substitute to adding to tortilla or in addition).
Enjoy! Reach out to me on Instagram (@WildGameJack) with any questions or comments.
Quail Quesadillas
Jack Hennessy
Born from his daughter's love of Taco Bell's chicken quesadilla, the author delivers an upland-inspired version of the meal.
Ingredients
4

whole quail

roasted and hand-shredded

8

oz

Mexican cheese blend

4

jalapenos

seeded and finely diced

1/2

red onion

finely diced

fresh cilantro

chopped

4

10-inch tortillas

cooking spray

kosher salt

freshly cracked black pepper

or favorite Mexican seasoning
Sauce
1/4

cup

mayonnaise

3/4

cup

sour cream

1

tsp

paprika

1

tsp

chili powder

1/4

tsp

ground cumin

1/2

tsp

garlic granules

1/2

tsp

onion powder

1/2

tsp

brown sugar

1/4

tsp

kosher salt

1/2

lime

juiced
Instructions
Either brine the quail or season with salt and pepper or favorite Mexican spice rub.

Roast or grill the quail until fully cooked. Let rest for a few minutes then hand-shred the meat. Set aside.

To make "fake" Taco Bell quesadilla sauce, mix all ingredients in a bowl and add the freshly squeezed lime juice at the end. Mix thoroughly and set in fridge until ready to serve.

To make quesadillas, heat a cast-iron skillet to 400 degrees Fahrenheit. Spread quesadilla sauce across all of one side of flour tortillas. Add the hand-shredded quail along with the finely diced red onion and jalapeño, followed by ample amounts of Mexican cheese and lastly freshly chopped cilantro. 

Spray both sides of the quesadilla with cooking spray, then add to the skillet. Cook each side for approximately 2 minutes (until golden brown), careful not to burn.

Pull after both sides are golden brown. Let rest for 1 minute before cutting into four slices. Serve and enjoy!
Nutrition
Calories:
2128
kcal
Carbohydrates:
22
g
Protein:
159
g
Fat:
152
g
Saturated Fat:
50
g
Polyunsaturated Fat:
32
g
Monounsaturated Fat:
58
g
Trans Fat:
1
g
Cholesterol:
653
mg
Sodium:
1413
mg
Potassium:
1683
mg
Fiber:
2
g
Sugar:
5
g
Vitamin A:
2062
IU
Vitamin C:
34
mg
Calcium:
550
mg
Iron:
9
mg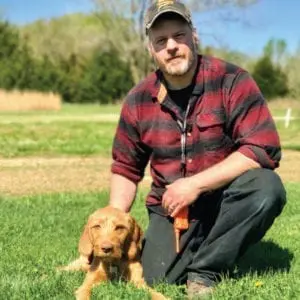 Jack Hennessy
Jack Hennessy grew up in the South Suburbs of Chicago and didn't start hunting until he attended graduate school in Spokane, Washington, at the age of 26. Hennessy began work in professional kitchens in high school but didn't start writing wild game recipes until he joined the Spokesman-Review in 2014. Since then, his recipes have appeared with Petersen's Hunting, Backcountry Journal, Gun Dog Magazine, among many others. He now lives with his wife, daughter, and Wirehaired Vizsla, Dudley, in Wichita, Kansas.