Have you ever fried upland birds with a cereal crust? You'll be surprised by the delicious results
My wife recently entered her third trimester of pregnancy and while there haven't been any weird food cravings this second go-round, we have found ourselves eating cereal after dinner while we watch Netflix.
You may have heard the adage that men gain "sympathy weight" during pregnancy. Well, I call this "sympathy cereal," and maybe I'll gain two or three pounds by the end of this.
So while cereal now has a permanent spot in our cupboard, I also recently wrote a fried catfish recipe for Game & Fish Magazine using Corn Flakes crumbles. It got me thinking: what other cereals could I use for frying fish and perhaps upland birds?
Golden Grahams is not my favorite cereal but it seemed like an interesting choice to try. Many kinds of cereals are made from corn, including Golden Grahams (which also contains whole wheat), so it's not a stretch to substitute cornmeal for frying with cereal, as I figured. The end result with this recipe is indeed a sweeter-tasting fried bird. I highly recommend having a quality spicy or stoneground mustard (perhaps spicy stoneground?) on hand to dip and balance out the flavor tones. It's my distinct opinion when dipped in quality mustard, this is a very enjoyable meal.
But if pheasant fried with honey-graham cereals sound weird, follow these same steps and just use panko bread crumbs instead of cereal (everything else remains the same).
A note on the use of a fryer versus frying in skillet: this particular recipe reminded me of why I should get a deep fryer. You want to keep a consistent 350-degree Fahrenheit oil temp to both gradually brown and turn cereal crispy (without burning it) while fully cooking the pheasant. A fryer will regulate oil temp, which will drop when cold pieces of pheasant are dropped in, while a skillet comes down to manual controls. I admittedly found my oil jumping above 400. It wasn't ideal.
If for some reason you run the skillet route and pull pheasant early because cereal is turning too crispy too quickly, you can pre-heat your oven to 400 ahead of frying and finish off pheasant in the oven. (You may wish to pre-heat oven to 400 if using skillet regardless, just in case.)
Do know as the pheasant continues to cook in the oven, it will steam and soften the crispy exterior. Again, not ideal, but not the end of the world. When in a deep fryer, as the pheasant cooks, the moisture hits the hot oil and gets obliterated and that is what you hear and see with the bubbles – that is steam escaping via hot oil, never affecting crispy crust.
Enjoy! Reach out to me on Instagram (@WildGameJack) with any questions or comments and be sure to check out my other wild game recipes and cooking instructions here.
Kansas Fried Pheasant
Jack Hennessy
An interesting take on a fried favorite, incorporating crushed, sweet cereal into the crust.
Ingredients
1

Pheasant

butchered and separated

1

pint

Buttermilk

1

cup

Flour

3

tbsp

Bearded Butcher's Blend

Sunflower oil

for frying

3

Eggs

beaten for egg wash

2

cups

Golden Grahams

crumbled

Spicy or stoneground mustard

for dipping
Instructions
Butcher pheasant and soak cuts in butter milk for 2-3 hours.

Put Golden Grahams in food processor or blender and blend until cereal is crumbles.

Preheat sunflower oil to 350 degrees Fahrenheit.

In three separate baking dishes or large mixing bowls: Mix flour and spice mix in one for flour dredge, beat eggs in another for egg wash, add Golden Graham crumbles to third.

When ready to fry, pull cuts from buttermilk, toss through flour dredge, shake off excess, toss through egg wash, shake off excess, toss through cereal crumbles, thoroughly coating all sides, shake off excess and put into 350-degree oil.

Fry pheasant pieces for 10 minutes or until golden brown. With legs and thighs, you may wish to fry for 12 minutes. Be careful not to burn cereal when frying. (This means not letting oil go above 375.)

Pull and either let sit in basket for 30 seconds or on a stainless steel to drain grease. Serve on wax paper immediately, ideally, and with a side of spicy or stoneground mustard for dipping to offset sweetness of the fried pheasant.
Nutrition
Calories:
1976
kcal
Carbohydrates:
126
g
Protein:
185
g
Fat:
80
g
Saturated Fat:
26
g
Polyunsaturated Fat:
11
g
Monounsaturated Fat:
34
g
Trans Fat:
1
g
Cholesterol:
756
mg
Sodium:
975
mg
Potassium:
2644
mg
Fiber:
19
g
Sugar:
19
g
Vitamin A:
2992
IU
Vitamin C:
45
mg
Calcium:
887
mg
Iron:
39
mg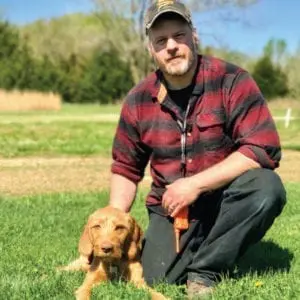 Jack Hennessy
Jack Hennessy grew up in the South Suburbs of Chicago and didn't start hunting until he attended graduate school in Spokane, Washington, at the age of 26. Hennessy began work in professional kitchens in high school but didn't start writing wild game recipes until he joined the Spokesman-Review in 2014. Since then, his recipes have appeared with Petersen's Hunting, Backcountry Journal, Gun Dog Magazine, among many others. He now lives with his wife, daughter, and Wirehaired Vizsla, Dudley, in Wichita, Kansas.