Photo by Jack Hennessy
Bring this summer cooking tradition into hunting season with this recipe for upland game hamburgers
Everyone has heard of Christmas in July, so it should stand to reason that we can always enjoy July festivities around Christmas, right? And July means baseball and barbecue and ice-cold beer. In my mind, the smell of caramelizing onions will forever be synonymous with the ballpark—that and the aromas of spilled beer and crushed peanuts baked into the concourse.
Caramelized onions are more of an art form than you might expect. I've spent over a decade perfecting my onions. Honestly, it's just been minor tweaks here and there—from how to cut the onion to when exactly to add butter to deglaze the secreted sugars.
My recommendation for pork shoulder content is 25%, but you increase that up to about 40% if you'd like. Pork shoulder (or pork butt, as it's called) is, in my opinion, the perfect ratio of fat, meat, and flavor. The pork will help to bind the meat mixture, meaning you should be able to cook your burgers over an open fire without having to worry about them falling apart due to being too lean. To aid in that goal, make sure the grill grate is clean and hot to avoid sticking. Also, it never hurts to spray burgers with oil prior to grilling to help prevent sticking.
I used pheasant in this recipe, but you can use any upland bird, including darker-flesh birds like sharp-tailed grouse. Because of the pork, you do want to cook burgers to an internal temperature of 160 degrees Fahrenheit.
In terms of grinders, for the longest time I used a hand-crank model that I found on Amazon for $20. As I started putting more meat in the freezer, I upgraded to an electric. For a limit of pheasant or less than 10 pounds of meat to grind, I'll put MEAT!'s 500-watt grinder to work, which is pretty stout for only $100. Whether electric or manual, a grinder should sit somewhere in the kitchen if you want to expand your culinary possibilities—that is my strong recommendation.
Finally, how you wish to grill the burger is up to you—if you prefer the flavor of a charcoal grill, that works. I've always enjoyed how cooking surfaces such as cast iron or mild steel build flavor over time and add a subtle something extra to what you cook. In this instance, the mild-steel griddle of the Camp Chef Sidekick did a great job with these patties.
Ingredients for two double-patty servings:
18 ounces ground upland bird meat
6 ounces ground pork shoulders
Kosher salt and ground black pepper
1 medium yellow onion, sliced into half-inch rings
4 slices American cheese
2 brioche burger buns
Olive oil
Salted butter
Mayonnaise
Ketchup and mustard (optional)
Cooking instructions
In a medium skillet (preferably cast iron) heated on medium, add a thin layer of olive oil along with sliced onions. Lightly salt and pepper. Stir often until a slight sear appears along edges (may take 10 minutes or so). Turn heat to low.
Stir onions often until sugars release and begin to caramelize the onions, turning them a shade of brown. This will likely take 30-45 minutes. Once this happens, add ½ tablespoon salted butter. Continue to stir.
Cut up pheasant and pork shoulder and put through a fine grinding plate. Lightly salt and pepper, then form into 6-ounce patties.
Cook patties on an open-fire grill, a griddle, or in a cast-iron skillet, adequately searing both sides before topping each patty with a slice of American cheese. Try not to overcook and dry out burgers.
Toast buns and coat bottom layer with mayonnaise. Stack patties two high for each burger then top with a mound of caramelized onions. (Optional: you can also add ketchup and mustard atop the onions.)
Enjoy! Reach out to me on Instagram (@WildGameJack) with any questions or comments and find my other wild game recipes here.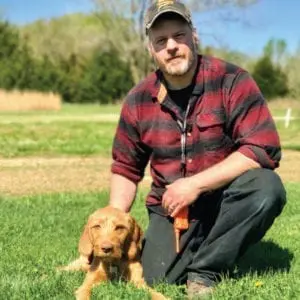 Jack Hennessy
Jack Hennessy grew up in the South Suburbs of Chicago and didn't start hunting until he attended graduate school in Spokane, Washington, at the age of 26. Hennessy began work in professional kitchens in high school but didn't start writing wild game recipes until he joined the Spokesman-Review in 2014. Since then, his recipes have appeared with Petersen's Hunting, Backcountry Journal, Gun Dog Magazine, among many others. He now lives with his wife, daughter, and Wirehaired Vizsla, Dudley, in Wichita, Kansas.