With the increasing popularity of air fryers we explore how to roast your next pheasant recipe
Air fryers are rising in popularity and have a dedicated spot on approximately 60 percent of American kitchen counters. For most home cooks, compared to other equipment, these smaller appliances offer both greater consistency and simpler cooking methods. If you own one or are considering purchasing one, air fryers are a solid option for turning out crispy, delicious upland birds if a few key steps are followed.
An air fryer does not actually fry food. Instead, similar to a convection oven, it thoroughly circulates heat for an even cook. In a much smaller space than your oven, it heats up quickly and reliably applies heat around all 360 degrees of your food. This results in consistently crispy food. Yes, it is a healthier option for crispy food compared to traditional frying methods.
The truth is, though, that if you have a reliable oven with which you are very familiar, and that oven has a trustworthy thermometer inside, you can produce similar results. However, many ovens have trouble maintaining temperatures aligned with user settings. For example, thanks to an oven thermometer, I know my oven will run anywhere from 75-100 degrees Fahrenheit hotter than what I set. For instance, if I set it to 300 F, the oven will likely stay at 375 or a bit hotter.
With all its various settings, an air fryer can help eliminate human or equipment errors one might experience with an oven. I recently picked up an Instant Vortex Plus 10-Quart Air Fryer, which comes with a rotisserie spit. It cost $110 when I purchased it, and no, I don't get a cut from plugging their product. If you find one that works better for your needs, go with that.
Some things I learned from my first use:
The instructions recommend only one 20-minute trial run before cooking to burn off factory oils. I did two 20-minute 400-degree trial runs. My wife felt she still tasted "factory residue" in our first pheasant, and I agreed. I recommend doing a 60-minute, 400-degree trial run followed by a quick clean (see instructions for cleaning). Then, do another 60-minute, 400-degree trial run before cooking.
The 10-quart oven, while using the rotisserie spit, could barely fit a pheasant rooster. I am unsure if you should roast a fat domestic chicken in this oven.
When set to roast using the rotisserie spit, the air fryer resulted in more skin caramelization than an oven roast. Check out my see comparison photo below. Plus, it's more fun to watch than sports these days. Grab a chair and a beer, and watch that bird spin.
You can make this recipe with any upland bird, though roasting and brine times will vary based on the size of your bird. If you have any specific questions, hit me up on Instagram (@WildGameJack) or drop a comment here. I also would advocating for plucking the birds rather than skinning.
Lastly, I aged these birds. Doing so concentrates flavor and denatures proteins. While one usually might cook legs, thighs, and wings separately because they're tougher and require longer cooking times and lower temps, an adequately aged bird will turn out tender legs, thighs, and wings after a proper whole roast.
To learn more about aging read: How and Why You Should Age Your Upland Bird Meat
Delicious Air Fried Pheasant
With the increasing popularity of air fryers we explore how to roast your next pheasant recipe
Cook Time
40

minutes
mins
Ingredients
1

whole rooster

preferably plucked

Olive oil for coating pheasant
Brine
1

gallon

water

½

cup

kosher salt

½

cup

brown sugar

½

cup

whole black peppercorns

½

cup

whole anise stars

¼

cup

coriander seeds

1

garlic bulb

smashed

8

oz

fresh ginger

smashed
Instructions
Brining and Pheasant Meat Preparation
Add all of your brining ingredients to a large pot. Use only a half gallon of water to start. Turn the heat to low and stir it for 20 minutes. Remove your brine from the heat and add the other half gallon as cold water. When it's safe to add it to the fridge (the pot bottom is cool to the touch), do so. Once the brine is cold, add in your pheasant and brine it for 12 to 16 hours.

Remove the pheasant from the brine and thoroughly rinse it under cold running water. Pat dry, and let it dry in the fridge for at least 12 hours. Twenty-four hours is preferred—dry skin results in crispy skin.

Pull out the pheasant two hours before cooking and lightly coat it with olive oil. Truss the bird. Using kitchen twine, I make sure the base of the legs are tied tightly together, then take a separate length of twine and tie the wings close to the body. Nothing fancy. Allow the pheasant to sit at room temperature for two hours before cooking.
Cooking Air Fried Pheasant
To cook, set the air fryer to roast at 375 Fahrenheit. Once ready, insert the trussed pheasant and follow the manufacturer's instructions on how to use rotisserie spit. Hit the rotate feature and roast for 40 minutes.

When it's done, remove the bird and let it rest, uncovered, for ten minutes before carving.
Notes
Enjoy! Reach out to me on Instagram (@WildGameJack) with any questions or comments.
Keyword
fried, Pheasant, Roast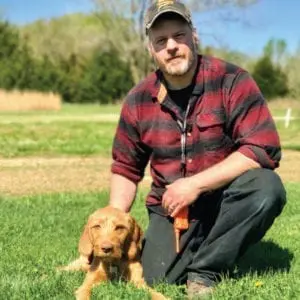 Jack Hennessy
Jack Hennessy grew up in the South Suburbs of Chicago and didn't start hunting until he attended graduate school in Spokane, Washington, at the age of 26. Hennessy began work in professional kitchens in high school but didn't start writing wild game recipes until he joined the Spokesman-Review in 2014. Since then, his recipes have appeared with Petersen's Hunting, Backcountry Journal, Gun Dog Magazine, among many others. He now lives with his wife, daughter, and Wirehaired Vizsla, Dudley, in Wichita, Kansas.