Home » Small Game Cooking » Roasted Pheasant with Gravy and Cornbread Stuffing
Roasted Pheasant with Gravy and Cornbread Stuffing
Photo by Jack Hennessy
Make your Thanksgiving dinner a wild game feast with this recipe for roasted wild pheasant
Several years ago, I shot my first wild turkey a couple days ahead of Thanksgiving and made the rookie mistake of trying to roast that bird whole for my wife (then girlfriend) and me. To make matters worse, I didn't even brine it. What an amateur. It was terrible, but we choked down most of it. The good news is that, over the years, I have learned from this mistake and many others and have come to two conclusions:
You can roast pheasant whole for an amazing final product.
Pheasant is likely the largest bird you would ever want to roast whole.
This cornbread stuffing recipe I owe to my wife's grandmother, a very sweet lady with many amazing recipes under her belt. I have made this recipe a few times, but my wife still contends that her grandmother's is better. Nevertheless, since we likely won't be seeing her grandmother this year due to precautionary COVID measures, it's my goal to dial in this recipe even further. Perhaps this recipe might even become a family tradition in your household, too.
The recipe steps below may seem lengthy, but they are indeed simple and, for your convenience, I have provided a summary of how to properly roast a pheasant below. Placing ice packs over the breast while the bird sits at room temperature for an hour will help both the legs and the breasts to reach their ideal temperatures while roasting. Without this step, it's possible to overcook the breasts to get the legs just right, or to have the legs underdone when the breasts are perfectly cooked.
Completely drying the skin to start and applying oil along the way is the key to obtaining that crispy skin on pheasant and other game birds. For me, it's a balance between spraying with oil and basting with chicken stock every 10 minutes or so while roasting.
How to roast a pheasant
Dry in the fridge
Remove one hour before roasting, truss bird, and place ice packs on the breasts
Place pheasant on root vegetables in an oven-safe skillet
Brown skin at 400F in the oven for 15 minutes
Remove pheasant and coat with olive oil
Reduce heat to 325F and return pheasant to oven
Alternate between adding a little chicken stock over the skin and spraying with oil every 10 minutes
When pheasant is close to finished (after 25-35 minutes), pour a cup of white wine over the bird
Remove when internal temps of breasts read 160F and legs 170F-180F
Cover with aluminum foil and allow to rest for 15 minutes prior to carving
Ingredients for roasted pheasant with gravy and cornbread stuffing
2-4 servings
1 whole, dressed, plucked pheasant, approximately 2 to 2 1/2 pounds
Root vegetables (such as halved carrots) for roasting
1 cup white wine
Olive oil
Spray oil
For the brine:
1 gallon cold water
1/2 cup kosher salt
1/2 cup white sugar
1/2 cup whole black peppercorns
1 cup fresh garlic, smashed
8 ounces fresh ginger, smashed
For the stuffing:
12 tablespoons salted butter, mixed use
6 ribs celery, diced
1 medium onion, finely diced
6 ounces Pepperidge Farm Sage & Onion croutons (cubed stuffing, they call it)
8.5 ounces Cornbread made from Jiffy Corn Muffin Mix (requires 1 egg and 1/3 cup milk)
Two 8-ounce cans water chestnuts, drained and chopped
Two 8-ounce cans sliced mushrooms, drained
2-1/4 cup chicken stock
For the gravy:
1-3/4 cups chicken stock
Roasted pheasant drippings
Roux: 1/2 cup flour and 1/4 cup sunflower oil
1 teaspoon Kitchen Bouquet Browning & Seasoning Sauce
Cooking Instructions
Follow these brining instructions (including rinsing thoroughly), then pat dry pheasant and allow to dry in fridge for 6-8 hours.


Pre-heat oven to 400 degrees Fahrenheit. Assemble Jiffy Corn Muffin Mix according to box directions, spray an 8×10 baking pan with oil, and add mix.


In a cast-iron skillet (or oven-safe skillet), line up halved carrots or celery ribs so pheasant can lie atop while leaving space below the bird during roasting. Truss pheasant (see this video for how-to).


Place both pheasant and cornbread in oven. Cook cornbread until golden brown (12-15 minutes) and remove pheasant after 15 minutes.


Turn oven down to 325F. Leave door slightly ajar to assist here. Lightly coat pheasant in olive oil, then return to oven. Set cornbread aside. Pheasant will continue to roast for 35-50 minutes, until internal temperature of breasts reads 160F and legs are around 170F-180F.


While pheasant roasts, in a large skillet heated on medium-low, sauté finely diced onions in 1 tablespoon of butter until slightly soft. Dust with salt and pepper, then add diced celery and sauté, stirring often, for a few minutes. Add another 1 tablespoon of butter, melt and deglaze, then add contents of skillet to a very large mixing bowl.


Melt remaining 10 tablespoons of salted butter in microwave. Take care to not burn the butter. In that same very large mixing bowl, add all ingredients for stuffing and crumble in the cornbread. Mix thoroughly. Spray a large baking dish with oil and then add stuffing from bowl.


Cook stuffing at 325F for 45 minutes. When adding stuffing to the oven, spray the pheasant with oil.


In a separate pan or skillet heated on medium-low, add 1/2 cup flour and 1/4 cup sunflower oil (vegetable or canola oil works, too). Monitor closely and stir often as roux browns.


In a separate medium pot, heat 1-3/4 cups chicken stock on medium-low. When roux is the color of wet sand (approximately 20-30 minutes), carefully add roux to the heated chicken stock (beware the steam and boil when adding—don't burn yourself). Stir thoroughly and add 1 teaspoon browning mix. Turn heat to low.


When approximately 10 minutes remain for pheasant roasting, pour 1 cup of white wine over the bird.


Remove pheasant when breasts read 160F on an internal meat thermometer and legs are close to 170F-180F. Place pheasant on carving board and cover with aluminum foil. Deglaze drippings in skillet with a little bit of chicken stock, then add the drippings to roux-chicken stock mix to create gravy. Stir thoroughly and, if still slightly bland, add 1/2 teaspoon of browning mix.


Allow pheasant to rest 15 minutes before carving. Serving with stuffing and gravy.

I hope you and your family have a safe and very happy and tasty Thanksgiving. Should you have any questions on this recipe, please feel welcome to reach me via Instagram messenger (@WildGameJack) or email (Hennessy.Ryan@yahoo.com). Check out the rest of my wild game recipes here.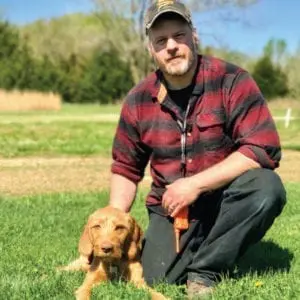 Jack Hennessy
Jack Hennessy grew up in the South Suburbs of Chicago and didn't start hunting until he attended graduate school in Spokane, Washington, at the age of 26. Hennessy began work in professional kitchens in high school but didn't start writing wild game recipes until he joined the Spokesman-Review in 2014. Since then, his recipes have appeared with Petersen's Hunting, Backcountry Journal, Gun Dog Magazine, among many others. He now lives with his wife, daughter, and Wirehaired Vizsla, Dudley, in Wichita, Kansas.