Home » Small Game Cooking » Roasted Pheasant with Spicy Apple Bacon Glaze
Roasted Pheasant with Spicy Apple Bacon Glaze
Surprise your holiday guests with an alternative upland centerpiece
It's that time of year again when we bird hunters look to serve something other than obese butterballs for Thanksgiving.
I am a big fan of roasting pheasant, which is likely the largest upland bird I would roast whole (a wild turkey, for example, requires breaking down and cooking parts separately for proper texture and taste). In this article, I explain how to properly roast a pheasant and make a glaze from its drippings and other ingredients.
I used a Kroger-brand Hot Pepper Bacon Jam in this recipe. If you don't have a Kroger supermarket near you that carries Private Selection products, you can order them from Amazon. It's pretty tasty, so if you try it and say, "Jack, I don't want to bother making a glaze—I'll just roll with this," that certainly is your choice. The real star here is the properly roasted bird.
Lastly, a note on the brine: I have moved away from wet brining in favor of dry brining, which functions similarly in that salt binds to muscle fibers and retains moisture while cooking. Wet brining tends to dilute flavors, but sometimes that is what you need when serving guests who like to use the word "gamey." If you want a milder tasting but still juicy bird, follow these wet brine instructions. If you want to retain natural flavor tones while also infusing with spices and keeping the bird juicy while cooking, dry brine according to steps below.
I hope you and your family have a safe, very happy, and tasty Thanksgiving. Should you have any questions, please feel welcome to message me on Instagram @WildGameJack.
Roasted Pheasant with Spicy Apple Bacon Glaze
Jack Hennessy
Surprise your Thanksgiving guests with a delicious roasted upland bird, rather than the traditional Butterball.
Ingredients
1

whole pheasant

plucked and dressed

1

Tbsp

fresh rosemary

finely minced

1

Tbsp

fresh sage

finely minced

1

Tbsp

kosher salt

1

Tbsp

freshly cracked black pepper

4

whole cinnamon sticks

olive oil
Spicy Apple Bacon Glaze
1/4

cup

shallots

finely minced

2

tsp

garlic

freshly minced

2

cups

chicken stock

1

cup

apple cider

4

Tbsp

honey

3

Tbsp

Private Selection Hot Pepper Bacon Jam

1

tsp

kosher salt
Instructions
Fully thaw pheasant and rub all sides liberally with mix of 1 Tbsp of each of the following: finely minced fresh rosemary, finely minced fresh sage, kosher salt, and freshly cracked black pepper. Allow to dry brine in fridge anywhere from 8 to 24 hours.

Pull pheasant 1 hour prior to roasting to bring to room temperature. Truss the bird. You can put ice packs on breasts to cool them while legs come closer to room temp. Preheat the oven to 400 degrees Fahrenheit when ready to roast.

In a large cast-iron skillet, assemble a square of cinnamon sticks so the pheasant can rest breast-side-up. Place the pheasant on the cinnamon sticks, and roast for 15 minutes at 400 degrees. Remove and coat with olive oil while turning the oven down to 325. Allow the oven 10 minutes to get to 325. Return the pheasant to the oven.

Roast the pheasant for 35-50 minutes, or until the internal temp of breasts read 160 and legs are around 170-180. Pull when ideal internal temps are met and cover with aluminum foil while assembling glaze.

To make the glaze, add shallots and garlic to the skillet that was used to roast pheasant. Toss cinnamon sticks unless you want to keep them for cinnamon flavor in glaze. Stir for a couple of minutes then add 2 cups chicken stock, 1 cup apple cider, 4 Tbsp honey, 3 Tbsp Hot Pepper Bacon Jam, and 1 tsp kosher salt. Turn heat to medium-high and simmer for 15 minutes.

Turn off heat after 15 minutes and remove from the burner. Allow the glaze 5 minutes to cool. If needed, you can add cornstarch slurry until it reaches your desired consistency.

Apply the glaze to the whole pheasant or to individual pieces after it's carved. Serve and enjoy!
Nutrition
Calories:
387
kcal
Carbohydrates:
35
g
Protein:
23
g
Fat:
18
g
Saturated Fat:
5
g
Polyunsaturated Fat:
3
g
Monounsaturated Fat:
8
g
Cholesterol:
117
mg
Sodium:
497
mg
Potassium:
563
mg
Fiber:
3
g
Sugar:
26
g
Vitamin A:
160
IU
Vitamin C:
3
mg
Calcium:
84
mg
Iron:
2
mg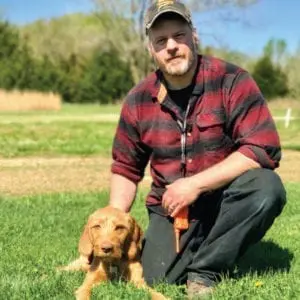 Jack Hennessy
Jack Hennessy grew up in the South Suburbs of Chicago and didn't start hunting until he attended graduate school in Spokane, Washington, at the age of 26. Hennessy began work in professional kitchens in high school but didn't start writing wild game recipes until he joined the Spokesman-Review in 2014. Since then, his recipes have appeared with Petersen's Hunting, Backcountry Journal, Gun Dog Magazine, among many others. He now lives with his wife, daughter, and Wirehaired Vizsla, Dudley, in Wichita, Kansas.