How to make mouth watering fried crispy pheasant tenders that will put chicken to shame.
Frying double-breaded meat is standard practice in my household. Not only does it lock in moisture, double-dipping avoids losing all your coatings, resulting in a crispier crust.
Pheasant tenderloins are quite small. Double-dipping them in breading adds volume and creates a larger meal out of what otherwise might have been an upland snack. For more information on upland tenderloins and how to pull them from your birds, check out this complete upland bird tenderloin guide.
Adding a bit of cornstarch to your flour dredge also ensures the crust will stay crunchy. Cornstarch helps prevent gluten development while also absorbing grease and moisture. These factors contribute to an extra-crispy crust.
For kids just learning to appreciate wild game and upland birds, this recipe is an easy win. It also makes use of a small cut that may otherwise leave some hunters wondering, What do I do with these slivers of meat?
You can use this method and recipe for any upland bird cut. For larger cuts like breasts, I recommend heating the oil closer to 350 degrees Fahrenheit; this gives you more time to cook the interior without burning the crust. For legs, thighs, and wings, consider parboiling or dunking these cuts into a sous vide to tenderize them ahead of frying. Simply frying them will likely lead to a tougher, chewier final product. For larger birds like spring gobbler meat, butcher the breasts or thighs into smaller pieces. Frying a breast the size of your head is quite difficult.
When preparing meat for the fryer, set up a three-stage system: flour dredge, dip mixture, flour dredge. Sometimes, the drippings can cause the flour dredge to cake if you use just one bowl. Having a separate container for your second phase of flour dredge-dipping helps avoid this.
The dipping sauce is nothing fancy. Substitute whatever sauce you prefer. Some kids like honey; others like barbecue sauce. Honestly, you don't even need to dip the tenders into sauce if you doubled up on breading. These tenders are tasty enough on their own.
Double-Dipped Crispy Pheasant Tenders
How to make mouth watering fried crispy pheasant tenders that will put chicken to shame.
Course
Appetizer, Main Course
Ingredients
6

Tenderloins

from three roosters

Peanut oil for frying
Marinade
1

cup

buttermilk

½

cup

pickle juice
Dip
1

cup

buttermilk

¼

cup

Frank's RedHot Original sauce

1

egg

beaten
Dredge
1 ½

cup

flour

⅔

cup

cornstarch

½

tsp

kosher salt

½

tsp

ground black pepper

1

tsp

garlic powder

1

tsp

brown sugar
Dipping Sauce
¼

cup

Dijon mustard

2

tbsp

mayonnaise

1

tbsp

honey

1

tsp

paprika
Instructions
Separate tenderloins from breasts. Soak the tenderloins in the marinade overnight.

When you're ready to cook, preheat the peanut oil to 375 degrees Fahrenheit

Mix your flour dredge in one large stainless steel bowl or other large container, then assemble the dip mix in a separate container.

Mix dipping sauce in a separate container and keep in the fridge until ready to serve.

To fry pheasant tenderloins, first dip in flour dredge. Then, shake off the excess. Next, add them to the buttermilk, RedHot, and egg dip. Shake off the excess. Then dunk them back into flour, shake off excess one last time, then add the tenderloin to your hot oil. Don't overcrowd the pot or fryer; you may need to fry no more than three tenderloins at a time to keep the oil at 375. Fry for 6 minutes or so or until the exterior is golden brown and the interior is fully cooked.

Serve fresh from the fryer with dipping sauce or another favorite sauce. Enjoy!
Notes
Reach out to me on Instagram (@WildGameJack) with any questions or comments.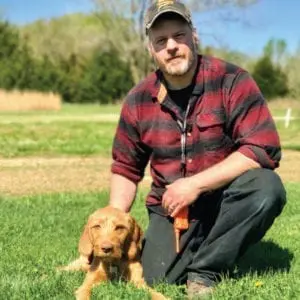 Jack Hennessy
Jack Hennessy grew up in the South Suburbs of Chicago and didn't start hunting until he attended graduate school in Spokane, Washington, at the age of 26. Hennessy began work in professional kitchens in high school but didn't start writing wild game recipes until he joined the Spokesman-Review in 2014. Since then, his recipes have appeared with Petersen's Hunting, Backcountry Journal, Gun Dog Magazine, among many others. He now lives with his wife, daughter, and Wirehaired Vizsla, Dudley, in Wichita, Kansas.