Break out some pheasant breasts and raid the spice rack for this play on Hattie B's hot chicken sandwich
Perhaps you've heard of Hattie B's Hot Chicken. Try it once, and you're addicted. I visited their main location in Nashville Midtown a couple of weeks ago during a work event, when friend and coworker James Lawson insisted we dine there for lunch. I don't travel often for work, but when I do, I am usually lucky enough to be introduced to some iconic dish. Months ago, it was a mole, which naturally, I had to come home and recreate it with something wild.
With this hot pheasant, the same as Hattie B's Hot Chicken, two main components make this special: the double-breaded, fried (yet super-juicy) bird, followed by a dip in a cayenne-based greasy coating. All Hattie B's spice mixes are of course secret, though I am confident I nailed the steps and flavors up until the point of the final dip. Don't get me wrong: this particular pheasant version is incredible, but credit is due where credit is due and the Hattie B's spice coating on their fried birds is something dreams are made of.
READ: Game Meat Profile: Ring-necked Pheasant Nutrition, Cooking Tips, and Handling
If I were to guess, Hattie B's likely works with actual dehydrated hot peppers, roasting and grinding them as the coating. While very flavorful, also has a distinct texture to it that you just can't get when working with dry rubs as I did. Honestly, it almost felt and tasted like they ground up Flamin' Hot Cheetos and add those to the greasy coating. All this to say: I'd need more than one visit to dial in their proprietary spice mix.
Hattie B's Hot Chicken also comes in five different spice levels that vary from mild to "Shut the Cluck Up." For this recipe, we are in the middle with "hot." Sandwiches also include "Comeback Sauce," which I also recreated—and got close to, I believe—for this recipe.
Dry-brining your pheasant breasts for at least 24 hours is also important with this recipe since, when salt binds to muscle fibers in the meat, it retains upwards of 50 percent more moisture when cooking.
I have also started adding cornstarch to my flour dredge, as cornstarch helps create an extra-crispy exterior, it seems, without overly greasy breading (possible with just flour) that sometimes falls apart when serving.
Finally, it's speculated they use lard or bacon grease for the final spice-mix coating. For my recipe, I went with half duck butter and half lard. The choice is ultimately up to you: lard, bacon grease, duck fat, or a mix.
Jacky H's Hot Pheasant Sandwich
Jack Hennessy
Break out some pheasant breasts and raid the spice rack for this play on Hattie B's Nashville hot chicken sandwich
Ingredients
2

skin-on or skin-off pheasant breasts

dry-brined for at least 24 hours
Dip
1

C

buttermilk

1/4

C

Frank's RedHot Original sauce

1

egg

beaten
Dredge
1 1/2

C

flour

2/3

C

cornstarch

1

tsp

garlic powder

1

tsp

brown sugar

1/2

tsp

kosher salt

1/2

tsp

ground black pepper

Peanut oil
Spice mix for final coating
2

tbsp

cayenne powder

1 1/2

tbsp

chili powder

1

tbsp

paprika

1/2

tbsp

chipotle powder

1/2

tsp

kosher salt

1/2

tsp

ground black pepper

1/2

tsp

ground mustard

1/2

tsp

ground coriander

1/4

tsp

cumin

NOTE: Spice mix will come out more than 1/4 C. Due to ratios, only use 1/4 C of the spice mix with 1 C lard, bacon grease, or duck fat.
Comeback sauce
2/3

C

mayonnaise

2

tbsp

honey

1 1/2

tsp

Dijon mustard
Other ingredients
2

brioche buns

toasted

Coleslaw

for topping

Thick-cut bread-and-butter pickles
Instructions
Lightly dust all sides of pheasant breasts with kosher salt and freshly cracked black pepper. Cover and allow to rest in the fridge for at least 24 hours.

When ready to cook, pre-heat peanut oil to 350-375 degrees Fahrenheit. Mix flour dredge in one large stainless steel bowl or another large container, then dip mix in a separate container. Mix Comeback Sauce in a separate bowl and place in the fridge until ready to serve.

To fry pheasant breasts, first, dip them in the flour dredge, shake off excess, then add to dip. Shake off excess, then return to the flour, shake off excess, and finally add to oil. So as not to overcrowd the fryer or pot, you may need to fry one breast at a time to keep oil between 350 and 375. Fry for roughly 6 minutes, until the exterior is golden brown and the interior fully cooked. Don't fry over 375, because oil hotter than 375 can potentially crisp up the crust before the interior is finished cooking.

While frying, in a separate pot, heat 1 cup lard (or bacon grease or duck fat or a mix) on very low with 1/4 cup of the spice mix. The goal here is to just melt the lard and thoroughly stir in the spice mix for dipping after drying.

Toast the buns and add Comeback Sauce to the bottom. Once the pheasant is done frying, make sure the lard and spice mix is adequately mixed (stir again if necessary). Add the pheasant breast to the final mix, fully coating it, then immediately add to the bottom bun. Top with coleslaw and a handful of pickles. Add the top bun and pin a pickle into the bun with a toothpick. Lightly coat pickle with spice mix (just the dry spice mix, without lard). Let cool 5 minutes before serving.
Nutrition
Calories:
8952
kcal
Carbohydrates:
368
g
Protein:
555
g
Fat:
572
g
Saturated Fat:
161
g
Polyunsaturated Fat:
158
g
Monounsaturated Fat:
197
g
Trans Fat:
3
g
Cholesterol:
2544
mg
Sodium:
8432
mg
Potassium:
6331
mg
Fiber:
16
g
Sugar:
54
g
Vitamin A:
15130
IU
Vitamin C:
63
mg
Calcium:
838
mg
Iron:
41
mg
Keyword
Pheasant, sandwich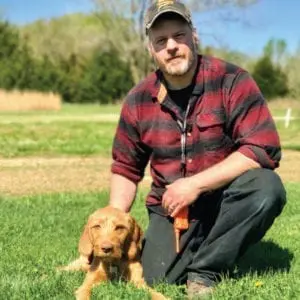 Jack Hennessy
Jack Hennessy grew up in the South Suburbs of Chicago and didn't start hunting until he attended graduate school in Spokane, Washington, at the age of 26. Hennessy began work in professional kitchens in high school but didn't start writing wild game recipes until he joined the Spokesman-Review in 2014. Since then, his recipes have appeared with Petersen's Hunting, Backcountry Journal, Gun Dog Magazine, among many others. He now lives with his wife, daughter, and Wirehaired Vizsla, Dudley, in Wichita, Kansas.